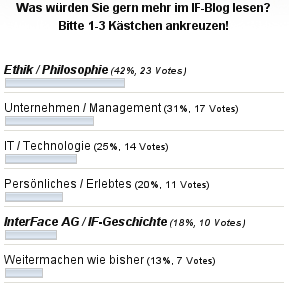 Our first poll is now finished. There were 82 votings on our question:
What would you like to read more of in the IF blog?
The most common answers were:
Ethics/Philosophy, Enterprises/Management and IT/Technology
Philosophy and book reviews enjoy a huge support. We all at IF blog are happy to hear that the readers agree with us on this.
The entrepreneurial sector, too, gets a lot of tailwind. Many interesting presentations around the topic of enterprise culture are frequently read.
The fact that IT / Technology is also among the top 3 came as no surprise, either. After all, the Scrum-Poster is an evergreen and often referred to by blog colleagues.
Travel journals belonging to the category Personal / Experiences are also gladly read and should not be missing in the IF blog theme pool – just like the InterFace AG and its story.
Many thanks to all those who took part and we hope you will continue to let us know what you think about our work.
Rok
(Translated by EG)