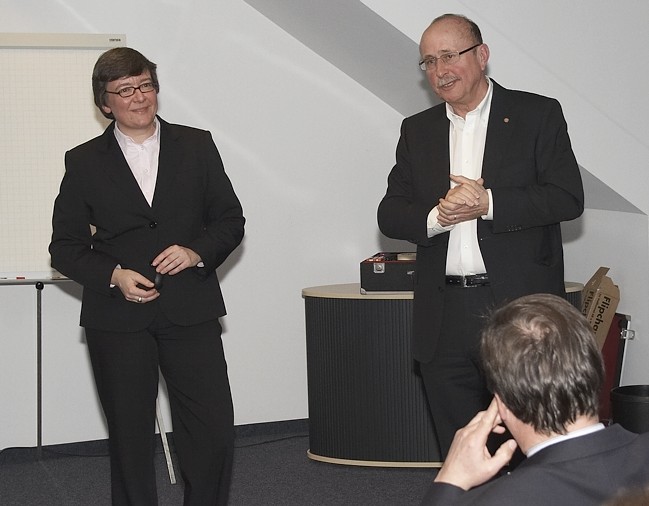 It is one of my goals in life to share my experience and the knowledge I accumulated and that sometimes took me a huge effort acquiring with others – especially with young persons. Consequently, I often let myself be invited to present speeches and be part of dialogues – both in the classic surrounding and in the form of sessions at barcamps and similar events.
Currently, you can book me for the following topics.
---
On "leadership":
What exactly is – leadership in an enterprise?
Sub-title: "People in the enterprise – it is all about culture"
A short time ago, this was presented at AMOS (Allianz) in front of more than 50 internal project managers.
On "digitalization and/or digital change":
What is often forgotten when people talk digitalization.

Sub-title: "Potential effects on society and humans"
Or alternatively:
Digital Transformation – Paradise or Hell?
Sub-title: "The brave new world from the perspective of the entrepreneur, IT pioneer, blogger, father and biker"
I will give this presentation at the DOAG yearly conference in Nuremberg in November, as well as for an SW agency I know well during a "meet-up".
On "SW development":
"How we followed the principle of SCRUM in 1984 – even though at the time SCRUM did not even exist.
Sub-title: "How to lead a software team – answer: you do not lead a software team"
Given for a few smaller SW enterprises/start-ups.
On "payment":
"We do not want to work, we want to make money!"
Sub-title: "How to be courageous and reap joy and success".
Presentation for start-ups and freelancer. Delivered a few days ago at the PMCAMP BERLIN (a true pleasure).
---
These presentations are just a snapshot – as of October, 12th, 2016. Of course, the content undergoes change all the time, because matters, too, change all the time these days.
Feel free to pick one.
RMD
P.S.
My presentations are for free wherever they serve a good purpose (students, universities, non-profit associations and the like). Whenever I speak for a system that hopes for an added value through my presentation, I ask for remuneration that correlates with the expected added value.