Carl and Gerlinde (# 49)
Well – it was truly a shock this morning after Carl had beheaded his Sunday morning egg which, for a change, had actually been soft enough inside for spooning out. At the very moment he started eating, Gerlinde said: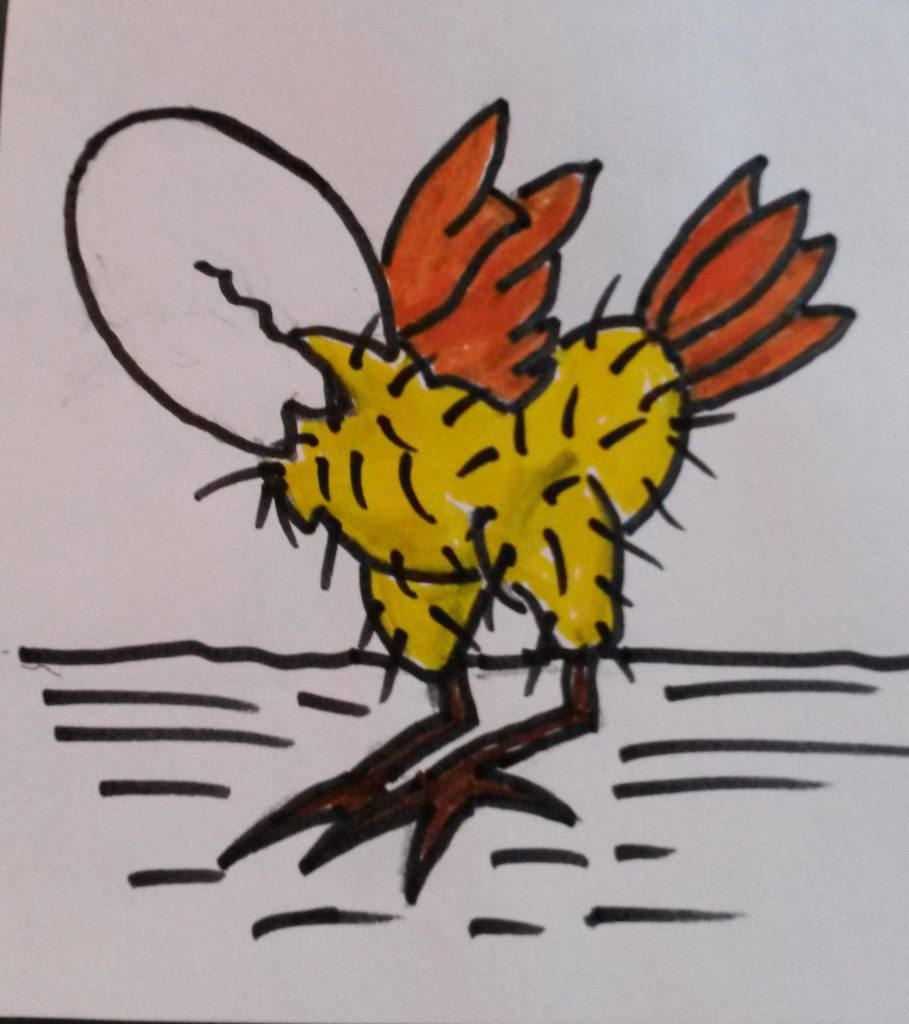 "Carl, I decided to quit smoking as of now!"
As she said this, her face radiated with happiness, regardless of the fact that only a few minutes ago she had been busy in the kitchen without even having washed and made up her face before – which was definitely what she did not really like at all. But then, Carl was so preoccupied with his morning egg that every effort towards looking perfect in the morning would have been a waste of time anyway.
Only when Gerlinde tried her announcement for a second time, introducing her words with a massive hissing and additionally pressing her already empty eggshell on his still uneaten egg, he seemed to wake up and turn towards her.
"Hey, Carly! I am going to stop smoking as of now!"
He glanced at her wordlessly.
"What do you say? Aren't you glad?"
"Nö."
"Why not? You have been complaining for gazillions of years that the cigarette smell annoys you?"
"Well, yes", said Carl, took Gerlinde's empty egg off his half-eaten one in irritation and continued spooning his egg where he had been interrupted, albeit with less zeal.
"So what now?" Gerlinde was at a loss and working her way towards getting fed up.
"Well, do you know what you are doing? You are upsetting the age statistics I just took a huge effort re-arranging!"
"Is this one of your enigmatic jokes that you love as much as I hate them – or what is the meaning of this, my dear Carl?"
"This is not a joke, my dearest Gerlinde, but we are talking the latest scientific facts I processed while integrating all the corrections ".
"And?"
"Nothing and, Gerlinde! After all, you know quite well that, given our age difference – you are 42 to my 58 – one can easily start wondering ".
"Is that so? All of a sudden?"
"Yes – all of a sudden! But then, perhaps you, too, have been reading the newspapers over the last few days and noticed that, according to the latest retirement statistics, I only have 24 more years to live, while you easily have 44 more years to look forward to, my dear Gerlinde!"
"So where is the problem?"
"The problem is that I, too, want to live another 44 years, just like you!"
"And?"
"And, following the latest New York study, I have been working on a nice plan how to actually achieve that goal …"
"But that is nice, Carl …"
"Well, it is not – because with your latest remark – though not knowingly – you just made this plan totally unrealistic, Gerlinde …"
"My God, how so?"
"Well, in said study, it says that I can live up to five years longer if I eat five walnuts every day"!
"And an extra five years will be added if I kiss you on a regular basis! A glass of wine every evening gains me another 3.8 years and 15 minutes of daily exercise adds 3 years.
Eating five portions of fruit each day gains me another 3 years and indulging in chocolate rather than gummy bears means one more year. Taken together, that gives me almost exactly those twenty years you have on me statistically, my dear Gerlinde …"
"Except the entire concept has one glitch …"
"Yes, if it were not for the fact that I have to kiss you and that, by being thus kissed you would again live five years more than I …"
"I can see that the situation is really bad…"
"Yes, it is grave, but all this could be regulated if, once in a while, I were to kiss our friend Hannelore instead of you …"
"A great idea, because then she, too, will live longer …"
"Yes – and besides, you know, she is not really a bad kisser! But the true catastrophe will start if you really stop smoking. Basically, according to the New York study, this will give you 10 extra years. And since I do not smoke, I have not the slightest chance of growing old alongside you, my dearest Gerlinde. That is just a plain fact!"
And it was also a fact that Gerlinde no longer answered, but instead acted. So Carl suddenly found himself in the middle of an unspeakable confusion of shattered breakfast cutlery, marmalade, butter, coffee and tea under a tablecloth that Gerlinde had thrown at him …
Gerlinde was quite sure that this activity was not conducive to a longer life, but judging by the moaning that came from under the tablecloth, it did not have an immediate life-shortening effect, either – regardless of the advanced years of the pitiful candidate …
KH
(Translated by EG)