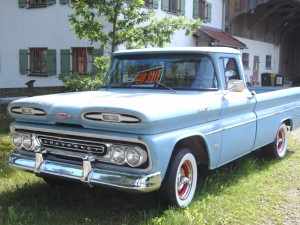 The theft of Mrs. Schmidt's official car makes feelings run high. It was stolen in Spain, where it was driven for just one appointment (and from where it was to be driven back again, too).
Of course, this is a waste of taxpayer's money – and, what is even worse in my personal opinion; it is also an example for non-environment-friendly behaviour. It means that a very bad example has been set for everybody.
But probably our minister is just such a nice lady deep in her heart. So she wanted to do some good for her chauffeur by giving him the opportunity to go on a short vacation to Spain. And I am sure the chauffeur was told not to tell anybody of this under any circumstances.
And then a thief is bold enough to steal the S-class model! That is really tough news. The chauffeur, however, is well off, because now he can fly back with Mrs. Minister (in business class?). Basically, this is a second good deed – I guess you normal chauffeur does not go by plane all that often, or does he?
Not to mention the third good deed. I am sure the bandits who specialize in car theft in Spain are not all that well off all the time. Now they acquired a real German top product. And Daimler will be allowed to build another big car. Basically, what the minister did was generate a creative and alternative model for subsidising the producers of luxury cars. This is a supplement of the wreck premium. We should all be grateful!
The poor Mrs. Minister. First she is doing good deeds, and then everybody blames her for having made a mistake. Now you see: thanklessness is what good deeds earn you. My heart goes out to her.
And we citizens fail to understand the wisdom and intelligence of our politicians. Instead, we get all worked up about it.
RMD
(Translated by EG)