The boulders turn white
Going by bike from Ottobrunn to Unterhaching, you will be impressed by the white glamour on the boulders. They are not from the blooming trees, that season is almost over. Neither from the salt, this has been washed away by the rain.
Where there used to be black automobiles, more and more white luxury cars can be seen. Seeing a beautiful white SUV, I find it hard to remember how ugly I found all that black. An atrocity!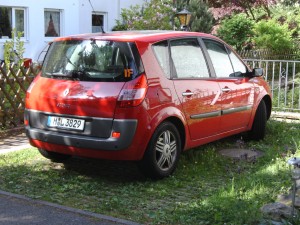 All my life, I drove red cars. Our first VW bus (formerly from Bundesbahn and grey) got its first red varnish through my own labour (including the white roof). Our 2CV's and the R4 were all red. The Passats were red, and, of course, the BMW's, as well. The Polo after my BMW era, too, was red, there were only two exceptions.
Once, after having totalled a car, I needed a replacement BMW in a hurry and therefore, because of the fast delivery, accepted metallic-silver (but not for long).
Later on, the new A2, too, was silver, because at the time there simply was no red version available. And our BMW Isetta is also red (with a little white).
I had various reasons for choosing red. Firstly, I wanted to show face at least in my car: Red Rider Roland. Secondly, I had read a study saying that cars with outstanding colours such as red crash considerably less often than others.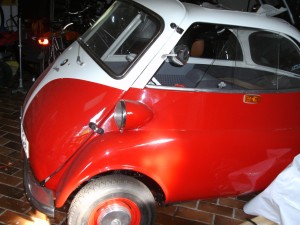 Actually, I know quite a few people who have been involved in more than one back-bumper car crash. None of them drove a red car.
So far, nobody ever back-bumped me. Generally, I believe that cars with outstanding colours are safer. The reason why, these days, you have to switch on your car lights even during the day is probably because all those dark cars were hard to see. I was personally well-acquainted with my BMW salesman. Small wonder: after all, I bought a new car from him at least every other year. Whenever I chose the colour RED, he went mad. His advice (because of the better resale value) was initially silver, later black. Today, he would recommend white.
All this talk about resale value is nonsense. The per centage of people who would like to have a red car is higher than the per centage of red cars available. That is because car salesmen usually cannot advise autonomously. Instead, their advice is determined by emotions caused from outside. Their own preferences are superimposed by fashion trends or suppressed by allegedly rational concepts.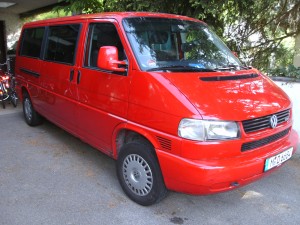 Quite a few people keep quiet about their own favourite colours when buying a car, believing that a black car will have better resale value in a few years' time.
It is surprisingly easy to make a good sale with a used red car and quite a few buyers told me that it had actually always been their dream to own a red car and that they are glad to have eventually found one.
So let me repeat once again: never trust the expert, or at least be careful with what is sold to you as experts' advice.
The same gentleman at BMW almost had a dizzy spell when I ordered a non-smoker BMW. The extra equipment was mainly the fact that there was no ashtray, but it did not cost extra, either.
My salesman said that at resale time I would have to find a buyer outside the entire smoking population, which would make my car virtually unsalable. Quite apart from the fact that I was the only customer of his who ordered a non-smoker outfit. The later buyer of my car (by the way, it was a very sharp BMW 325i) was truly glad. After all, he got a car that was a hundred per cent smoke free and even equipped with the non-smokers outfit.
Now my red cars are 5 and 9 years old, respectively (and the Isetta will soon be 50!). Basically, I do not plan to ever buy a new one, except maybe a used car. But the problem will be to find a red one then, won't it? Most of the people who love RED cars bought a black car a few years ago. And I will never (!) drive a black car.
So maybe I will have to buy a new car, after all, unless I manage to do totally without a car. Likely candidates are a Nano by Tata or – when I open my retirement business as bike salesman or in some other field – a Logan Pick-Up by Dacia, but please only in RED.
My favourite would be the zero-emission car by Daimler as announced by Dr. Zetsche in his presentation at TUM on November, 26th, 2008. That should be a car that needs nothing, right? I wonder if this will ever happen. And I wonder if that car will then be available in RED.
RMD
P.S. 
Now what is your favourite colour – RED?
P.S. 1 The favourite colour of Evelyn, our translator is blue!
(translated be EG)