Positioning is a technique in advertising. It has an unbeatable advantage over USP: its realistic self-appreciation is that of a wallflower. Nobody is interested in it, nobody loves it.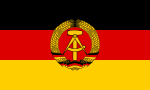 So how can I still get people's attention? By radically simplifying things. By thinking in terms of black-and-white. Since this way of thinking started with the pre-Socratic philosopher Heraclites, you might be justified in calling positioning the world's oldest marketing technique.
While euphemistic USP advertising wanted to be recognized (and admired) and therefore understandably only survived for a few centuries, the technique based on total ignoring has been a best-seller for more than 2,600 years. Instead of theorizing, let me give you some examples. Firstly, there is the GDR, or rather, its end. Here we can see that positioning is not merely an advertising technique (nor was it ever – see Heraclites). Instead, we can consider it a common communication technique.

"The GDR is only conceivable as an anti-fascistic nation, as the socialist alternative of the BRD. What right to existence would a capitalist GDR have next to a capitalist Federal Republic of Germany? The answer is: none. Only keeping this fact in mind will make it evident how important a social structure that aims at the stabilization of the socialist order without compromise is for us. In this kind of order, there is no room for a careless treatment of socialism or the socialist state power."
These were the words of the SED ideologist professor Otto Reinhold three weeks before the wall came down (when nobody, absolutely nobody, thought such a thing possible).
All that remained of the red realm was plenty of Little Red Riding Hood Sparkling Wine.
Cheers to professor Otto Reinhold, who might also have made a good marketing director.
SIX
(to be continued – provided more than 10 people read it)
(Translated by EG)