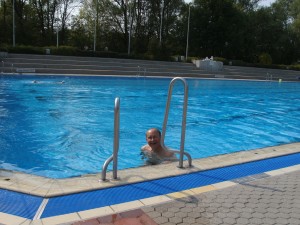 Listening to the radio (Bayern 2, before 7 a.m.), I am informed about strange underground holes and less strange financial holes. Now, they even want to close down the public swimming pool during the entire summer season, because it would need to be subsidized to the tune of one million EUROS, which is just too much for public expenses.
Initially, one million EUROS does not sound so bad. But considering that the outdoor swimming season in Germany is only 4 months long and that only half of that time can be really used for public outdoor swimming pool delights, you get – mathematically spoken – two months, and for two months one million is, in fact, a lot of money.
The energy costs are probably only a part of the expenses (and I am sure it is possible to economize on them in a sensible way). The remaining costs are likely to be at least partly due to German standards (safety, labour legislation…). Most likely, the cashiers and administrators cost most of what comes in as entree fees. And the cost problem will probably only be solved through civil initiatives including honorary work – and even then some standards will have to be lowered.
At the end of the article, the reporter mentions that the town of Zwiesel is already indebted to the tune of 20 million EUROS due to "investments". As I see it, that means that the interest on the debt alone costs the town more than 2 million Euros. This, in my humble opinion, is where the real problem lies. How does anybody ever expect to clear themselves, except by a currency reform?
Those 20 Zwiesel millions are probably one of the better papers still held by HRE bank (Hypo Real Estate) or similar institutions.
I think it is a real pity if public outdoor swimming pools have to be closed. In principle, I would prefer a clean insolvency for clearing myself of too much debt.
RMD
P.S.
The picture shows yours truly in "my" swimming pool in Unterhaching. I dearly hope that it will continue to be open for many years to come.
(Translated by EG)