Wednesday, April, 20th, 2011, first leg.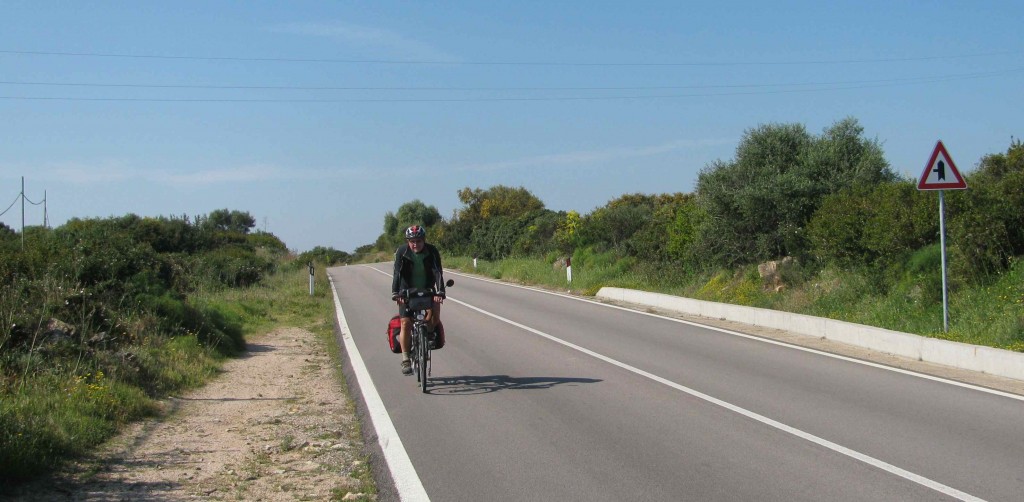 After a good night's sleep and a wonderful breakfast, we start on our first leg to Santa Teresa di Gallura. We plan to take the way along the coast and the distance is an estimated 80 kilometres.
Olbia is a town with a population of a little more than 50,000. It has an airport, numerous ferry connections and a railway station. As you can see, it is a true traffic junction.
And we feel it, too. As often, getting out of the town where we start our tour is not nice. The same is true for Olbia – terribly dense motorized traffic makes the decline less enjoyable for the cyclist.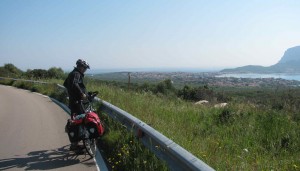 Afterwards, the traffic thins out a little and we start towards the north-west. We want to see the peninsula of Capo Testa at Santa Teresa and glimpse at Corsica – that is where we stood a little more than a year ago on our bike tour and where we then decided to cross Sardinia this year.
The day itself was uneventful, even a pleasure – regardless of the occasionally dense traffic. But what else could it have been, with all those wonderful views of enchanting scenery. You do not often get to see so many fresh greens combined with the endless blues of the ocean. It is truly breathtaking.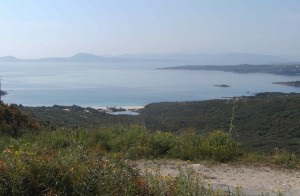 We arrive at Santa Teresa shortly after 5 p.m. Without much trouble, we find suitable accommodation directly at the town centre – the Hotel Maritima. The room costs the same as yesterday's lodgings: 65 Euros for two, breakfast included. We quickly deposit our luggage at the hotel and, no longer burdened, ride to the Capo Testo. That is another 75 metres of altitude, one way.
Despite the fact that it has almost 5,000 inhabitants, there are at least 5 open restaurants at Santa Teresa. We select a comfortable one and eat "Sardinian Desserts", a Pizza Franca and one Napoli, this time with beer.
Here is an advice for the Bavarian restaurant owners: you get a glass of beer (small, 02. litres) for the standard price of 4 Euros in Sardinian restaurants. The medium (0.4 litres) costs 6 Euros. Now, isn't that a good system? Well, I used to get annoyed when a half litre of beer cost 4.90 Euros in Munich.
🙂 Here are our data: it was actually 100 kilometres (on the whole), many metres of altitude and a top speed 56.4 kilometres (steep downhill with a lot of tailwind).
RMD
(Translated by EG)