Carl and Gerlinde (VIII)
"The 'Old Opera House' probably got its name because only old people crawl over the place", said Carl as he quickly held the front door open for Gerlinde on this mild spring evening. Afterwards, they were both pressed along by a swarm of grey-haired people without any resistance…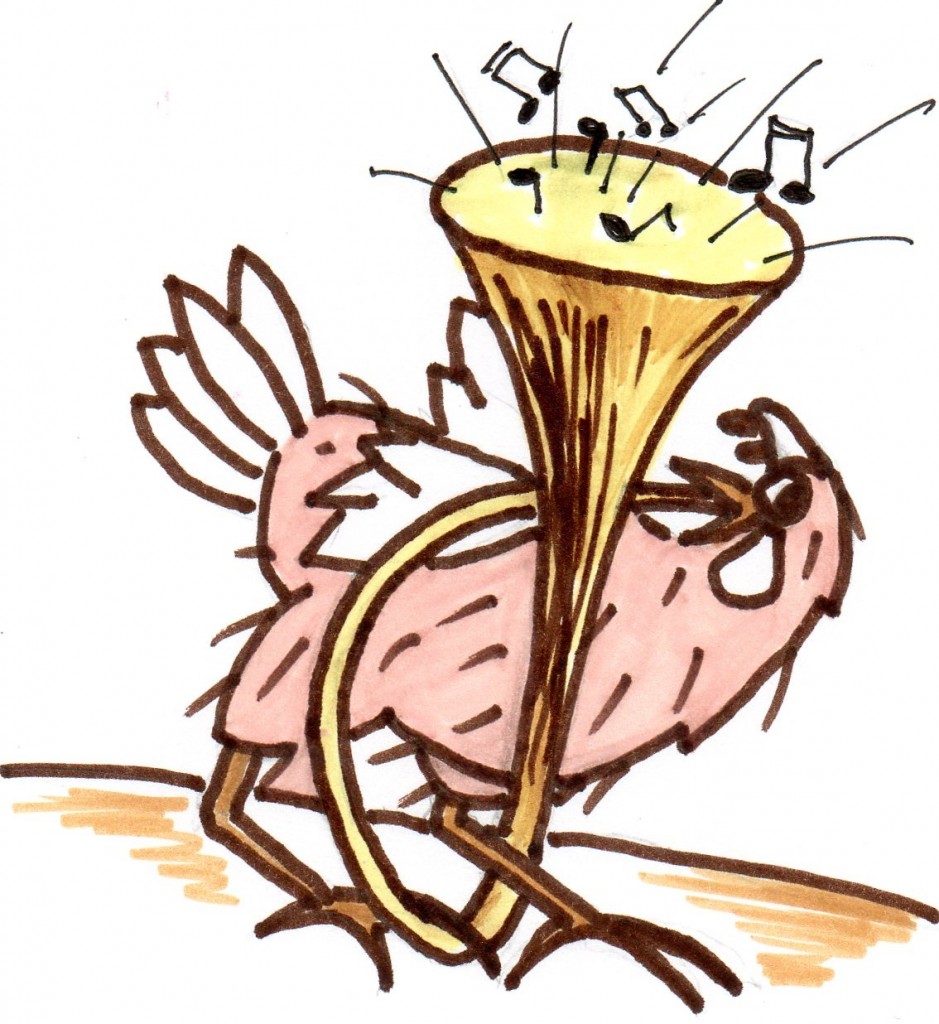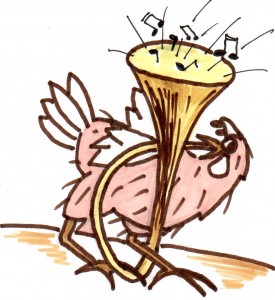 But, incidentally, Gerlinde just loved those "Sunday Evening Concerts" at the Frankfurt 'Old Opera House'!
And Carl went along!
And the same was true for an entire herd of "silver-haired persons". It was almost like they had offered free beer in unrestricted quantities – instead of the 5th symphony by Anton Bruckner!
Now look at this uniformed guy controlling the tickets near the entrance. Did he really believe Carl and Gerlinde might not have paid?
Outrageous! And having to look for the tickets in all your pockets was even more outrageous! Disgusting!
But it was typical – again, Gerlinde had been inattentive!
Hadn't he told her a hundred times to pay attention when he put away the tickets? Wasn't it enough that he went along to concerts at all?
But no. Again, he had to look for those stupid tickets by himself!
It was no surprise that the brutal herd of senior citizens standing in the queue behind him was already getting restless and sounding like an excited herd of cattle…
And, of course, again he himself, Carl, took all the blame!
What alternative did he have, after all? He could hardly turn around and tell those "silver manes" that his ever so cherished Gerlinde had, again, been inattentive when he had been forced to take possession of those admission tickets.
Besides, in this throng, not even a fighting bull could have turned around! He and Gerlinde were literally sucked into this small entry area by the grey herd of the "Old Opera House". At the narrowing spiral stairs, they were quasi selected and sorted out like at the sluice of a paddock: the prudent ones were immediately drawn towards the bar, where they were able to drown their decision to go and hear the concert in champagne and beer – whereas the stupid ones, like himself and Gerlinde, shambled towards the cloakroom in order to get their program brochures….
And the first thing he saw was already a catastrophe!
There would be no break!
To make up for it, uninterrupted Anton Bruckner awaited them: a splendid masterpiece, played by a great philharmonic orchestra under an even greater conductor: though young and dark-haired, he had already conducted orchestras in all the big opera houses of the world!
But Carl wanted some beer!
He knew that, unless he found one soon, he would sit without anything to drink all evening. Since Gerlinde also drank a glass of champagne, he was even able to quickly empty a second beer without causing her to make a face.
On the contrary: after his fortification, Carl nodded towards her full of appreciation when she mentioned that she was really wondering if she would finally manage to hear the theme of the preceding Adagio in the Molto Vivace of the Scherzo. So far, she had never succeeded…
A second nod of appreciation was made impossible by the totally unexpected appearance of a seal-like creature with toupee whose ugliness not even the lady who accompanied him could stand. She took special pains to look in another direction while he silently entered the room head-on…
Carl felt a certain shame arise in him for also belonging to the same species and softly but resolutely pushed his Gerlinde into the already well filled concert hall in order to lose himself in the general turmoil…
This was a really huge orchestra!
Not even the three chattering ladies in front of him with their mountain-like hair-does had a chance to totally obstruct it.
Carl was even able to see some body parts of the conductor. After all, the good man started with precise beats like a fight-experienced boxer right from the beginning, not leaving his musicians the slightest chance to hide from him behind the ear-splitting noise …
Then there was silence!
Was this already the end of the first movement?
Carl could not believe his luck and, filled with joy, looked at Gerlinde …
But then – a treacherous flute started lamenting from the rear!
The conductor, also quite surprised, made threatening movements with his baton, but this impertinent thing of a flute never considered making itself scarce.
And suddenly, what Carl had feared happened: when the conductor, after a short inner struggle, lifted his arms for help and wanted to give up, the infernal noise started anew!
Countless trumpets and trombones droned and rattled as loud as they could. Together with two dozen drums and tubas, they sent the hearing aids of several concert visitors and of the first five rows flying…
What shameless inconsiderateness!
But with the exception of Carl, nobody seemed to mind; Gerlinde was actually radiant …
But apparently, the conductor already felt a dizzy spell. All of a sudden and totally unexpectedly, he bowed very low, trying to support himself on the floor of the orchestra pit with wide arm movements, as it seemed…
On seeing this, Carl remembered that he would definitely have to give the living room new wallpaper this summer. He would also have to put enormous strain on his back, just like this bowed conductor, who now tried to shovel the music up from the basement, risking a herniated disc without having to try any harder …
What readiness to suffer, just for the sake of music?
Well – the Adagio in the second movement was really rather slow. If they had played a little faster, they could easily have squeezed in a break. It would certainly have been long enough for a "Laugenbrezel" and a glass of beer!
Instead – what a nuisance – all of a sudden, his nose started making trouble!
Carl desperately wanted to hold in air and press down the ticklish feeling coming up from deep inside, but even when he tried to brutally force his nose with his right fist, he failed!
And then – at the very moment when that nuisance of a flute started lamenting from the rear again – he sneezed so noisily that people turned around in terror even three rows in front of him…
And it went on in the same way!
The flimsy white material of the paper napkins which Gerdlinde nervously shoved under his nose only seemed to make matters decidedly worse. Almost miraculously, however, his erupting fanfare blares fit with the entire harmony of the symphonic sound after the flute had been abruptly stopped so well that even Anton Bruckner himself, the master of harmony and counterpoint, would have benevolently nodded towards him.
The theme of the Adagio, however, had, yet again, been forced into an existence of obscurity by the Molto Vivace of the Scherzo…
And then all was over already!
People frantically clapped their hands, but, after a short bow, the conductor immediately went outside – he must have been in a hurry to use the toilet …
Back on stage, he welcomed the three bewildered grey-haired violinists, one of whom looked like a women, with strong handshakes, although they had been playing the violins in front of him all the time, anyway…
The orchestra, too, seemed at a loss. When he lifted his hands for a new start, they never played. Instead, they stood up one after the other.
That probably made the agile conductor angry with them once and for all, so he moved away from the musicians in a gesture of annoyance; for three times in a row, he displayed his huge torso for the audience – then he fled like before …
On his return, he immediately again welcomed the three violinists, who now no longer seemed quite as astonished. After all, they certainly remembered him well now, didn't they?
While, however, he kept pointing at the rear of the orchestra, confusing the oboe and the fagot, since neither of them knew if he should play or stand up, a huge bouquet of flowers approached from behind!
It seemed like the good man had never seen the like of it, because he hardly managed to remain standing on his two legs. With a last super-human act of power, he took the flowers and moved them past the only grey-haired violinist to a very young female violist. She pretended to be delighted, but then looked rather stupid with the enormous bouquet in one hand and her viola in the other hand …
Carl could easily understand why the conductor had chosen to hand the flowers to the young girl, but he had no idea why he ran outside again afterwards!
Well, it did not matter, did it? It was time to go, anyway.
And since Gerlinde was so fascinated by the concert, Carl decided a few metres before they reached the cloakroom that, from now on, Anton Bruckner was going to be one of his favourites, too.
And he stuck by this decision, even when, after a full hour, they still stood stuck between two vehicles in the parking garage …
KH
PS:
On May, 5th, 2011, Carl and Gerlinde will again be in the blog!