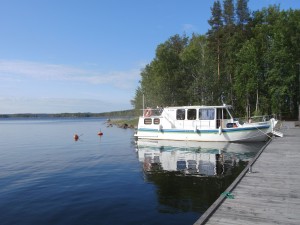 So here is another opportunity for writing something in my vacation diary! I have been in Finland since Monday evening. A small turbo propeller plane with fifty persons on board released us in Savonlinna. We had to wait four hours at the modern airport of Helsinki after our arrival on an Embraer 190. We – that is Barbara and myself and our two "small" daughters, Sophie and Maresa. After a stopover at Varkaus (that was 50 flight minutes), we finally landed here another 15 minutes later
We flew with a conductor and some singers. The month of July is the month of the Savonlinna opera festival. If I believe what our travelling companions tell us, it is an event of great importance. Very famous artists come to Svonlinna. It is a huge area with only 30,000 inhabitants
At the (small) Savonlinna airport, the landlord of our boat meets us. He is a Finnish entrepreneur who by now also starts getting annoyed about the Euro. First he takes us to the local super market, where we buy the first supplies for our week on his (our) boat. Then we continue towards the small harbour. We find a beautiful, big ship. It looks very nice and has a sauna.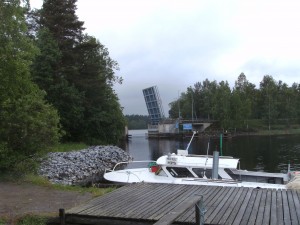 So far, there are four of us. My daughter Anna and her husband Patrick will arrive tomorrow morning. Our first night on the boat is just fine. To be sure, (as a consequence of inter-cultural misunderstandings) we do not yet have any bed sheets, but they will be supplied by tomorrow morning.  Of course, we might have felt more comfortable with bed sheets, but we can certainly do without for a night. First and foremost, we cook our dinner on the boat. Spaghetti and tomato sauce and salad always taste delicious
Tomorrow morning, we expect to see Anna and Patrick. We eat breakfast, then start out. First and foremost, we have to get used to the boat. Our house boat is called "Aurora" – that means rising sun. It is a nice name. There is no steering wheel. You steer with a small switch that can be turned left or right. Not bad – but you cannot always steer on course with absolute precision. The analogous steering wheel is definitely more accurate. But so what? We will manage without steering wheel.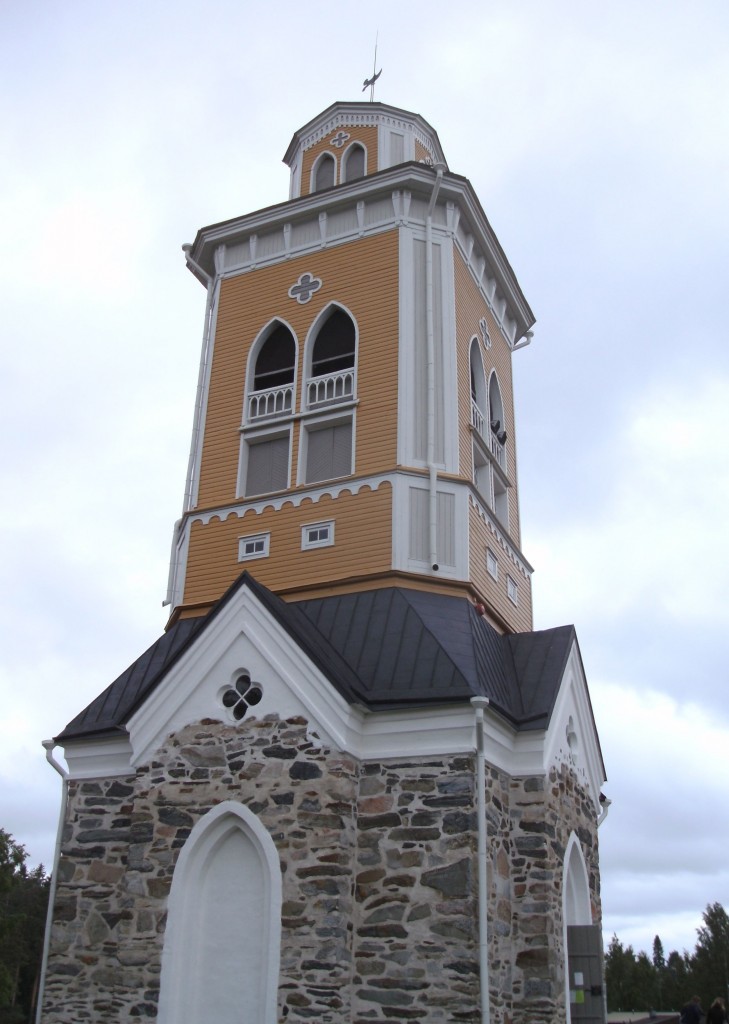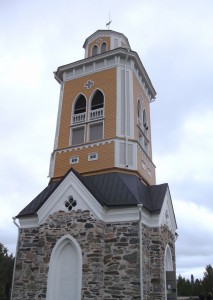 To make up for it, we have two "cockpits". You can steer both from the cabin and from above. The top stand is for nice weather.If it rains, you steer from downstairs. The boat also has prow lights and can be easily moved. Like many other things in this world, steering a boat is quite easy today.
It rains cats and dogs. And somehow or other, the temperature is quite low. They say that it has been really hot and sunny for three weeks. However, we are not worried about the rain. First and foremost, we go to Savonlinna. You can easily see that we are travelling off season. Not much is happening anywhere – I like travelling off season. In Savonlinna, we visit the market and stroll through the small centre of town. We have Fish&Ships at a snack bar. It tastes delicious.
We steer south. The water is brown – we are now crossing through a moorish landscape. They say that the water is very clear in the south. We want to see if that is true before continuing on our round trip through the north. We steer towards Russia. It is unbelievable, but we are actually north of Russia.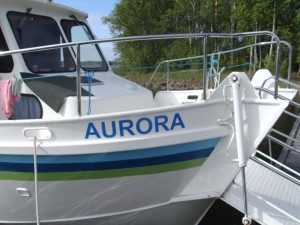 In the evening, we land on a dock – not far from a small coffee house and a shop. They are closed, but we have our supplies, don't we? Finnish bread with fish and other delicacies. And plenty of salad. In Finland, food is expensive, but very tasty. Our second night on board with fresh bed sheets is pure luxury.
On Wednesday, I am lazy. I let the others do the steering while I read a book by Werner Schlierf. I found it quite recently on a flee market and bought it for one Euro. It is titled "My Nice Piece of Crumpet in Raspberry Red". It really hurts. As soon as I have an opporunity, I will introduce it on the blog.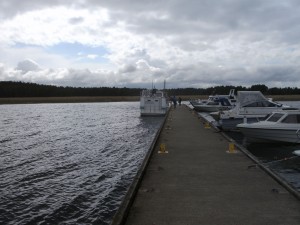 The book made me sad. While I was busy reading, the weather improved. All of a sudden, the sun is out – and it gets quite warm immediately. In the evening, we only see very few clouds. We visit the sauna near our docking place. The mossy forest path matches my mood. It reminds me of my childhood. Beautiful. Everything is peacefully silent and very simple. What a life!
I look forward to my bed. It is still daylight at 11 p.m. Basically, none of us wants to go to sleep. But there are some dark cornes on our boat. If I go there, I will not see the light, so I will sleep well again tonight.
RMD
(Translated by EG)