🙂 Well, I remember my promise to write more about sex and electric bikes. Consequently, I will now relate my experiences with my eWMe 627 from CONWAY.
I already told you about our eCargo. Not only is the car no longer at all an option when we go shopping; for the grandchildren and for leisure activities, too, the cargo has turned into the absolute favourite means of transportation for the entire family. And for me personally, the eCargo triggered the "electric bike preference".
Formerly, I often went into the mountains with the Mountain Bike. Uphill, I was never very fast. And, naturally, I did not become faster in the last few years.
Which made it more of a challenge for me to go on bike tours in the mountains as a couple or in small groups. My younger and more athletic travelling companions always had to wait for quite some time sitting on top of the mountain until they finally saw me push my bike up. I was not the only one who found this unnerving.
Then came the summer – and consequently the yearly Peloponnesus mountain bike tour (near Gythio and Mani). So I decided to test an electric mountain bike at our familiar bike salesman (Dully's BIKESTATION).
To say it in a nutshell: I was absolutely fascinated. Consequently, I bought one and now mountain biking is again something I truly enjoy. In 2017 in Greece, I covered about twice the distance (and altitude) from the years before.
About the bike and its technology:
As you know, my eCargo has a rear motor (GoSwissDrive), a simple ladder network and a hub dynamo at the front tyre. I find that rear motors are only ideal for a Cargo bike, the chain is not too strained and, thanks to the hub dynamo, it can also be used at night, even if the battery is empty or you do not carry it with you.
My mountain bike has a different system. It has a Shimano mid-bike motor at the crank. SHIMANO Steps-System is a system of e-bike components (motor, battery, control, range calculator, …) that was designed exclusively for mountain bikes. The same bikes are also available with Bosch technology. When I tested them, I liked the Shimano system better because of the interval-free support and the better coordination.
As with Bosch, the heart of the Steps-System is the mid-bike motor. It weighs 2.8 kg and is perhaps one of the lightest motors on the market. The mid-bike motor sits in the crank; as opposed to front or rear drivers, it is not a direct drive. Instead, it has a gearing mechanism. You can also easily ride without electricity, the motor will not slow you down. You only have some additional weight because of the motor and the electric gadgets.
That is probably the reason why mid-bike motors will always make a slightly grating noise. The only relatively soundless motors are those from Impulse and Brose, all other motors (by now, many companies along with Bosch, especially from Asia, offer them) are far noisier than direct drives – which you really cannot hear at all. You also always get a slight push when the motor turns itself on for support, which is not what you get with the direct drives that sit in the front or rear tyre.
Regardless, I believe that the mid-bike motor is the best for mountain bikes. The weight of the motor and battery are close to the crank. Whenever you go up or down steep hills, this is definitely an advantage.
Most of the electric mountain bikes have a simple ladder network (one gear-wheel at the front and quite a few at the rear), it is the mechanic Shimano XT for the Conway. It might be a disadvantage that, if you have a mid-bike motor, the entire power (both from the human and from the motor) is transferred to the chain and the gear. But, as I see it, that can be ignored for the mountain bike, because everyone knows you have to change the chain and the pinion at regular intervals.
Range
I am always asked: "How far can you go with one full battery?". This question is not easy to answer. Naturally, the range depends on such parameters as the incline of the course a biker selected. For long inclines in one row, you need more electricity than if you go up and down the hills alternatively all the time. The frequency of pedalling is also important (If I am correct, the ideal frequency is considerably higher than 60 per minute). And, of course, it also depends on the mode you chose.
STEPS has three modes: ECO, TRAIL and BOOST. If you save electricity by using ECO and if you cut down the motor when you go downhill (due to the mid-bike motor principle, STEP cannot recuperate, so it makes sense to switch the entire drive off whenever you do not pedal – and if you do not pedal, there is, naturally, also ZERO motor-caused resistance), then the range is generally more than 100 kilometres, i.e. in the three-digit area.
If you use the mode TRAIL, I would assume that you can always easily go around 70 kilometres with 700 metres of altitude. However, if I use BOOST and really force the bike up the mountain, then I can easily imagine that the power is low after 20 kilometres. That never happened to me. I assume it would be more like a fun-ride.
For travel bikes, I would not recommend the mid-bike motor. But I will tell you more about this when I describe my Utopia London.
For me, my e-mountain-bike is a constant source of delight. If I go downhill, I no longer have to accept the high speed of former times (I always wanted to make up a little time when I went downhill, because I had always lost so much time going uphill). And above all, the electric day trips now take less time – which means I no longer need to get up so early and I also return home earlier than I used to. If, formerly, the entire Sunday was "wasted", I now have time left for other interests.
On my trips with Barbara, I now had to wait for her at the top of the mountain. That was also true in Greece. I went with electricity, Barbara without. Circumstances were now reversed.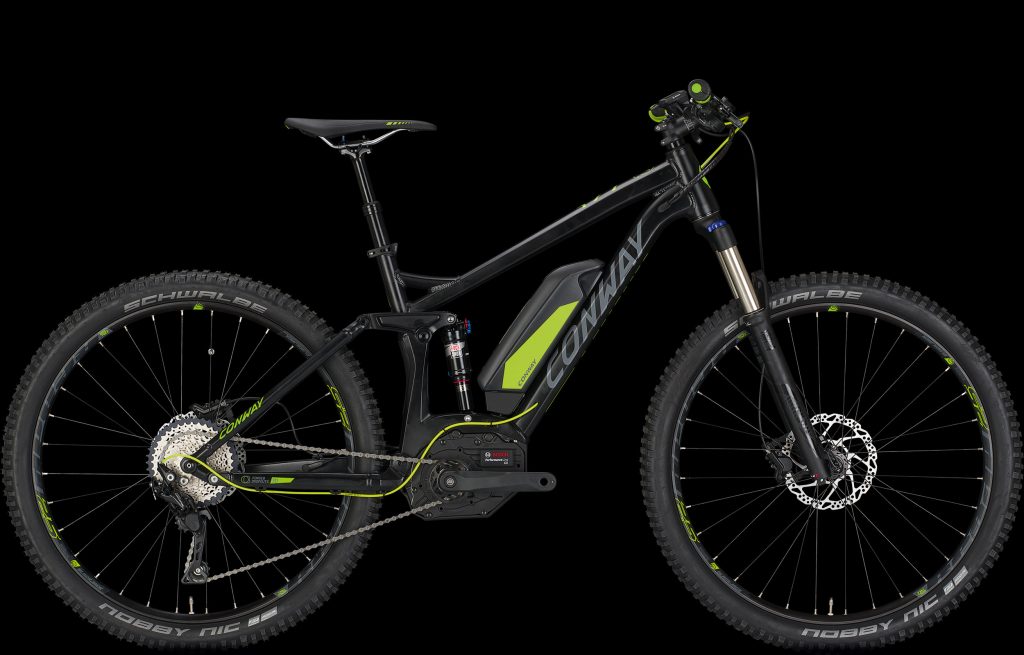 Later, she also bought a Conway 327 – and now we have great fun together. Our day trips to the Bavarian Alps no longer take too much time and we no longer have the burdensome long inclines we used to have. And I truly look forward to the spring and am absolutely sure that, in 2018, we will often spend time in the Alps. And I also truly look forward to the two weeks of biking and swimming in August/September on the Peloponnesus!
My next article will be about my Utopia London with front drive. For me, it is the perfect travel and everyday bike. If I see similarities between the eCargo with and a VW transporter, then the eBike is more like a jeep and my London would be something like the Mercedes S-Class Limousine.
So "my Mercedes" (of Utopia) will feature prominently in my next e-bike article.
RMD
(Translated by EG)
P.S.
I took both pictures from the Conway Website – you will find several links to this site.