Today I will tell you about my third electric bike – my Utopia London. On top of normal bikes (meaning bikes with no electric drive, which I still like using occasionally), I already told you about the electric bikes I use: the familiy eCargo (our "VW Bus") and my electric Mountain-Bike (my "Jeep"). Now, I added an electronic long-distance and travelling bike to my collection: the Utopia. I will tell you about it today!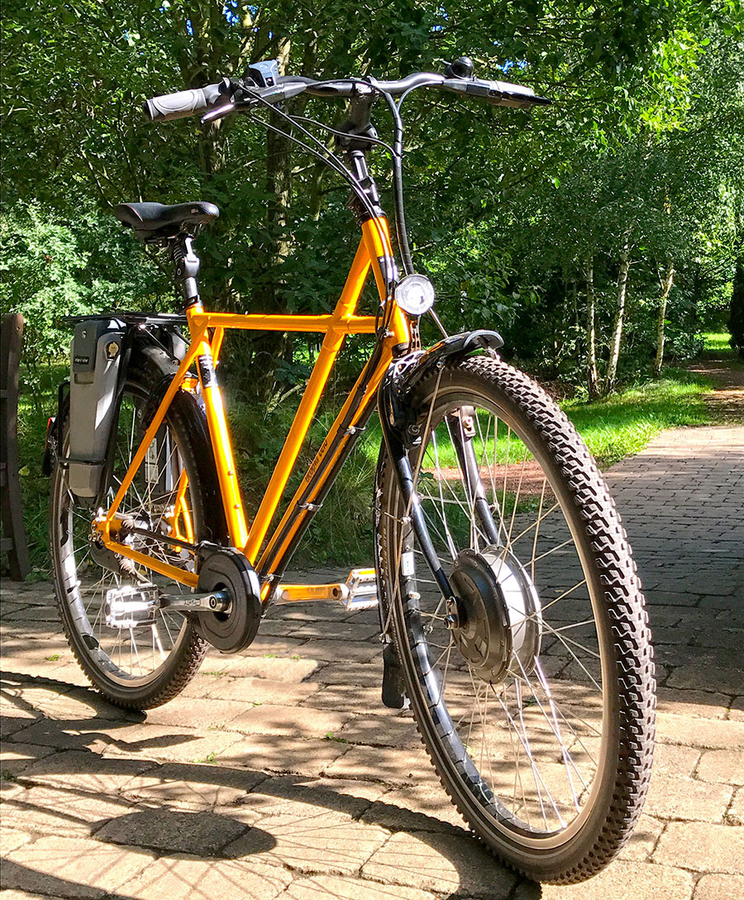 On the left, you see the London with its special frame. The one I have at home is almost identical. I only got it this autumn – and still it already shows considerably more than 2,000 kilometres.
Among other things, that is because, thanks to the electric drive, I now also go long distances by bike. I mean distances for which I used to take public transportation (of course, if a distance is less than 10 kilometres in Munich, I do not use my electronic bike, but the normal one…).
I enjoy taking the "electronic" bike instead of using public transportation if either my destination is a rather long distance away or/and if the return trip is late at night. A short time ago (mid-December), for instance, I went to Garching to attend an evening event at TUM. Without my e-bike, I would have used the S- and U-Bahn trains from Neubiberg to Garching, because by bike it is more than 30 kilometres one way and that distance used to be a little too far for me.
After my return, my tachometer actually read "relaxed" 65 kilometres. Especially during the late return trip from Garching that started around 8.30 p.m., it was definitely very convenient to roll the approximately 70 metres of altitude and more than 30 kilometres back home to Neubiberg with electronic support.
But back to my Utopia London. The specialty about this bike is that it has a front drive. As far as I know, Utopia is the only German producer that makes electronic bikes with lots of comfort and high loading capacity that have a high-quality front drive.
Front drives suffer a little from a bad reputation, because this technology is often used for the cheap(est) bikes. The disadvantages people usually associate with such bikes are not at all present at my London. On the contrary.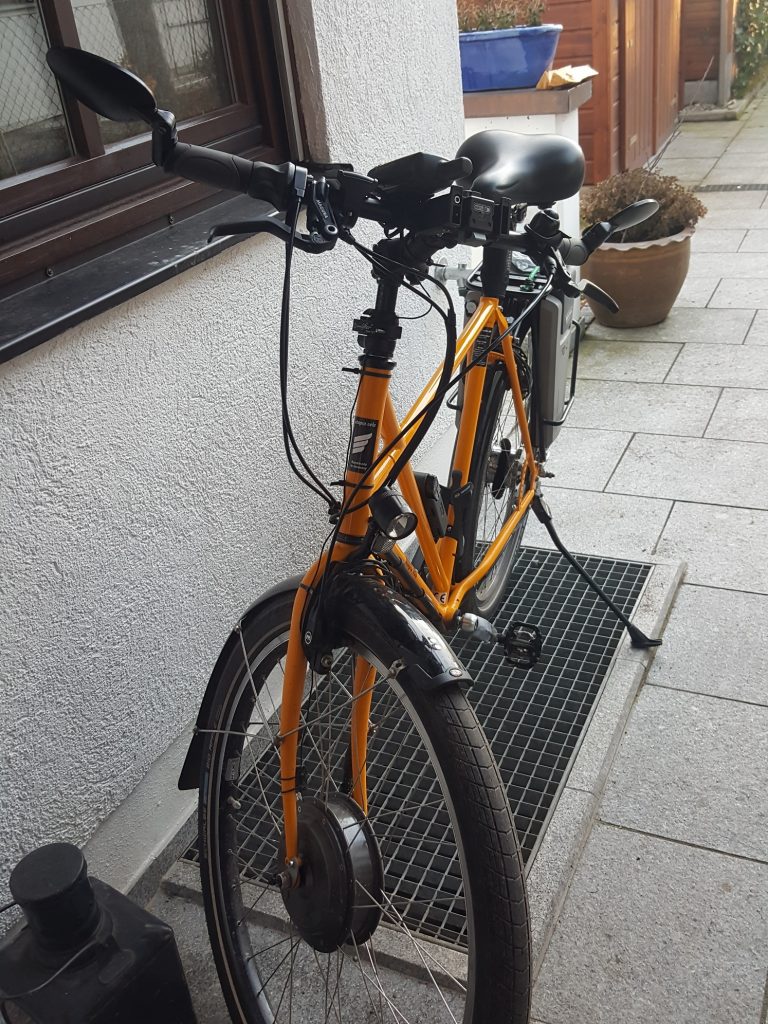 To the left of the picture, you can see the front drive VR1F of my London. After having covered almost 3,000 kilometres, I am now an absolute front drive fanatic. Especially on the wet and slippery autumnal roads, it is simply fantastic how the front drive holds track even on difficult roads.
Whenever my bike travel companions got stuck on difficult roads or even gave up, my front motor bike continued to carry me where I wanted to go. It also does so in the "push mode", which, basically, if you have front drive, should be named "pull mode".
The VR1F is a drive with permanently activated synchronization (DirectDrive without gearing mechanism) that is integrated into the front tyre. 90% of the electricity that goes from the battery to the motor is thus brought onto the street via the front tyre for movement. As always, the back tyre is pushed by the physical power of the human. With my bike, this happens through the use of the well-established Rohloff-14-Gear-Hub-Drive. You cannot get much more comfortable than that.
This is how the bike becomes the "vehicle with two-wheel drive" – on top of having an optimal weight balance (the motor is in front, the Rohloff is at the rear). Naturally, this is not possible with the motor in the rear tyre as our eCargo has it. As opposed to the mid-bike motor, you also suffer no loss through the hub or because of having to transfer the power to the rear wheel via the chain.
The bike is absolutely silent. You cannot hear anything of the electronic workings. Currently, there are seven different programs for motor control that perfectly support the person who rides the bike. The Rohloff feels soft as butter when you change gears – and I do it really often in order to maintain the optimal pedalling frequency. This is far easier with an e-bike than with a bike that has no additional push.
I rely on very competent service people at Dully's BIKESTATION – unfortunately, they do not sell the Utopia brand – and when they tried my bike, they were really impressed by this drive. Consequently, I can really recommend both the drive and the motor (as well as the entire bike) with a very good conscience.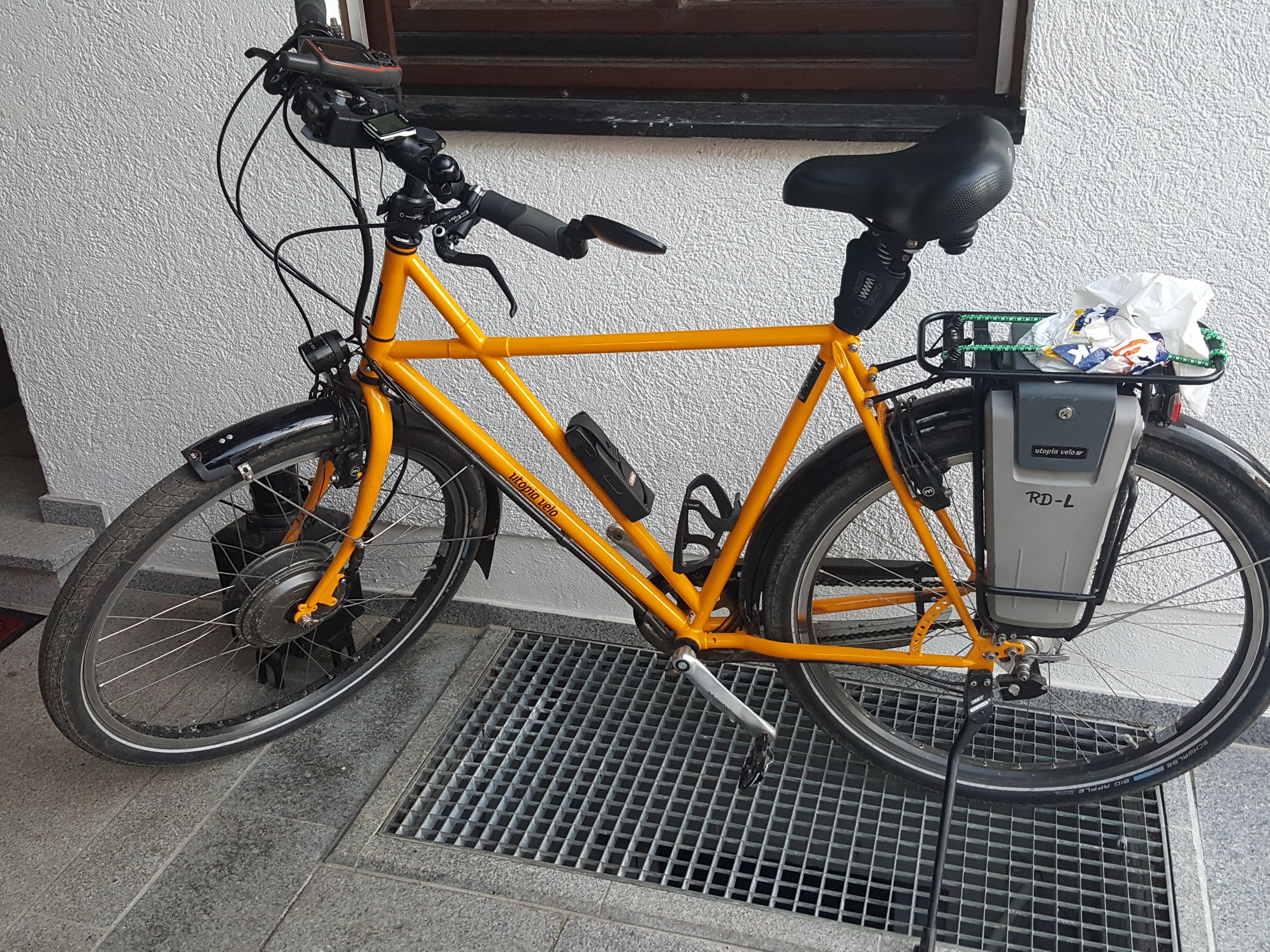 If you see it from the side, the wonderfully classical cross frame of the London is obvious. It is made in Aalten (Netherlands) by a small manufacturing firm. You can also see the left hand battery. The second, right hand, battery is symmetrical to it. I find two batteries ideal, because they mean I will never have stress. If a trip is longer than I had anticipated or if I have used up more electricity than I was going to and one battery is empty, then I just push one lever at the control panel and can continue with another full battery.
The (electronic) control:
The control panel is connected to an app. The app recognizes the bike and contains all the relevant data. Through the app, you can quickly load or activate a new program at any time. Thus, you can use the cell-phone you applied to your handlebar as a convenient display – which means you will no longer need your tachometer or GPS system.
The range:
What I said earlier in my mountain bike article is also true with this bike: the range depends on many factors. What altitude profile does your route cover? Which program have you activated? What is your pedalling frequency? Do you have headwind or tailwind? How difficult is the terrain? Do you save energy? What is your weight and that of your luggage? And similar factors.
Based on my experience so far, I assume that I will always manage more than 100 kilometres, even if conditions are difficult, with my two batteries. Normally, I am sure day trips of around 150 kilometres will not be a problem.
I also noticed that I now ride far higher average speeds than with my good old Roadster (also from Utopia) without electricity. In the city, my average electronically supported speed was almost 50% faster (regardless of traffic lights). In other words, now I can also cover long distances in 75% of the time they used to take.
This experience really makes me look forward to many nice trips through Germany, Austria, Italy, perhaps even France and other countries, in 2018!
RMD
(Translated by EG)