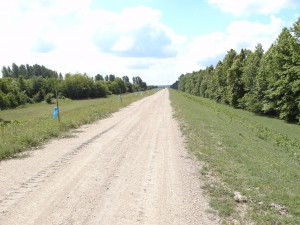 The Hotel Kalocsa hosted a big wedding on this day. We had been warned by the owner of the hotel and our room lay as far as possible from the festivities. The music played all night through.
Well, we slept fitfully. However, the excellent breakfast with a wonderful omelette saved the day. A 9 a.m., we mounted our bikes again.
First we go a little zig-zag, then we go south. We find a beautiful, long path on the dam. It is much better driving than yesterday's paths on the dam. This is a meditative experience over 30 kilometres.
The route, however, goes more and more west (yet we want to go south-east). This means "Going West" through strong westerly winds that occasionally are real storms! It is really hard going through this wind, but the good news is that the wind blows away the clouds. We do not get wet today.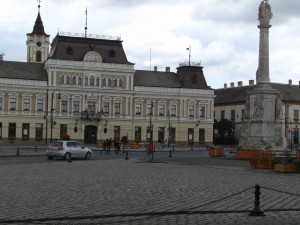 On our way, we met another couple of cyclists. Two men from Germany and Switzerland, older than we.
The one of them is a former merchant ship captain who later spent many years travelling for an NGO. The other one is a (retired) Swiss criminologist.
They started their tour three weeks ago in Donaueschingen.
Since one of them has to go and see his son in Canada, they will part company in Belgrad. His friend has not yet made up his mind as to what he will then do. He finds the Black Sea quite attractive. If he goes on, then with partners, which means he is looking for company for his way to the Black Sea. Are we his company?
On this day, too, we saw many beautiful things: diversified scenery, plenty of green meadows, beautiful villages and majestic buildings. And many lovely and nice people.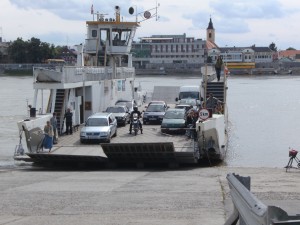 In order to get to Mohacs, we had to take the ferry across the river Danube. On the picture, you can see the Hotel Scent Janos at the opposite side of the river (in front of the ferry). Our welcome is extremely friendly. There is a special price for bikers (50 Euros for a double room including breakfast) and we are welcomed with a Pils beer by the hotel management. The hotel is absolutely phantastic. I warmly recommend it.
Later in the evening, we go eating out, listening to wonderful music at Hungary's most southerly harbour. We sit under the sky on a balcony overlooking the Danube, listening to live music: an accordion, a double basso, and three plucked string instruments, one of them a "mini-guitar". It is all really traditional, a small circle of people. There is no electronic amplifier, yet it is incredibly loud. That is the power of natural instruments for you. And we get it all with a view of the Great River.
After dinner, we want to pay and leave, when our new biker friends arrive. The evening converts into a party. Then we have to go to sleep. So we go back to our hotel and I write this "post".
I wonder who else we are going to meet again during the rest of our journey.
There is one thing that puts a damper on my enthusiasm: I have not seen a single ship on the Danube during the whole day, neither were there any in the late afternoon or evening. Was the Rhine-Main-Danube channel a flop? What about the extension of the Danube – stage II?
But maybe this will all happen when nobody can afford transportation by lorry any more? Is that the long-sightedness of our then Prime Minister of Bavaria Franz-Josef? I do not know.
🙁 The bad news is that we only managed 85 kilometres today. We have some catching up to do tomorrow, we aim at 150 kilometres. We want to go through Croatia to the Serbian border. I wonder if we will manage that. Of course, I will tell you all tomorrow (provided there is an internet connection) – or else a few days later.
CU
RMD
(translated by EG)