In the end, the connection was fine. The train to Bukarest actually waited for almost half an hour. That was some relief, because finding a hotel in Vienna, calling off the reservation in Budapest … it would all have been a little hectic.
It was a Romanian train. Immediately after departure, we went into the dining compartment, where we took the last table, which was an excellent idea. Out of the window, we saw a beautiful landscape, huge fields full of windmills, and evening sunshine against grey clouds.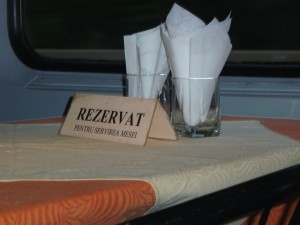 Inside the dining compartment, we enjoyed an excellent meal. While the chef de cuisine supplied wine, water, beer and food for the guests, his colleague was busy in the kitchen. We were able to watch him do the cooking, beat cutlets, peel and cut potatoes, wash the salad ingredients.
The meal – like the wine – was a dream. You seldom get this kind of meal served in our country. It seems you really have to take the night train Vienna – Bukarest in order to make that experience.
Even though late, we happily arrived at the hotel Barros around midnight (along with a Swiss couple who were planning the same as we).
RMD
P.S.
Incidentally, I have and continue loading pictures on twitpic. If you are interested, just take a look. For example dthis one! It goes without saying that you may use my pictures (for instance, if you have problems adding pictures to your blog) – free content! Naturally, I would be happy if people who take my pictures made a small reference to me. Thanks!