The first "Barcamp for Active Mobility in Everyday Life" was on January, 4th and 5th, 2016 in Unterhaching. We want to make a contribution to how mobility could and/or should look in a future worth living in. We would also like to make some headway towards a social consensus about the traffic of the future. We see this as a requirement for improving the current situation. After all, there are several reasons why matters cannot continue as they are today.
So last year, around 30 persons met at the Unterhaching Barcamp under the excellent directorship of Dr. Eberhard Huber – and they all went back home very satisfied and impressed by what they had achieved after the second afternoon. Here is the Video recording by Friedrich Lehn of the event of early in 2016.
The event managers are all my friends or acquaintances. We were and are a team of persons who have been critically and in a goal-oriented way thinking about the future of mobility. We take it for granted that today's mobility will not and cannot have a future in smart cities and in the coming digital society. We would like to see how moving under your own steam and using your own muscles is no longer dismissed as "the remaining traffic". And we ask how this kind of mobility – why not along with public transportation? – can become an equal and better alternative to individual traffic.
Consequently, we wish to build a network of as many persons as possible who want to promote active mobility in everyday life, exchange opinions and relate experiences, develop new ideas together with others and advertise those ideas in the public domain and in politics.
Since all the parties who were involved in the first AktMobCmp early in 2016 agreed that the event should be continued, we started our second round on May, 21, 2016 in the Augsburg Zeughaus. It was organized by ünter Schütz. Now we are into round number three, which will be on January, 5th and 6th, 2017 – this time back in the Unterhaching KUBIZ. Again, we will have two days – Thursday and Friday (Twelfth Day). As before, we also plan to have a nice evening event on Thursday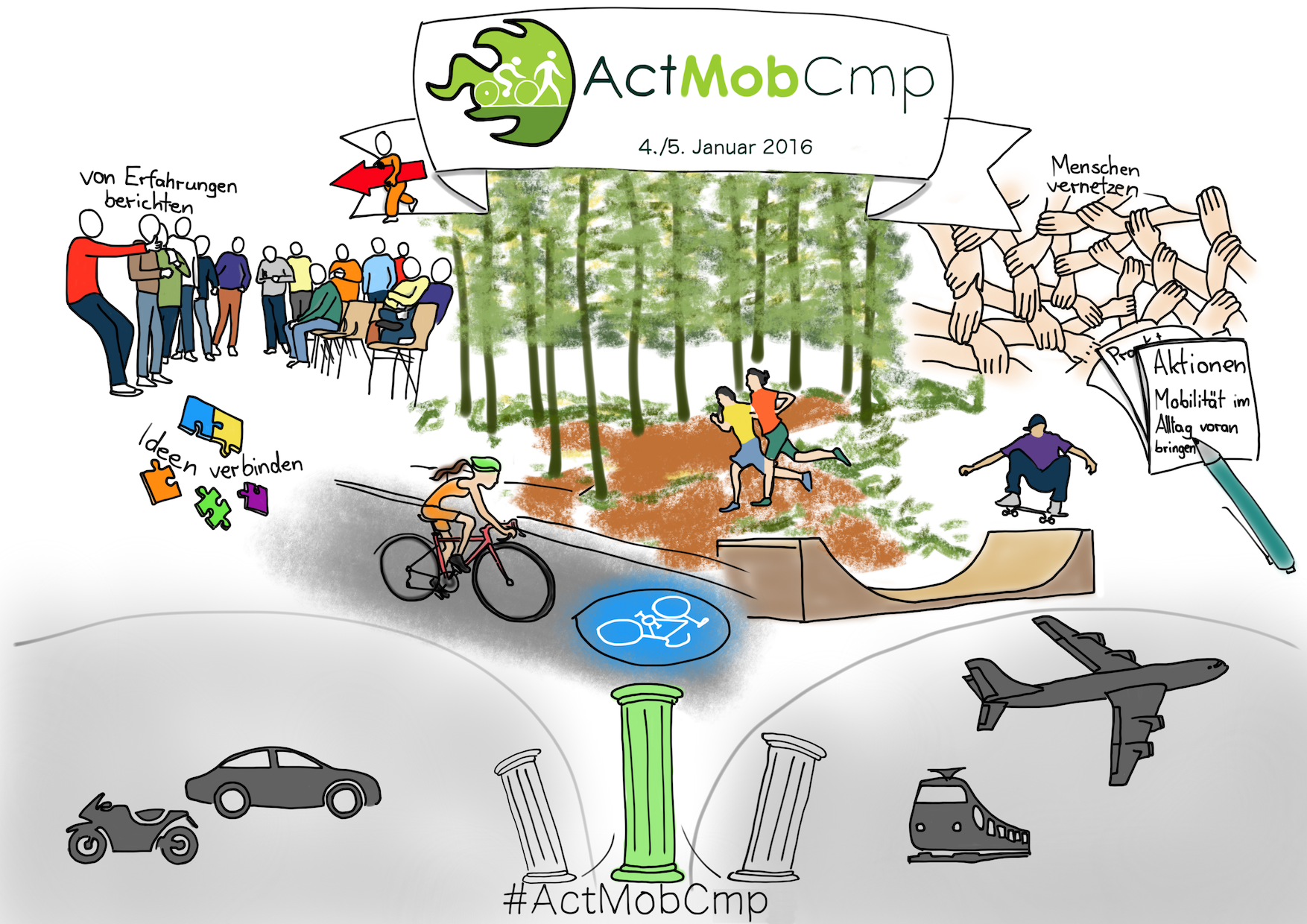 As last year, we offer three ticket price categories:
25 € for students and craftsmen in training,
50 € for all others and
75 € for those who would like to make a generous contribution that will ease the burden of organization.
If you want to register, all you need to do is send an email to anmeldung@actmobcmp.org. We will reply immediately. Alternatively, you can fill in the registration form (Anmeldeformular) on our AktMobCmp page.  Again, your data will be transmitted to us via email and not stored on any other systems.
We are now looking for comrades in arms, partners and sponsors. Because we have great plans: perhaps we can manage to organize an exhibition of modern mobility products. We absolutely want more participants than we had last year.
You can find us at meetup, on Twitter with tag #AktMobCmp and on FaceBook. And if you have any questions or want to be part of the team, just contact me. Thanks a lot!
RMD
(Translated by EG)