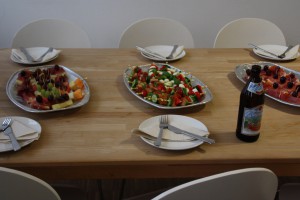 Katrin Frische and Sacha Storz had invited us to a "Stories-Meal" (Erzähl-Mahl) in the offices of TechDivision. I like both, so I gladly went.
Another reason to go was that the TechDivision is well-known for regularly nice events happening in their offices – sometimes the background of these events is more on the technological side, sometimes more on the social side. The last time I was there was during a "Munich Web-Week" on an agile topic.
A "stories-meal" is a little like an ancient Greek symposium where everybody is busy "comfortably and socially drinking". Even the ancient Greeks enjoyed mental pleasures of discourse and debate, and perhaps even a little more of the good wine, both during and after the meal. In other words: at a symposium, you were eating and drinking well and enjoying life. And at the same time, you were being philosophical and seeking wisdom.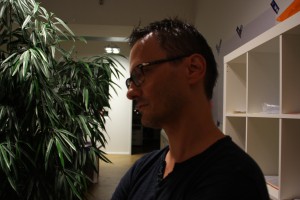 The "Stories-Meal" is a lot more sedate than a symposium and promotes an ancient culture of communication that goes as far back as the times of hunters and gatherers. Like in those ancient days around the camp-fire, the people tell each other stories. And according to our moderator Katrin, it is actually not about debating and discussing things. Instead, it is about listening and relating.
Our "stories-meal", too, was only full of nice things. The delicious food prepared by Katrin was supplemented by a huge variety of soft drinks and a number of beer brands from the TechDivision refrigerator. It was like paradise.
We were only seven, because three of the guests who had already registered could not flee from their everyday-stress, after all, and had to cancel. If only they knew what they missed! For the remaining participants, it was so much the nicer and more exciting.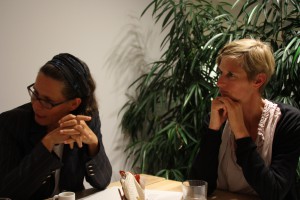 Katrin had prepared six wise questions on three sheets of paper. You could almost say she composed them. Two questions per sheet constituted a couple, so you got a triangle of topics. There were three to six catchwords with hyphens for each question, all of which was to make us thoughtful.
Let me tell you one of the pairs of questions – questions three and four, along with the catchwords:
Question #3:
WHAT IMPORTANT DECISIONS – PROFESSIONAL OR PRIVATE – DID YOU MAKE IN THE LAST TWELVE MONTHS?
Think about:
VALUES UNDERLYING THIS DECISION – CONSEQUENCES – INFLUENCE ON OTHER PERSONS
or
Question #4
WHAT IS THERE STILL IN YOUR LIFE YOU WOULD LIKE TO DO?
Think about:
YOUR VALUES – YOUR RED THREAD – IMPACT – DOING THE RIGHT THING – VOCATION – MEANING OF YOUR LIFE
I will not tell you more than this. After all, we want to keep up a little of the suspense. But it can be concluded: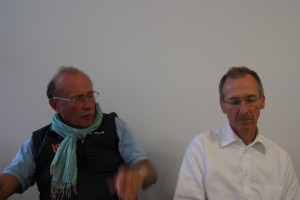 It was a very successful evening. Inside me, it moved a lot. I would like to thank all the participants who, during this evening, gave me so much with their stories.
For me, the "Stories-Meal" turned into a "Think-Meal". Because the many stimulating reports told from a different perspective really made me thoughtful. Consequently, I also told a lot about myself – and learned to understand more about myself in the process.
It was a very private evening. It was dominated by a huge amount of sympathy and – I would almost say a special development of empathy.
Und I am quite sure that this will not have been the last time I attended a "Story-Meal" at Katrin's.
RMD
(Translated by EG9