With this picture also used on the official InterFace Christmas Card of 2012, I want to wish all IF blog readers, partners, supporters and friendly persons a Happy Christmas 2012 and a successful year 2013.
In particular, I wish you all the best of health, active partnership(s) and as much success as possible, both on the job and in private life – in as many dimensions as possible!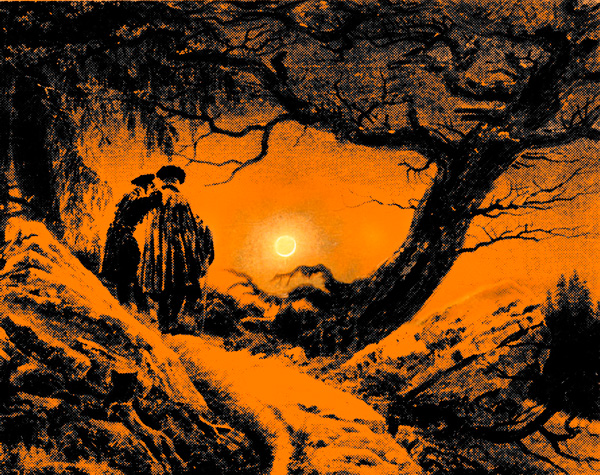 What you see is the motive of the famous oil painting:
"Two men watching the moon"
by Caspar David Friedrich, 1819/20 | Galerie Neue Meister, Dresden in the contemporary interpretation by Johannes Naumann.
For the InterFace AG and myself, it is also a reminder of Jean Paul. In 2013, he would have been 250 years old. Consequently, the year is officially the "Jean-Paul-Year".  We join in the celebrations and support the club "Jean-Paul-2013″ that organizes this special year.
In 2013, we would like to invite you to join us as we get a better understanding of this very special person. Among other things, we will have three IF Forums where we want to build a bridge between the past and the present.
As the year goes towards its end, it is a good idea to do a little thinking and "re-structures ones compass a little bit". Perhaps the following sentence can help:
Life is long, but time is short – it is nothing but moments.
This sentence is also by Jean Paul (* 21. März 1763 in Wunsiedel; † 14. November 1825 in Bayreuth)
from the story
"The Wonderful New Year's Eve Society (1801)"
Consequently, my wishes for you are that the coming year may be full of nice moments.
I wish you a time of contemplation during the Christmas season and a Happy New Year 2013!
Written at the end of  2012
RMD
(Translated by EG)