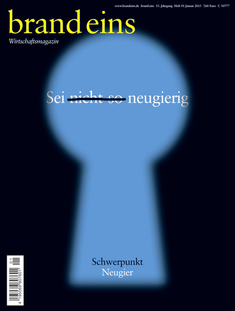 On December, 21st – well before the festivities – it was sitting in my letter box: the first brand eins of 2013. It was a rather thick and heavy message for 2013. Actually, the shrink wrapped media package weighed a whole kilogram, or, to be quite precise, it weighed 973 grams. In the internet era, I would call that pretty much.
My first thought was of the poor postman. If only a hundred of the people living along the one kilometre long Waldparkstrasse were intelligent enough to subscribe for brand eins, he would have to carry almost a hundred kilograms. Mind you, this is only for our street.
So it is quite a good thing for the postman's bicycle that all those elderly gentlemen living in the aging Waldparkstrasse (I will soon move) like it best to spend their leisure time polishing their luxurious limousines. Consequently, they have no time left to read a good business magazine. As a consolation, I can tell them that this is actually a good thing, because they would not understand most of the brand eins articles anyway – and then they would probably just get annoyed at the New World.
Incidentally, the brand eins supplement is about two-thirds of the magazine. It is called CITY OF WOOD (sub-title: "more goes") and was financed by the B&O group. On the back side, in very small script, it says: "brand eins intelligence". Maybe this is supposed to mollify those readers who, as a matter of principle, consider supplements undesired SPAM.
Yes – it is indeed sometimes hard to distinguish between a gift and SPAM. But now, during the Christmas season, I am prepared to be open-minded. Consequently, the first thing I do is get rid of the loose adverts and throw them into the waste paper bin – and then I start attacking the beef.
The title does not mince words:
Be less nosy 
(with no "exclamation mark", the "less" crossed out).
It does not come as a surprise that the focal point written underneath is "curiosity". What strikes me is that nobody ever asked if it is Neugier or Neugierde in the German version. And what is the difference if both words exist? So far, I have not thought about it.
brand eins admonishes us to be curious? I find that ok. After all, curiosity promotes the thirst for knowledge and is also useful, if not necessary, if you want to question everything in life, doesn't it? In my book the terms nosiness and curiosity have a positive connotation. They represent the demand for transparence and clarity. And these are two values I consider particularly important for a social community. We need transparence with all data and information and clarity when it comes to values and social consensus!
When I opened the magazine, the first thing I read was the editorial by Frau Fischer. I rather like it that she "finds it hard" to find a dark side to curiosity. "What dark side" – I ask myself and continue reading. And here I can see it, the dark side. After all, "Neugier" literally means "being greedy after something new". So there is the ever so greedy greed. Consequently, curiosity means greed after what is new. And that would be something negative?
Well, I think: perhaps greed as such is something good? Something that drives us, but something the moralizing institutions of many dark centuries tried to keep us away from, just like lust and many other nice things?
Anyway, I will definitely read this brand eins relatively thoroughly and I hope I can manage to do so before the New Year starts.
RMD
(Translated by EG)