IF Blog is one of the few Munich blogs written mostly both in German and English.  We and I have to thank Evelyn (EG) for this, because she is the one who translates all of my and many of the team's articles into English at high speed. She does it because she delights in our friendship and because she rather likes the English language.
All I can do is say thank you very much, Evelyn!
But Evelyn – among other hobbies – has a second and very special field of interest. One she practices with enthusiasm and a high degree of professionalism. Along with her son, she sings in various choirs. And now the two of them became members of a very special choir, the
under Thomas Gropper.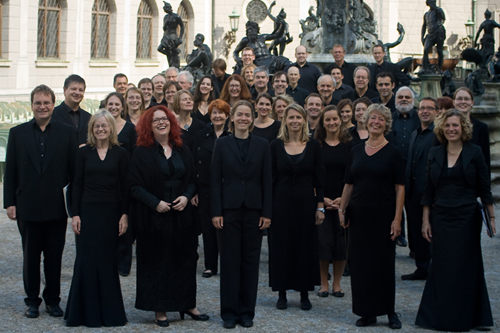 Since the picture has been taken before they joined, you cannot yet find our Evelyn and her son Martin on it.
At the end of June, the arcis vocalisten will be heard singing a new and very special project. After George Frederik Händel's most famous oratorio has often been sung in the shortened or German versions and/or accompanied with modern instruments, the  arcis vocalisten are now giving a concert singing the  complete, unabridged, English original version accompanied with historic instruments played by L'arpa festante!
On Saturday, June, 29th, the first concert will be at the Christuspavillion of Kloster Volkenroda in Thüringen, where the Jesus-Bruderschaft Volkenroda organized the event.
One day later, on Sunday, June, 30th, at 19.00 hours, it is the "home game" for the choir. That is when we can enjoy the music at the Himmelfahrtskirche in München-Sendling (Kidlerstr.).
The soloists are Hanna Herfurtner – Soprano, Franz Schlecht – Basso, Robert Sellier – Tenor and Andreas Pehl – Altus. The conductor is Thomas Gropper, who will also provide you with a 30-minute introduction to the work at 18.00 hours in the church.
In his MESSIAH, Händel creates a three-part sheet of pictures on the figure of the Redeemer, the annunciation of his birth, the Christmas Story, the Passion and the Resurrection. The delicate and passionate choirs are the backbone of the concert.
So now you know what you have to do: look in your calendar if you have time to go and then order tickets!
RMD
(Translated by EG)