Time flies. Only one year ago, I was sceptical about electro-mobility for the bike. At least in Munich. Because here, everything (with the exception of the Isar banks) is rather flat land.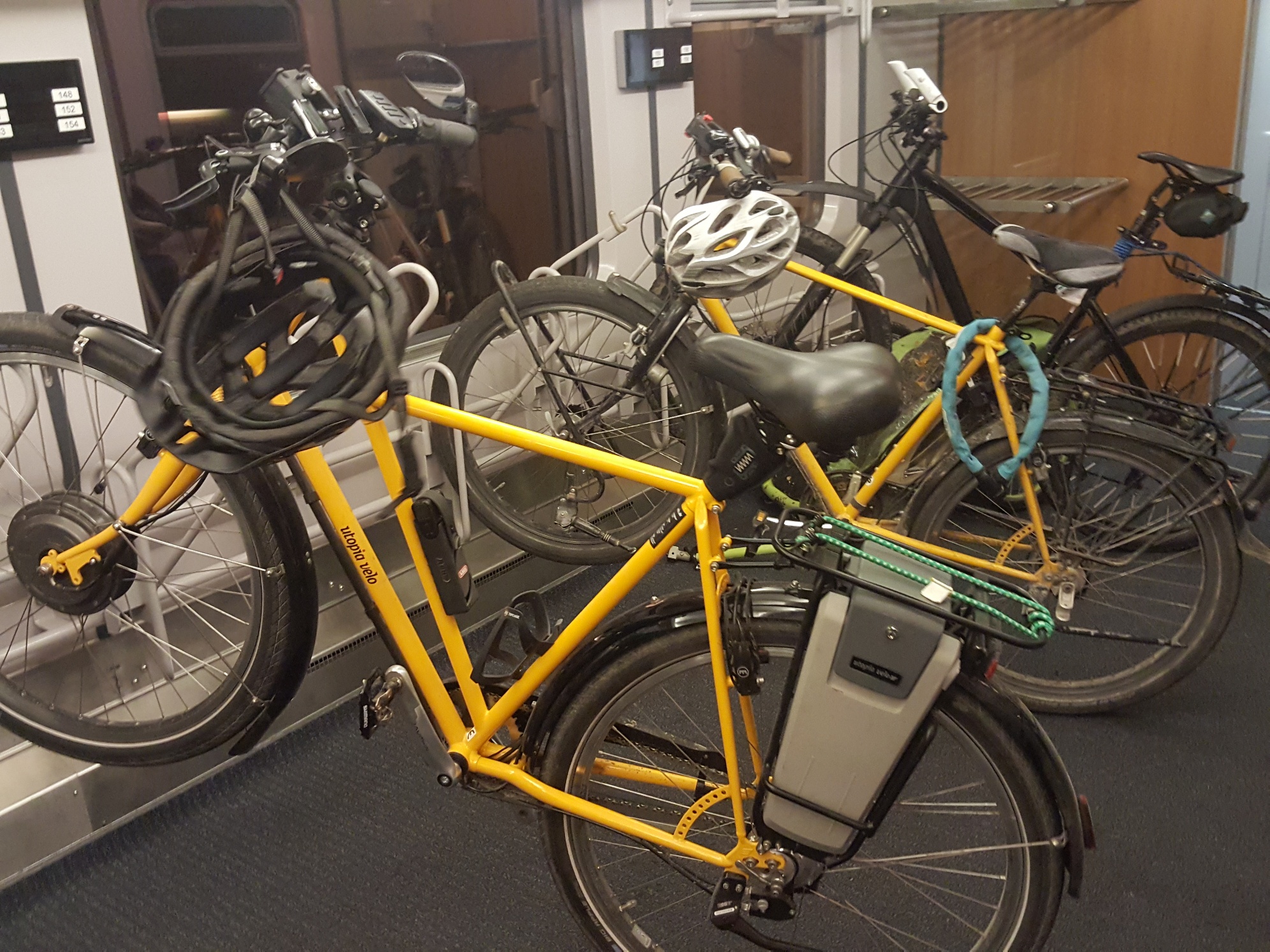 Now, our household has 4 (four) electro bikes. And the electric support given to my bike absolutely fascinates me.
Basically, the bike itself was already a stroke of genius by combining humans and mechanics. But the e-bike combines this exciting combination with a motor. In doing so, it realizes a unique symbiosis between humans and machines. It is such a great thing that it was the last and determining factor that blew away any lingering fascination of mine for driving a car.
What a pitiful way of moving from one place to another is the car if compared with the bike!
For me, the physical activity has always been an important reason why I rode a bike. So there was the fear that said physical activity might suffer a little under the e-bike influence. But that is not so. After a long e-bike tour, I am just as exhausted – if in a different way – as I used to be with the conventional bike. After fifty kilometres on the e-bike, I would actually like to continue. And only after a few minutes of rest, I notice how exhausting it actually was.
Well, it is easy to find out the secret. On the e-bike, my pedalling frequency is much higher. It is easy going and does not harm the joints. On average, I ride about one third more than "without electricity". In other words: I have the battery support, but I am going much faster. And I often get the impression that, physically, I actually achieve as much as before, if not more. And that the power from the battery mainly gives the higher speed – and yet I do not work less than without the electrical power.
If I go distances of 10 kilometres and less, I only take my conventional bikes. I keep the considerably higher pedal frequency I got used to on the e-bike. And, surprise, surprise, I am now faster than I used to be with my good old bikes. Which I find quite fascinating.
All my electric bikes are true e-bikes, i.e., the electricity only supports me when I pedal myself. It turns off at 25 km/h. Which is totally ok by me. Using my e-bikes in the economy mode, I do an average of 18 kilometres. Which means I need half an hour for 9 kilometres. And in Munich, this means quite a distance. For instance from my home in Neubiberg to the Isartor. Or from the Marienplatz to Riem. Munich becomes a small town. And all the advantages of the bike, for instance parking without a problem, remain the same for the e-bike.
If I am in a hurry, I can also do an average of more than 20 kilometres. It only requires a higher program. That means I ride ten kilometres in half an hour. And with the e-bike, just like with the bike, distances are mostly considerably shorter than with the car.
Consequently, the so-called S-pedelecs are not an issue in my book. I rather like speeds of around 25 km/h and they are absolutely sufficient for my purposes. I feel absolutely well and safe – and I definitely need no more speed.
Among my initial concerns were the range and the handling. Both are not at all something I need to worry about. It is quite remarkable how many kilometres and how much altitude modern batteries can go. And the handling is also quite easy. But I will tell you more and in more detail about this when I introduce the three bike types of our household.
It all started with an e-cargo bike. Then I purchased two "electronic mountain bikes". And eventually a wonderful touring bike. I will introduce all three of them next week in the IF blog. They all have their individual technology and specialties. And I love them all.
RMD
(Translated by EG)