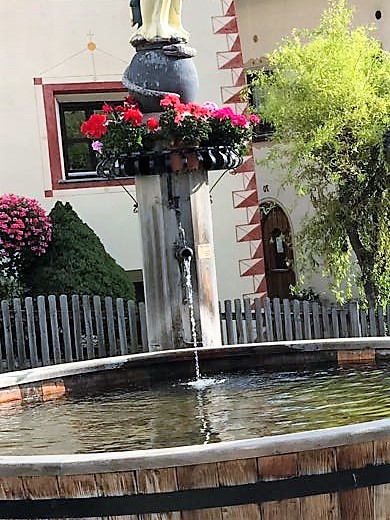 Miriam was a minx!
Everybody knew it – so Hermann, too, knew it.
But, being the youngest, the farm was going to fall to him. It was the biggest farm in Erleinsbach, but it was rather run-down and indebted!
On Sundays, when everybody – except Hermann who stopped going there a long time ago – met in the surrounding pubs for their regulars, the state this farm was in was simply commented with "yes, Hermann does not have an easy life!" – if you were lucky. More often than not, these words were then accompanied by either a sleazy grin or embarrassed silence. There were even some who actually spat on the ground whenever the farm was mentioned.
Hermann's brothers and sisters were only too happy that, after having been hesitant for many years, he had agreed to be the heir of the farm. None of them would have wanted to burden himself with it. His older brother Korbinian preferred working as a carpenter in the neighbouring village of Kopfing and Annegret had married into a respectable and profitable farm when she was very young. For farmer Leitner, Annegret was a stroke of luck: she might not be the most attractive and snugly person, in fact, she was perhaps even a little frog-eyed, but she was as industrious as a honey bee. Her mother-in-law herself said so with pride whenever she wanted to show off in front of the neighbouring farmers. Annegret could work like no other. No haystack was too heavy for her, no tractor too big, no manure spreader too smelly – and even when she was round with a baby inside, she milked all the cows and cleaned the stalls.
My old lady is a true 'working animal', the red-cheeked farmer Leitner would often contentedly say to the regulars at the pub before toasting his friends around the table with a full stein of beer.
But Miriam – she was not a 'working animal'!
Regardless, Hermann married her! Actually, he married her even though she was no longer the freshest fruit on the market and came with a fatherless child. Said child, however, was well cared for in Grieskirchen by Miriam's aunt. So it was not much of s surprise that, under these circumstances, it was not easy for Miriam to find someone to marry in the vicinity of her home place Natternbach, where everyone knew everyone. Hermann actually fit the bill quite well!
Luckily, Miriam only saw her offspring Paula at funerals and marriage ceremonies. That was more than enough! Because whenever she laid eyes on Paula, Miriam was disappointed and angry to notice that her daughter looked just as unattractive and worn-down as her father who, as always, was still working as a butcher in Wels: why had Paula not inherited at least a little bit from her mother?
Yes, she knew how you made yourself up to look sexy and how you turned men's heads with a high bosom and a steep bottom. Every one of the farmers turned his head when she appeared. But Paula? Perhaps a blind man would turn if she called something friendly after him …
Hermann rather liked Miriam's Paula!
He had occasionally seen her at family gatherings and he had also once in a while pinched her well-rounded bottom! It was all, of course, in a very friendly manner – which meant her only reply was a laugh. He also knew Paula's less-than-elegant father Josef. And, as opposed to all the others, Hermann was truly proud of her mother Miriam!
Yes – as proud as a peacock!
He would never ever have dreamed that such a 'nice lady' would want him for a husband: him, who did not know how to behave, never looked very attractive and never had enough money. What could he offer to a lady like her?
Well – a farm – and a lot of dirty work along with it. From morning to night!
Miriam came from a family of craftsmen!
Her father had been a roofer. Her mother had always been particular about there always being a good meal and two bottles of beer on the table when he came home after a hard day's work. But still, she could not prevent his death, one morning when it rained and he fell from one of the steep church roofs. Cervical dislocation – and a multiple broken spine!
Subsequently, Miriam's mother had had to feed herself and her daughter, who more and more grew into a beautiful, well-rounded thing, by cleaning and cooking for others. Small wonder that said Miriam swore to herself that she was absolutely going to marry a man who could offer her more than her clumsy father had offered to her mother. Or than this fat Josef who had given her Paula in a state of total alcohol stupor but could barely pay the alimonies for her.
And it was absolutely out of the question that she would one day clean after others as her mother now had to do all the year round. That was not for her. No, she would rather remain by herself and dry out slowly – as her mother had predicted!
Perhaps Miriam looked so attractive to Hermann because she neither looked like a farmer's wife nor ever wanted to become one?
Hermann had always had a certain tendency towards wanting to feel superior to others. Even at school. Korbinian and Annegret had shown the same tendency and had often been ostracized by the other farmers.
Above all, Hermann admired Miriam's satiny, light skin! Her face never showed the frost bite marks that shone when you danced and were so common for farmers' wives. She knew how to dress and would not have looked out of place as a salesperson in Linz.
While he kept telling his siblings and other stupid folks that he certainly could not have cared less about this 'roofer's daughter Miriam', Hermann – regardless of some warnings – probably was less than alert when the decisive moment came: it came as a total surprise to everybody when, one day, and in the middle of harvest time at that, he stood in front of the altar with Miriam at his side.
From day one she made it clear to a not really surprised Hermann that there was no way she was going to play farmer's wife and, perhaps, later even wipe his bottom.
Miriam had other plans and saw to it that she was immediately entered into the register for Hermann's farm in order to, at long last, get the loan from the Grieskirchen bank she needed for fulfilling her life's dream: opening a bar in Wels!
Her counsellor at the bank had, during very personal conversations, drawn a very rosy picture of the goldmine that was sitting here waiting for her if she was willing to approach the affair with him and the right power, provided she did not allow the always tired little Hermann to interfere.
The farm as a security made everything possible, the industrious gentleman from the bank assured her. And Miriam, outfitted in her nice Dirndl dresses, did her best to keep him in line!
However, the initial euphoria did not last long: to be sure, the Dirndl dresses were still looking pretty good, since she mostly worked only wearing her underwear or even less, but the bar dream had become pure fiction and she had received quite a few not too nice 'scars'. Thanks to her youth, however, said scars were still something one could camouflage if nicely dressed and wearing full war paint.
Besides, Miriam was not stupid. From her bank consultant, she had learned between all the cuddling, sweaty moaning and the occasional slab in the face how, even through heavy waters, you could find a safe haven for your nest-egg in various tax paradises.
And, soon after the strange bank guy, Dario, whom she had first met in the Linz 'Rosenstüberl' showed her all the things she could do with her nest-egg in Southern Spain.
Since Hermann's shabby farm had never brought the profit he had predicted, it was only fair that he now remained back having to deal with the debt!
When Dario gave her an ultimatum about delivering and eloping with him, she called to Hermann that, for her, time was definitely too precious to waste her best years with his kind.
Looking at how he, Hermann, ran his farm and made one mistake after the other, she was sure that, even in a hundred years, he was not going to make a success of this 'pigsty of a farm' – those were the words she hissed at him as she stood in the front door wearing her red pantsuit. Meanwhile, Hermann was busy on the farm throwing the freshly produced dung in ever higher arcs onto the dung- heap – and, as always, he said nothing!
"Why don't you throw yourself after the dung right into the dung-heap, Hermann? After all, that would be the right place for a loser like you", she screeched hysterically before driving out of the farm in his old Mercedes. All that was now left on the farm were three pigs, two old cows, one sheep and some remaining straw that also already started getting mouldy; all other income had been sold immediately after the harvest in order to at least pay the most pressing parts of the debt to the bank.
Deep in his heart, Hermann actually shared Miriam's analysis, although seeing her leave in such a shabby way cut right into his heart.
Without much thought, Hermann simply tried to continue as before after this disaster with Miriam: during the day, he moonlighted for some people he knew in the neighbouring villages as a mason, and in the evenings, he crawled through the shabby remainders of his farm with little enthusiasm and in an even worse mood.
Once in a while, at least his sister Annegret came for a visit. She did his laundry, cleaned his kitchen and, twice a year, cleaned the windows in his bedroom and the big living room. Without her, he would have drowned in his own dirt.
The only light at the end of the tunnel of this sad existence for Hermann was – Miriam's Paula – who, for some strange reason had taken to him. Or maybe she simply wanted to make her stupid mother angry!
Fact was, Dear Paula, as he called her, still appeared on his front door in Grieskirchen every few months and stayed either a short while or a little longer, depending on how she liked it. And grumpy Hermann would always suddenly feel better: he even shaved, washed himself, wore a clean shirt and one of the two pairs of jeans he owned and drove to Natternbach with Dear Paula to go shopping. After all, she would always cook something delicious for him in the evening and afterwards sit with him over beer and egg liquor.
She also merrily told him about her work as a hairdresser, asked extensive questions about his ailments and watched whatever nonsense he wanted to see on TV.
And three times a year, she even persuaded him to have his hair cut by her – a procedure that always ended with terrible fuss and laughter, especially when, regardless of his most intense opposition, she relished in treating the abundance of hair in his ears and nose.
She also tamed the wilderness above his eyes! And as far as his sparse top hair was concerned, there were literally the most violent discussions and rounds of giggling about the appropriate length of every individual string of hair. And when, afterwards, his eyelids fell down from sheer exhaustion, she guided him into his smelly bedroom next to the big living room before taking her seat in her car and again making herself scarce …
They never talked about her mother – that was an unspoken, silent agreement that was strictly adhered to, no matter how much they had imbibed.
 
But then, after what felt like a hundred years – on a November evening – Miriam suddenly appeared in the big living room! She looked as bent as an old wardrobe and as dry as her already dead mother …
Hesitantly, she said:
"A good day to you, Hermann!"
The no longer slim Hermann – with a damaged hip and a hurting knee – lay on the sofa in front of the TV set in a strangely contorted way, glanced briefly at her, took a huge gulp from the beer bottle that sat within easy reach on the floor next to the sofa and kept looking exclusively at the TV screen…
"Do you no longer know me, Hermann?"
"Oh yes, I know you!"
"And you have nothing to say?"
"Naa…"!
"May I sit down …?"
"Take the stool near the oven."
"Thank you, Hermann."
"And help yourself to a beer!"
"I no longer drink beer, Hermann!"
"All of a sudden?"
"Aren't you not going to ask why?"
"Well, I guess you will tell me!"
"I! – I – I – have cancer …!"
"Is that also my fault?"
"Naa – it is not why I am here …"
"Then why?"
"Because I do not know where to go?"
"Why?"
"Because I am ashamed – because of all I did!"
"Hark, hark …"!
"Well, you know, I am really ashamed, Hermann."
"Before whom?"
"Before your siblings – and Paula – and all the others."
"And not before me?"
"No, Hermann, not before you!"
"Aha."
"Well, it is the truth …"
"Well, if that is how you feel?
"Yes, that is how I feel …"
"You do not look too well!
"I know, Hermann!"
"Are you hungry …?"
"No – I cannot eat normal food any more."
"Where is the problem?"
"The intestines …!"
"Hm – I understand…"
"I no longer have any strength …"
"Me neither!"
"Stupid – with me, this is really true …"
"With me, too …"
"Are you going to send me away?"
"Naa – you can make up your bed in our bedroom, if that is what you want!"
"Thank you, Hermann".
"I assume you know where to find everything?"
"Yes – Hermann…"
"I can help you if you want me to …?"
"Not necessary, go ahead and drink you beer …"
"Okay"…
When Miriam had made her half of the shared marital bed, she lay down in it, pushed the cover over her head and after this day never rose again.
And when, on Christmas Eve, she kept moaning and crying out loud with pain, Hermann patted her with his rough hands – until she became very still …
KH
(Translated by EG)