I like riding the Utopia Velo bicycles. Utopia Velo is a "small" bicycle manufacturer in Saarbrücken. Utopia bikes always have a very special frame. It is hand-made in the Netherlands (at Rainbow in Aalten/Nederland) in small quantities. Incidentally, "small quantities" is a relative term, because Roadster (with a cross-frame just like London) managed to sell more than 5,000 times in only a few years. One specimen of each of those models can also be found in my bicycle shed. Taken both together, you get more than 30,000 kilometres I rode on them over the last few years.
Every year, the Utopia company has a summer party. On the day before, they have some kind of "investor meeting". This year, it was on June, 25th and 26th. Since I, too, invested some money at Utopia, I naturally wanted to be part of the event. But then, I would not go from Neubiberg to Saarbrücken just for two days. That would not be worth the effort.
Consequently, Barbara and yours truly decided to start on Wednesday, June, 22nd and combine the trip with a small bike tour. We went to Freiburg (the secret capital for cyclists and solar fans?) by train to continue the trip by bike through France to Saarbrücken, where we were going to attend the Utopia event.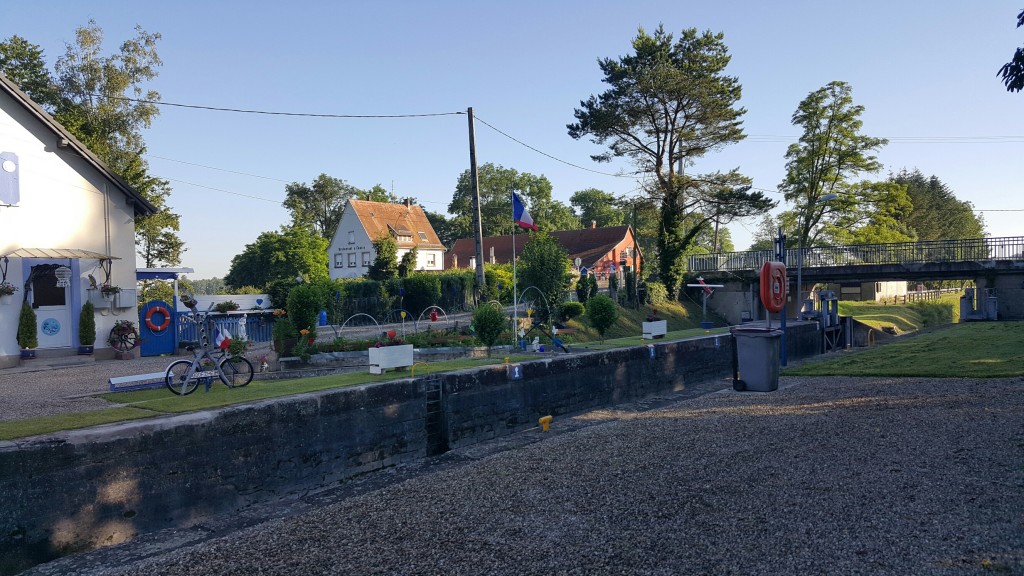 Here is a short travel report. One of the reasons is that we had a very significant highlight on our journey – we visited the Völklinger Hütte, a venerable world culture heritage. I strongly recommend visiting it.
Wednesday, June, 22nd, 2016: Going to Freiburg by Train
First, we went from Neubiberg to Munich East at 9.11 a.m. Then we continued to Heidelberg using the EC that had started in Salzburg and the final destination of which was Frankfurt. Our plan had been to go from Heidelberg to Karlsruhe using the S-Bahn train. Since our train was late, we missed the S-Bahn. However, we were lucky and another S-Bahn train took us to Mannheim, where we managed to catch the – also late – EC to Basel via Freiburg.
We arrived in Freiburg at 4 p.m. and first made our way to the river Rhine. This Wednesday was the first of three particularly nice summer days that made Germany extremely sunny and very hot late in June.
In the evening, after around 60 kilometres around the river Rhine, we start asking questions in Diebolsheim around 7 p.m. We were worried about our accommodations, because, surprisingly enough, the area is not full of advertisements. But we were lucky. As soon as we arrived in Diebolsheim, we found a sign: GÎTES d'ÉTAPE. We rang the bell and a nice lady opened the door. And already we had a nice room for the night. Since there was no restaurant in the vicinity, we acquired a Baguette and two bottles of red wine from our landlady (total price, including room for the night was 50 €). And with that, we had the first wonderful evening.
Thursday, June, 23rd: From Dieboldsheim to Graufthal.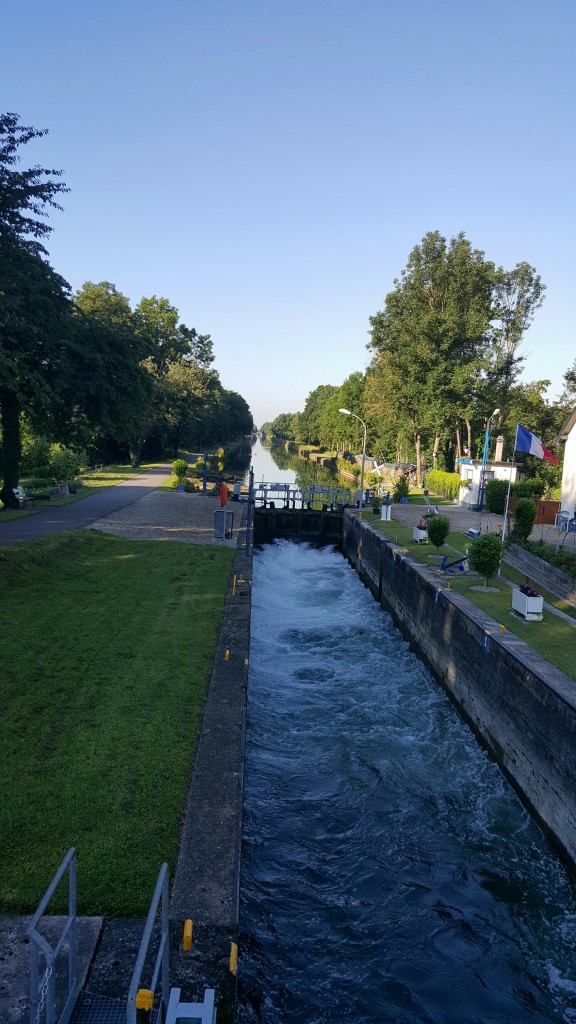 We rise early. Soon we are at the Rhone-Rhine channel. It is wonderful on the bikes on a wonderful summer morning. In Strasbourg, we eat breakfast at a small bakery and then have a second pause at a bar. It is just like a fairy tale or the cinema.
After Strasbourg, we are never bored. We cross the country, follow channels and, after a few inclines, arrive in Graufthal. It is a village in an environmentally protected area. To be sure, it is a little touristy, but still: it is a very agreeable place.
We find a wonderful hotel. The Au vieux moulin fits perfectly with the scenery and the picturesque place, the room is great and the price is modest. There is tasty food in the evening; it is not easy to choose from the menu. We enjoy it all and again I understand why they say: living like God in France.
Our bed-time is rather early, because tomorrow morning, the Vosges inclines are waiting. And since they say it is going to be another hot day, we prefer to do the hard work in the cool morning hours.
Friday, June, 24th: To Saarbrücken via the Vosges.
We start before eight, forgoing a breakfast at the "old mill" that would certainly have been delicious. The soft inclines of the Vosges are of the kind even I delight in. Regardless, there is quite a total altitude to climb. We finally get our breakfast in a wonderful bakery as we arrive in a small town about half-way to Saarbrücken later that morning. We sit close to the bakery ovens where the delicacies originated and can watch the baker at work.
Then we continue on our way, riding our bikes across the width and length of a gentle landscape. Later, the way is again down and we reach the river Saar. Our route is as snaky as the course of the river on quiet bank paths to Saarbrücken. We discover remainders of the Maginot line, signs on the streets tell us about this monstrosity and the tragic events associated with it. We also came across soldiers' cemeteries on our trip quite frequently.
At noon, we are still in France. We find a great restaurant. It is directly on the river Saar and a very typical Alsace restaurant. We enjoy the day's special with three courses that taste delicious and a bottle of wine. As I already wrote: it is like God in France.
Then we continue on our way. After a short ride on the bikes along the river Saar, we arrive in Saarbrücken early in the afternoon. Only 48 hours ago, we had arrived in Freiburg. In theory, we could now go to the railway station and be back in Munich by tonight. However, since we have plans in and around Saarbrücken, we again look for a place to stay. The first few hotels we see are not really to our liking. Then we find La Résidence in the middle of the city. The price is ok, so we book for two nights. In the afternoon, we stroll through Saarbrücken – in our perception, the capital of the Saarland is a very active metropolitan city.
In the evening, we enjoy the Saar promenade. It really feels like a metropolitan city to me. There are great restaurants. There is some wind, it seems like the summer is over. But we are lucky, because the weather remains stable and we close three very warm summer days on our bikes with a really good meal. To be sure, this was only a small bike tour with about 200 kilometres, but it is really surprising how many nice things you can see in three days, even if travelling there from Munich was no small distance. Then the great rain comes – and we flee into the near hotel.
Saturday, June, 25th, 2016 – The Highlight – A Morning at the Völklinger Hütte.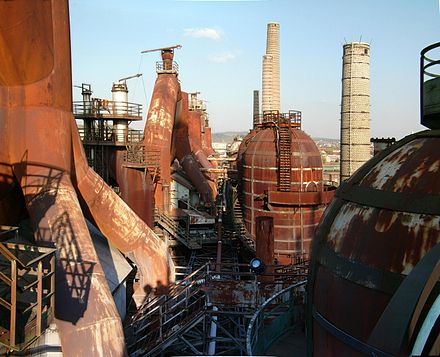 After a huge breakfast at the La Résidence, we start the day. It is a little more than 10 kilometres to the Völklinger Hütte by bike. We enjoy it, because it has stopped raining. The cottage is a huge industrial museum and World Cultural Heritage. We were already going to visit it during our Saarland trip, but then the time frame was not right.
This morning, we finally do it. We are extremely lucky, because this is the very day that the "Bhudda Expedition" ("Bhudda-Ausstellung") opens in the world cultural heritage. The sensational photo exhibition by Steve McCurry: "Buddhism – Photos taken between 1985 and 2013" has been installed in the cottage on May, 1st. The price of 15 € covers everything. Most of the visitors only pay 13 €, because you get a discount of two Euros for many things, for instance if you are an ADFC member or the owner of a BahnCard. …
The exhibition combines many messages and opportunities. You can experience the brutal side of the industrial era, media shows illustrate how the people worked. The integration of the Buddhas and pictures into the "old" technology fits perfectly. Someone gives excellent explanations on the Buddha statues. There is a fantastic contrast between the pictures and the environment. It is a truly great installation.
And the cottages also offer all kinds of things. Technology, history, but alo adventures and physical exertion. There is a long circular course that is never boring. And there is an outdoor high-elevation path where even well-trained climbers might easily get dizzy.
Even without taking the bike trip, visiting these "three exhibitions in one" is definitely worth going to the Saarland.
Late in the afternoon, there is more rain. So we flee into the interior of the world cultural heritage. Then it continues to rain. Still, we are on our way and arrive at Utopia relatively dry. There is a friendly welcome and we watch exciting presentations. In the evening, we are again lucky with the weather. We arrive safely and do another stroll on the Saar promenade. However, dinner is "in-house", because it has become quite cold, if not downright frosty. On the other side of the window, you can get a glimpse of the sun, but that does not bother us when we eat.
Sunday, June, 26th, 2016 – Utopia Summer Party.
We check out of the "Residence" and ride our Roadster and Silver Dove (Barbara's bike) to the summer party, taking all our luggage with us. We hear many interesting discussions, learn much that was new to us and get a few trial rides on "normal" bikes and "pedelecs".  We are surprised to hear that a modern bicycle frame, either of steel or aluminium, is less heavy than a good bike chain designed to resist a thief. We also learn how to best oil a bike chain (after having cleaned it with a brush) and many other tricks. There is definitely a strong temptation to buy a new bike. Especially the pedelecs with their low weight are very tempting. Well, we can just about resist.
In the afternoon, we go directly to Saarbrücken Central Railway Station. The train trip is rather unproblematic, with just a small glitch: the only toilet on the regional train from Neustadt (Weinstr) is defunct and closed. Regardless, we are back at our "home, sweet home" shortly before 10 p.m. after five wonderful days.
RMD
(Translated by EG)