Bread Instead of Fireworks?
Now that was some noise tonight, when all those fireworks went up in the air, wasn't it? This time, we welcomed the New Year with more fireworks than ever before. At least, that was my impression. And the streets seem even more devastated than on other New Year's Days.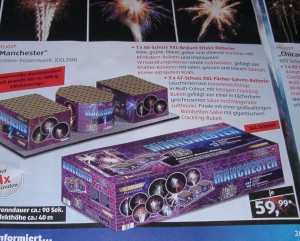 Well, I would not be surprised to hear that I am correct with my feeling. In the last ALDI advertising folder, fireworks articles took up exactly one dozen (12!) pages.
The articles ranged between the "China – Racket Collection Hanan with about 50 individual parts, sorted in groups of 6 with 10 particularly loud "Reibknopfknaller" for a ridiculous 1.99 € to the "Manchester – the fireworks innovation of the year with an effect power as common composite firework powered by effective and high-calibre XXL500 batteries".
For the top model, you had to pay the negligible sum of 59.99 €. That is the same price in Euros as the Kindle costs in the USA (79 $). What you get is a "System firework with 144 shots and a fireworks combination with up to 500 effective grams" (note the clever formulation 'up to'). These are all quotes from the ALDI advertising folder! And if you light them once, you get a burning capacity of 90 seconds and a height of around 40 m.
There was a time when sixty Euros was really some money. Perhaps it is still real money for some people. But in the ALDI advertising folder, you will find everything between 1.99 € and 59.99 € – so everyone will find what he can afford!
Consequently, nobody is denied the pleasure of carrying his remaining pennies to the discount store at the year's end.
Yes, that is how you do it. The economy needs growth and has to meet the required numbers. So you have to approach the market with creativity. You have to choose the right time to hit. Make use of super-ego compulsions and be innovative when trying to get the people to bring you their money. Well, you can certainly learn something here …
But is that our future?

I get a little nostalgic, remembering my childhood. In those days, Sylvester was still written with a "y" (in German language) and the firework was a pack of magic candles.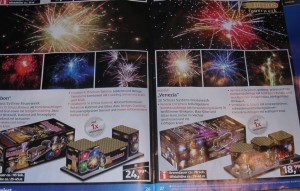 The wax candles at the Christmas tree were lighted on New Year's Eve and the electric light was switched off. Then we lighted our "miraculous candles". We children were happy if we were permitted to hold the small rod that threw out sparks in our hands.
Once in a while, the tablecloth had a few burn marks. Mother got angry about that. If a spark happened to land in our eyes, she got really worried. But it was not a terrible thing to happen. After all, cornea heals fast.
When we reached the scallywag age (today, I often wonder if we ever were scallywags), the fireworks were important instruments for pre-virile courage tests. You had to hold the Kuba-Knaller (a cube looking like a ball wrapped in cords) in your flat hand when it was lighted.
To be sure, you protected your hands with several pairs of mittens. And when there was a hole in the good mittens, mother also got angry. And we were happy that our hands had remained undamaged.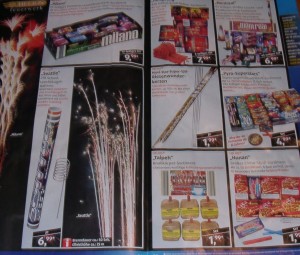 When we were grown-up ourselves and had small children, we also had fireworks for New Year's Eve.
At the time, it was nowhere near as easy as today. The expensive rockets had to be put into bottles. If the process of lighting them failed, my attempts at saving the defunct firework were quite adventurous. Whenever a firework did not explode, we could read sadness in the eyes of our children.
On New Year's Eve, the fingers were bitterly cold. Secretly, I cursed the fireworks. But that did not matter. All that mattered was that the children were happy. That made my day.
Today, it is all much easier. Using "Manchester", all the New Year's Eve hero has to do is light it once. And then the spectacle can start. All you have to worry about is how to get your beer belly out of harm's way.
Well, something went wrong along the way, didn't it? To be sure, the fireworks as such are a nice thing. But do we really need these individualized mass orgies to start the New Year? Just to show that we are a cosmopolitan city? Is it really necessary to pollute the environment in such a gigantic way? Is it really such fun to light fireworks, or is it just the pressure to join in? How about lighting one great, beautiful firework for all and sharing the pleasure – and then being content?
I seem to remember that there was a movement: "Bread instead of fireworks". But in the age of biological fuel, this is no longer important. I am sure you all know the cynical sentence:
"E10 – meals on wheels"
Regardless of all these critical remarks and of quite a few misgivings about the future, I am optimistic and believe in the future. I actually mean this quite seriously and honestly!
I wish you all a successful and healthy year 2012! May it be full of mutual respect, dignity and love.
RMD
(Translated by EG)