As soon as my story of Konstantin K. and what happened to him when he met Microsoft-Caesar Bill Gates was published, the desired reaction followed: "Didn't you write Konstantin had never told anybody of what happened to him in Seattle?" It was exactly this question I had waited for: "And now everybody can read it here in the blog. So he did tell someone, after all?"
I take immense pleasure in including riddles in my stories. Is that true? Is he himself Konstantin? How else would he know? There is a whole set of unanswered questions. What you are taught is stored somewhere or mostly forgotten immediately. A dry, allegedly objective presentation is hard to digest and the system tries to get rid of this ballast (digesting it by means of forgetting).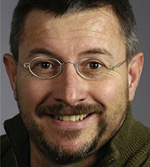 A story that motivates you to find the interpretation, initiates cascades of questions, leaves room for additions in the form of personal experience is alive. And how is it stories enliven management? We are all familiar with endless meetings, PowerPoint pains on a daily basis, do-it lists that ignore the brain's pleasure principle, strategies and methods being parrotted and devoid of love and juice.
A strategy wrapped up in a story will hardly ever be forgotten; it is never finished and fits neatly into real life. When I was asked by a great car company to analyse what happened with the communication during an international sales meeting ("Somehow we talk about the same thing every year and nothing moves!"), I was, again, confronted with the question: "Should I bore the devil by playing Mephisto?"
I came up with an idea that is probably unique in the sector of counselling. And, to be perfectly honest: I was also quite forward in letting the directors feel what real communication can be like. Read more on this in my next article (another riddle?).
Li
(Translated by EG)