Carl and Gerlinde (# 58)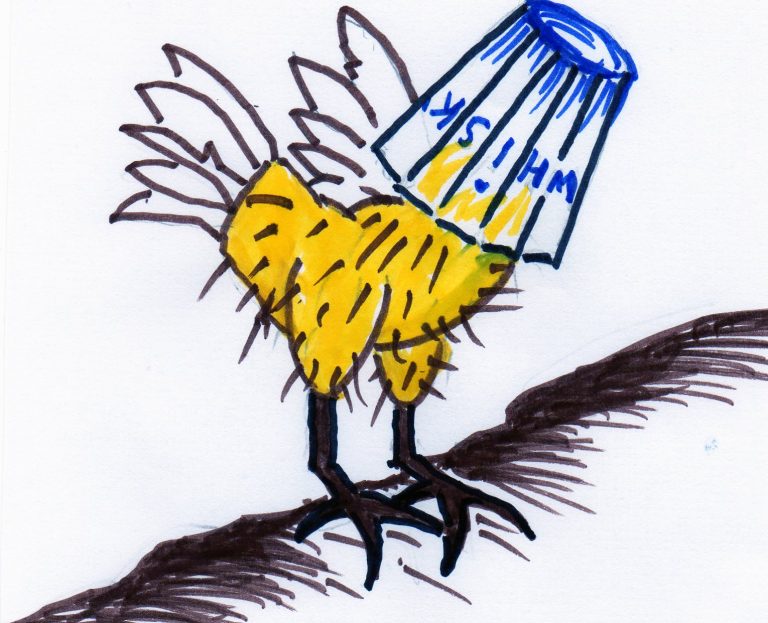 No, Carl did not wish to explain yet another time why he and Gerlinde had originally planned going to Tenerife but had then yet again ended up in Lanzarote, from where they had returned home yesterday night!
Gerlinde did not want to say anything on the matter, either: why had Hannelore and Kurt chosen this early Sunday morning during breakfast to invade their privacy, just because Hannelore, again, found it impossible to wait for the fantastic vacation report from Gerlinde? After all, she was eager to convince her Kurt that the Canaries were where they needed to go.
Carl was a little irritated when he asked them if they would like a cup of coffee or if they would prefer the champagne and the salmon appetizers he and Gerlinde had eaten at the "Iberostar Lanzarote Park Hotel" each morning around this time as their brunch.
Oh – you stayed in the same hotel as last year? Hannelore piped. Gerlinde confirmed it with a tired nod while looking for the champagne glasses, because Carl was actually already on his way to fetch the champagne in the basement. Yes, when Hannelore wanted something he was always eager to please!
Come, Gerlinde, tell us how you liked Lanzarote? What was the weather like? Were the people nice and what about the general atmosphere? We want to know everything in detail, don't we, Kurt?
Kurt gave a short nod and Gerlinde said: Well – yes – on the whole, it was quite nice!
Well – that does not sound too enthusiastic, does it, grumbled Kurt.
But it was – Carl interrupted while he let the champagne corks pop.
Unfortunately, as soon as the first week was over, I started coming down with this terrible cold. I am still not over it, Gerlinde moaned and, to prove her point, she filled two tissues with what had accumulated in her nose.
And I was cold all the time, Carl grinned while pouring the champagne for everyone.
Are you telling me that it was not as warm and spring-like as you had hoped?, asked Hannelore with her raised champagne glass in her hand.
For the many overweight people, it was certainly warm enough, Carl replied. But for the few normal weight humans, like us, it was not! But now cheers. Here is a toast to you and the fact that we are back home safe.
The constantly blowing cold north wind was really a nuisance this time. Gerlinde moaned with a grand suffering expression that Hannelore obstinately chose to ignore.
Great! – This is why you fly 4,000 kilometres in the direction of Africa, was Kurt's smug comment. He finished his glass in one go and immediately and provocatively placed it again next to the champagne bottle that still contained a few sips.
There was not a single day when it was possible for her to lie in the sun for more than half an hour, because this stupid wind was always blowing. And she only swam in the pool three times in all these two weeks. Her cold, too, was probably because of this, Gerlinde continued lamenting. After all, now she was in lamenting mode and she noticed how this negative report made Hannelore more and more uncomfortable. But, naturally, she had not been the only one suffering from a cold: even early in the morning when everybody came to eat their breakfast, almost the entire room was filled with coughing and sneezing in all musical pitches when they arrived. And the flight back to Frankfurt, too, had been a single load of running and coughing noses.…
Since Carl, to the pleasure of Hannelore, had refilled the glasses with champagne and was now invitingly lifting his glass, Gerlinde had to interrupt her sneezing report for a short time. This gave Hannelore, after she had swallowed a few hasty sips, the chance to quickly ask the question if they had at least enjoyed nice day trips.
Yes, definitely, said Gerlinde after a long pause during which she, who was still wearing her bathrobe, had been swaying her upper body in both directions and taking small sips from her glass!
Immediately after arrival, they had booked this much-recommended and grandiose trip to the fantastic small fisher island 'La Graziosa' in the north of Lanzarote for Wednesday: it was only 60€ per person and included lunch, the bus transfer from the hotel, the ride to the romantic harbour of Órzola and from there, with a catamaran, through the so-called Rio to the island of La Graziosa!
Unfortunately, however, it rained on this wonderful Wednesday, which scarcely ever happened, moaned Gerlinde. She asked Carl for a refill and also pointed out that the otherwise normal wind had grown into a veritable storm on this day, which meant that they could not stay on deck and that an extra glass bottom boat had to be commissioned to accommodate all the tourists who wanted to stay dry. After the meal on La Graziosa, they decided against another sightseeing tour of the island in the rain and instead cruised around the island with both ships through this deathly swell – after all, there are 6,000 kilometres of Atlantic Ocean directly behind Graziosa. As a result, she had to throw up all the time and even Carl was only just able to walk upright by the end of the tour.
After this short report, Gerlinde needed another glass of champagne and then sank down on her chair in a state of exhaustion. Carl finally took advantage of this opportunity to say something and added that, after this adventure, each of them had stood under the showers for half an hour in order to get a little warm again. Later, thank God, the unexpected happened – which saved the vacation …
And what unexpected event are you talking about? Hannelore eagerly asked with new hope in her eyes.
Well – I am not sure if I should tell? What do you think Gerlinde?
She did not care, muttered Gerlinde, all she wanted was another glass of champagne.
This is the fourth already, Carl noticed with some worry.
So – what?
Well, I was only mentioning it, he said while refilling the glass.
Incidentally, after the successful trip, their general state had been rather similar to the state Gerlinde was now in, Carl said to Hannelore and Kurt. And without further thought, they had then drunk all the four small bottles of Whisky from the mini-bar in order to sink into their beds with a minimum degree of content.…
However, the rude awakening came on the next morning when they discovered that the price for every one of those minuscule 5cl bottles of Whisky was 9.90€. This means that those four ridiculous bottles of Whisky – none contained more than what you could swallow with four mouthfuls – cost – 39.60 €! Well, this was certainly something you needed to give time to sink in, he moaned.
This is certainly not a bad profit for the hotel, Kurt – suddenly wide awake – commented!
And Gerlinde also moaned in her chair. However, her renewed call for champagne was no longer satisfied.
Instead, Carl told Hannelore that, naturally, nobody was going to treat him to such fraudulent rip-off. A short visit to the supermarket clarified the Whisky situation: the 75cl bottle of exactly the same brand was 15.85 €.
Even Kurt knew immediately what needed to be done. Consequently, he nodded when Carl, not without a certain degree of pathos, declared that he and Gerlinde spent the remaining 10 days of their vacation consuming 10 bottles of Whisky. Which meant that, after deduction of the acquisition costs, they had actually generated a plus of no less than 1,325.- € – as you could easily calculate yourself!
Ahhhh – Hannelore suddenly giggled, now it dawned on her: so that is what Gerlinde meant when she said that, all in all, you had been quite satisfied with your vacation!
Yes, that was probably what she meant, Carl confirmed since Gerlinde by then had gone to sleep in her chair. Apparently, the champagne had done its job!
And maybe the champagne had also helped Kurt who, without sounding any louder at all and with an air of self-evidence, suddenly said that, if such a potential for economizing was apparent, he could easily imagine spending a vacation on the Canary Islands.…
KH
(Translated by EG)