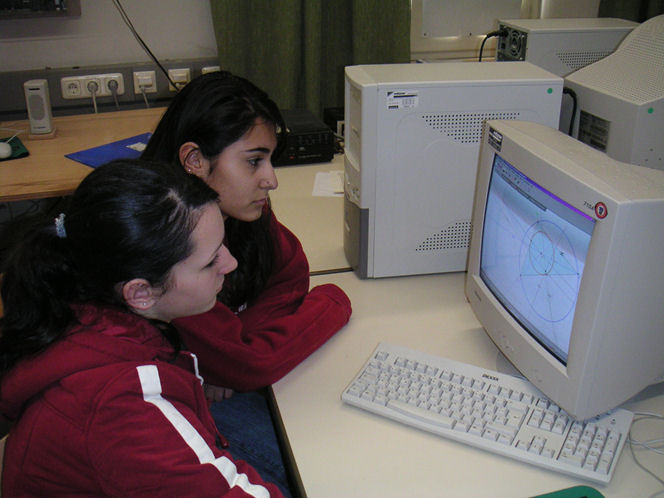 ""96 per cent of the students we asked have a computer at home, 72 per cent use this technology at school. In Germany, pupils from upper-class households use the internet more for information gathering than socially disadvantaged young persons. In those social classes, computers are used for watching videos, playing online games or chatting."
Well, it is not like this comes as a surprise, is it? But it underlines some pedagogic hypotheses, at the same time destroying others. On the picture, you see children in a bi-lingual situation solving a geometry problem. The result is true gain in competence: in mental concentration, problem solving, emphatic listening and once in a while by testing the characteristics of a geometrical object or of a geometric operation. They did not talk very much while they were working. But: it was all in the category "communication" if you love competence-oriented formulation.
Here are the pedagogic hypotheses:
– Buying computers for schools will neither improve learning for the pupils, nor bring better success. That is a pity if you were the district administrator from the more prosperous district. It has been disproved.
Working with the computer and the networks will not give students the desired competence in the scientific-technological area. This is sour wine for all those who want to sell life in the social networks as a goal of teaching. And for those who want to raise searching processes into the heaven of pedagogics, rather than understanding what you found.
The educational standard of children with equal talent will not change through using a computer or software (tendency towards improvement). Instead, the two things that give this chance are industriousness and frustration tolerance.
It would be wise to use the end of technological illusions for truly experience-based learning. You could actually teach the children and adolescents with the actual objects, for instance beekeeping, cooking, gardening, robotics,… ,
I think this would give many people joy..
wl
(Translated by EG)