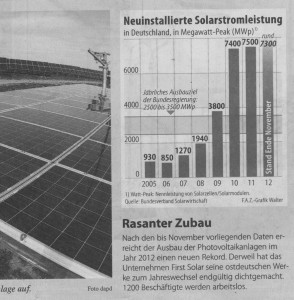 By the end of 2015, we will have reached the goal we set ourselves for developing solar energy. That will be the end of subsidies. Perhaps it will happen earlier than that, because by now, it is no longer private individuals building their houses who are into solar energy. Instead, it is now the international pension funds. They mutate from state to risk-averse infra-structure financiers.
All over the place, public service funds are founded. They speculate on sure profits, so we could arrive at the desired point even faster than expected.    
But let me return to Deserttec. After all, it gave my blog its name, even though I intentionally turned it into "desert tec" – including the change of meaning: it is intended to make solar energy base-loadable through intermediate storing in hot salt water. This is still a rather sensible, future-oriented approach. When all is said and done, it is probably also quite cheap, compared with all the fake power stations and network maintenance and their cost.
It is quite amusing to see Peter Altmeier, driven as an administrative bureaucrat by the smiling Trittin, as he tries to organize what has been done during 20 years of EEG. It is a little like hare and hedgehog, because a smart ideologist like Trittin can probably be everywhere simultaneously with his speeches.
Since 1992, my own consulting in companies, too, has been under way: make yourself independent from the network through investments, because you will not be able or willing to pay the charges they will ask of you. By now, the providers are quite willing to do the necessary contracting.
Matters will not get quite as bad for many, but for most, because politics came up with an exception to the rule, thereby freeing about 2,000 companies from paying (more and more often, politicians think they can influence the market by regulations, instead of rules).    
Incidentally, I persist in my advice. In fact, I even go further than originally: sports clubs, residential areas, industrial areas,… they all should shun the public network, because those well-meaning people sitting there are the heirs of Fidel: viva la revolucion, let the others pay..
So what is nice about this? After all, this is my first blog of 2013. There are many places where I feel people driven towards wanting more autonomy – and this is automatically linked with the wish towards self-responsibility. In my book that is definitely something positive!    
Happy New Year to all IF blog readers and many thanks to all my friends.
wl