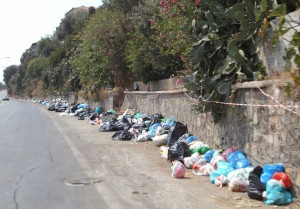 I have now been camping in Greece for almost a week. And I am surprised how nice people are and how healthy the food tastes. Wherever I go, people are in high spirits and everything is exquisite.
To be sure, it is quite possible that my experience is only of the sunny side of Greece because we are far from the central areas of Athens/Piräus. We are staying 15 kilometres south of Gythio.
Gythio used to be the harbour of Sparta and is the local metropolis. Yet it has hardly more than 5,000 inhabitants. The next "bigger" city is probably Sparta, which with less than 15,000 (city) and 20,000 (area) inhabitants is still considered "small-townish" by our standards. Both Ottobrunn and Unterhaching, for instance, have more inhabitants.
So you could say I am really in a rural area. We are confronted with a high standard of living and extremely friendly people. Basically, this seems to be a misfit if you consider the current business reputation of Greece in Germany.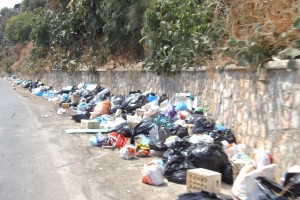 However, there are a few "claw marks in the varnish". They signal that all is not well. For example, along the transit road into the beautiful harbour town of Gythio, foul-smelling waste is contaminating the place.
The same is true for all small and big roads I travelled. You cannot find a single street where there are no small of huge mountains of waste.
For me, that is inconceivable. How is this possible?
Well, so here is one of my stupid ideas.
Are we treating our countryside any better in Germany? Unfortunately not! We bury our countryside in very much the same manner. To be sure, we do not do it with plastics and other waste. Instead, we cover everything with concrete. That is typical for our German thoroughness.
Do we really need all those discount markets, do-it-yourself markets, furniture markets and supermarkets in all our communities? Why do we always make the old roads broader and broader? Why do we still build new streets and parking places, although we know that individualized traffic is dying? In Bavaria, we fill 17,2 hectares of land with concrete each day.
The only difference is that our waste looks different from the Greek waste. And there will be a day when it is much more expensive to re-build the German waste than to collect and deposit the Greek waste.
RMD
(Translated by EG)