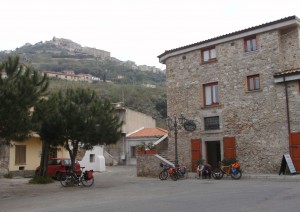 In order to depart early from our Hotel Antica Marina in Nicotera, we say our good-byes on Holy Saturday.
We immediately find a nice way along the coast towards Scilla. Our path takes us south. There seems to be no way to get through near Giòia Tauro harbour.
Everything looks like this is a blind alley. The GPS shows us a street that does not even exist. And the massive harbour blocks the way. Through a series of motorway-like circles devoid of traffic, we find our way and can continue south.
For almost 20 kilometres, we can now ride comfortably along the beach.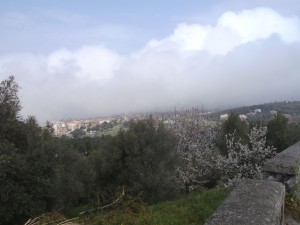 But then the way gets steep. We have to go higher and higher, and this is definitely exhausting. After 250 metres of altitude – estimated in retrospect – we reach Palmi.
This is another one of those unlikely places. Not much is happening, but there is no end of traffic. Long traffic jams and a small market. It looks like all Italians are currently shopping for Easter right here.
Apparently, driving a car is even more important for the Italians than for the Germans. Nobody seems to care that the price for a litre of Diesel fuel is between 1.75 and 1.80 Euros per litre in Italy. Everybody continues the same as before.
We, too, continue. But we use our pedals. The way is always brutally uphill, the SS18 shows no mercy for us.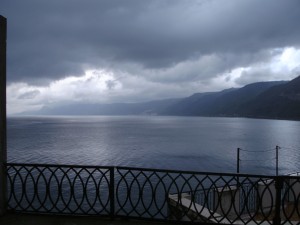 The weather is cold – once in a while, there is some drizzle. Eventually, we reach 550 metres of altitude. That is the same as at home in Riemerling – and there it is: the summit!
And right at the top, La Collina is waiting for us – the Pizzeria we have been looking forward to all the time. It is now one o'clock. A nice landlord welcomes us. We indulge in pasta – and we certainly earned it.
While we eat our lunch, the sky darkens. In fact, it looks like night. Heavy rains start falling. On leaving the restaurant, we can hardly see five metres ahead.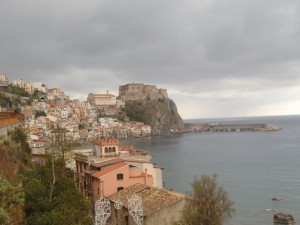 Still, we want to continue on our way. So we mount our bikes. It is already half past one. In Munich, the SpVgg is playing Arminia.
What gives us a little hope is the fact that the way will be downhill from here. And further down, we will certainly see more, won't we? Well, it is true that there are only very few kilometres up and down, before the long decline to Bagnara. We can "waste all our 550 metres of altitude in one go".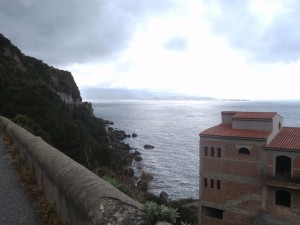 Down until 150 metres of altitude, we ride through a literal soup of clouds. Then the sight gradually gets better. This is another one of those spectacular streets, except that the poor weather ruined many nice views for us. But even the soup of clouds had its special appeal.
On the way down, I have to stop several times, because I receive an SMS from home every time the SpVgg Unterhaching scores against Arminia Bielefeld. And, of course, I always have to read it immediately. The first of them arrives at 2.45 p.m. – shortly before the break, Haching shot the 1:0.
The rest of the way is pure joy. The weather turned better and we manage to catch the first ferry to Messima. On board the ship, we recuperate from a strenuous day full of very special experiences.
We do not very much like the first hotel we try at Messina. So we look for another one – and find the Grand Hotel Commercio.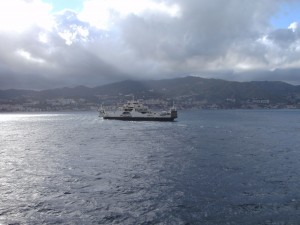 That is more to our taste: it is situated right in the centre of the city, has great rooms and also WLAN access. What more can you ask for?
Inside the "Commercio", everything is fine. WLAN connects us, except the IP address cannot be assigned. Of course, WLAN will not work with other androids, either. The charming lady at reception is also really nice. But she thinks it is impossible.
According to her, WLAN always works in this hotel. She does not agree to "reset" and/or reboot. So what can I do? Well, I do a little reading on my Kindle.
After all, I already know the most important news: Haching won 5:0 against Bielefeld – what more can you want in life…
RMD
(Translated by EG)
P.S.
I did not take any pictures in the fog – you would not have seen anything.