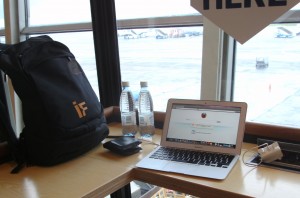 After a marvellous week on the Finnish labyrinth of lakes in the Savo region, I am sitting here at Helsinki-Vantaalla airport. My familiy are taking advantage of the waiting time and strolling through Helsinki.
Since I had little opportunity to get online during my vacation, I now have quite a bit of catching up to do. Consequently, I installed my "airport home office" with free WLAN right here.
Now I finished sending what feels like the first hundred emails, so here I sit, relaxing and writing my vacation diary. This time, you will get to read a thematically structured overview of our Finnish adventures, because I could not write a daily vacation diary, as I otherwise often enjoy doing.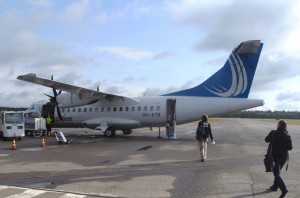 We arrived here shortly after 8.15 a.m. – we were on time coming in from Savonlinna. The connecting flight to Munich is scheduled for 3.45 p.m.. We are talking local time, which means it is one hour earlier in Munich.
The ATR plane has 24 rows with two seats on both sides. It was rather empty. No more than one third of the seats were taken – which is quite a contrast to the flight out last Monday. We had not a single spare seat then.
Our House Boat – Aurora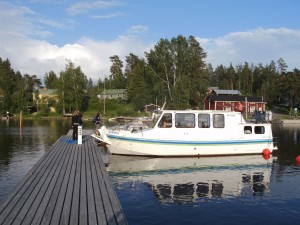 Our boat was quite roomy. We had three bedrooms, one shower including toilet and another toilet near the sleeping compartment up front – and a sauna!
The huge sitting room with all those windows was one of the sleeping compartments, so it had to be converted into a bedroom every night.
There is a typical Finnish sauna oven in the sauna cabin. It is a very simple, square-shaped metal oven. You can see the stove pipe at the rear of the ship.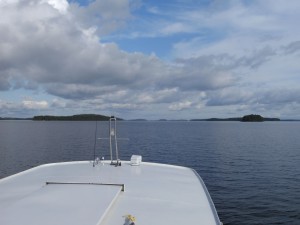 In order to get 80 degrees celsius or more, you only need tor burn very few pieces of tinder.
And if you visit the sauna, you can jump directly from the sauna into the water – and get back on board using the ladder. The water temperature was between 16 and 18 degrees celsius – so it was not ideal for swimming, but very good for "sauna-ing". With the exception of one day, we used it every night.
If you want to steer a boat, you have to check the functionality every morning before departure. The cooling water and motor oil must be controlled and found sufficient. Are all movable objects secured? Did the last user properly fold up the bathing ladder? Are all the hawsers where they should be? We had a small hydraulics problem. It ate up too much oil.
🙂 
But it was probably the same with the crew (Öl, Olut).
The Weather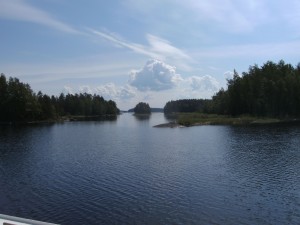 We were very happy with the weather. For at least four days, if not more, we had beautiful Scandinavian summer weather. Two days were mixed – and it rained on arrival and departure at the harbour.
Most of the time, we ate our – admittedly rather late – breakfast under the skies on the after deck. Well, it was late because the Finnish midsummer nights tend to change your life rhythm quite dramatically.
During the two colder days, we had no problem staying on the warm boat. We had to thank the sauna for this. And whenever we went exploring, the Finnish weather God (almost) always favoured us. The only time it rained during an outing was on our first day in Savonlinna.
When we returned our rented boat, our boad-lord said it had been typical Finnish weather for June.
The Scenery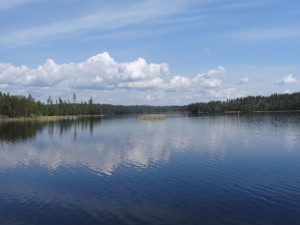 It goes without saying that the wonderful nature is absolutely the best part of this trip. You can spend hours sitting on the boat and enjoying the panoramic view. Everything looks just like in the Southern Sea – except the vegetation somehow looks less alien, although it is also strange for us.
And all over the place, you see all those greens and blues of forests, skies and clouds. It is a world that seems almost surreal, especially when the trees growing at the beach and the clouds moving through the skies are mirrored in the absolutely still water.
The Cities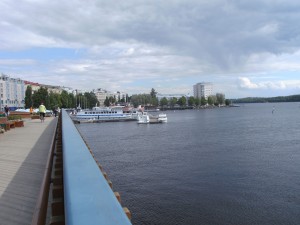 The only thing that sometimes puts a damper on my enthusiasm is when we get near one of the cities. Even from far away, you can see chimneys and cooling towers. Like threatening fire signals, announcing that we are leaving paradize.
We visited three major cities: Savolinna, Kuopia and Varkaus. Kuopia is the biggest of the three. It has around 100,000 inhabitants. You can easily sense that Savolinna and Varkaus each have only 30,000 inhabitants.
The outlay of the cities reminds me a little of socialist patterns. As to the rest: there are many cars on the streets – and few people.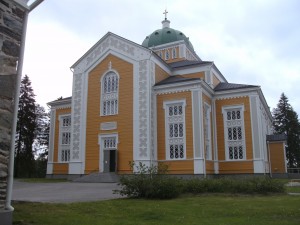 What stood out were the young Finns wearing "gothic style" (my children explained the meaning of the term to me). They all wore dark clothes, had strange hair styles and tattoos and, of course, were pierced all over. Finland, too, seems to have a problem with their young generation. But what European country does not?
We find huge churches built in simple timber-frame style in every town – even in small communities. They all come with an unostentatious but impressive architecture.
The Land and the People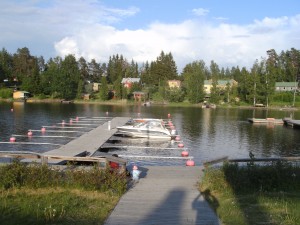 As opposed to our bike tours, the contact with people living in this foreign country was not as intense on our house boat journey. We were, however, quite impressed with the friendliness and linguistic competence of most Finns.
Descriptions of everything, including what is relevant, are all just in Finnish. Our route maps – if you want to find your way in a region of lakes with thousands of islands, it is quite important to have a good route map – were all exclusively in Finnish. You rarely find a sign that gives directions in Swedish, Russian or English on top of Finnish. In fact, they are mostly just advertisements.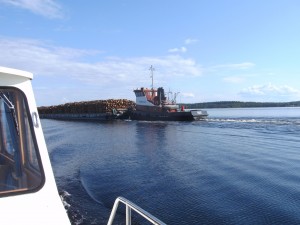 But much that is "typically Finnish" seems to be disappearing, too. The great concerns are rushing in. They seem to destroy or at least change the medium-sized enterprises. Maybe the Euro, too, contributes towards this development. At least that is what many Finnish people believe. It would be a pity if the special Finnish identity were to disappear.
And you do not see very much industry, either. The big factories all seem to produce paper. Much depends on timber.
The prejudice that all Finnish persons visit the sauna on a daily basis, however, was something I can testify to from firsthand observation.
The Mosquitoes
We were pretty scared. After all, before we started out, everybody had warned us against mosquitoes on our journey to Finland. And it is true: the more beautiful the scenery, the more mosquitoes there are.
But now I will come to an end of this report. And I plan to start at the northernmost point of Finland with my bike and then ride through to the Baltic States in June 2012. The intended goal should be to reach a city like Minsk or Warsaw (or Berlin), from where the train will bring me back home. And even the mosquitoes will not manage to make me change my mind!
RMD
(Translated by EG)
P.S.
Now I am going to insert some pictures into my first Finland report – and then my Finnish adventures are finished for the time being!