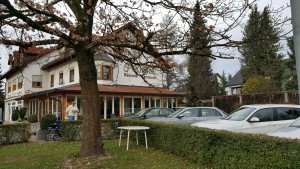 On weekends, we enjoy the day and start it with a special breakfast. That is why I always ride my bike to the bakery, where you still get homemade pretzels.
I only know two bakeries in the south-east of Munich where this is still true. One of them is in Taufkirchen, the other in Putzbrunn. To get from my home in Neubiberg to the Schlank Bakery, I have to ride almost three kilometres. The Götz Bakery in Taufkirchen is around seven kilometres from home.
Both ways have nice cyclist's paths. Especially if the weather is fine, riding to the bakery is a good way to begin the day. I pass baking houses. They warm up pretzels and other stuff. But that stuff is not tasty. Consequently, the shops are mostly empty. Using my two bakeries, on the other hand, I have to stand in the queue for quite some time (especially on weekends). Mostly, around thirty persons are ahead of me in the queue. And you can easily imagine how long it takes until they all have said what they want.
There is always quite a traffic chaos on the street in front of those two bakeries, caused by cars competing for parking places
Especially the elderly gentlemen and young ladies in their SUV-s know no mercy for humans and nature, just rolling over everything. You have to be careful where you park your bike. …
Yesterday (November, 14th, 2015) was the day after the Paris assaults and attacks. Again, I went to ride to the bakery. And I arrived around 9 a.m. – which is usually the worst time. And I was already prepared to have a long queue standing in front of me.
But no! No SUV-s! No cars on the parking places! Total quiet inside the shop. Everything looked deserted. And I was served immediately.
I spent the entire way back wondering what might have been the reason for this. But I could not come up with an explanation. Somehow or other, I never seem to think of what is most obvious!
Later, I called my friend Christian of VisualBrainDump. And I told him about this strange phenomenon. He knew the answer immediately:
Naturally, everybody is sitting in front of their TV sets today.
Well, that sounds absolutely plausible to me. Except I would never have thought of it. It is crass, isn't it? Something happens in the world. And what do my dear fellow compatriots do? They leave their SUV-s in the garage and eagerly watch the sensational events on the nearest TV set.
This morning, Sunday, everything was back to normal and I was standing in the queue as always.
RMD
(Translated by EG)