I have been wondering for quite some time if I should continue writing down the history of my personal childhood and adolescence or not. Now I decided to do it (it does take a bit of courage). What better time than the night between Halloween and All-Saints-Day? So tonight, at 11.55 p.m., five minutes before the radio philosophy, the #2 of my trilogy will go online.
#1 of the trilogy ends with me entering the second grade. #3 is already in the making and will be online on another "day of contemplation": Penance Day.
*


I Part two of the trilogy on my childhood and adolescence will describe my two final years at junior school ("Volksschule", what is today called "Grundschule") followed by the first two years at grammar school. That was the time between my First Holy Communion (1958) and Confirmation (1962). Or in other words: the phase after the naïve childhood, before entering puberty.
My First Holy Communion was given to me when I was 8 years old, which means that I attended third form at the time. The Confirmation ceremony must have been during my second year at Grammar School, when I was 12 years old. Being "still a very childish child" at eight, the First Holy Communion made a huge impression on me. As opposed to this, the Confirmation did no longer play an emotional role. It was more like a duty.
Consequently, I remember quite well the brick building with the beautiful brass clock on its spires not far from the "Wittelsbacher Volksschule" that was our local pastoral church named after its patron St. Anthony. I spent, or rather had to spend, many hours inside this church during holy services or May Devotions.
The process of growing up was a time of intense feelings for me.
In particular, I remember the winters. Because the winters were long and the summers were short. But let me first write about the summers:
Often in summertime, I went to the allotment garden near the river Wertach with my parents. That was not far from Rosenaustraße Number 18, were we lived. There were 12 flats to the house, and if you looked out of the rear windows, what you saw was the railroad switch yard and Augsburg Central Station. It was never boring, and I developed a love of railways.
It was not far from our home to the allotment. We had to cross through the Thelott quarter and there we were near the river Wertach. My memories of sun and warmth in summer are all pleasant. There were plenty of fresh vegetables like carrots, peas and delicate cabbage turnips, and we had lots of berries (raspberries, blackberries, strawberries, red and black currant).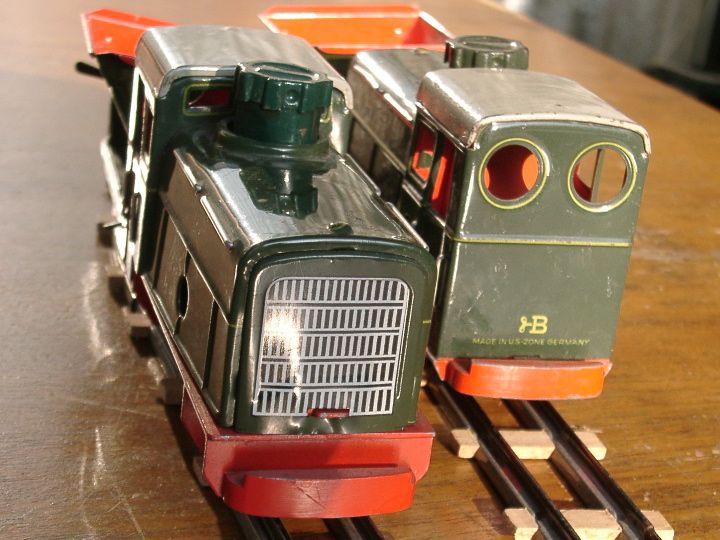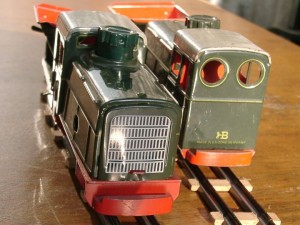 I also remember the "Biller Train" (a tin train on HO tracks for mechanical re-charging, with a beautiful green locomotive and simple wagon). Decades later, my father found them when he tidied up the cottage – all that was left was a pile of rust.
On the way to our allotment, we had to pass a small shop. Sometimes, my parents bought me a portion of ice cream. There were only two varieties, which made it so the much more tasty. It was a small cuboid on a wooden handle, wrapped in aluminium paper. At the time, the brand was called Jopa, which stood for exceptionately delicious ice cream.
My standard dress code was initially the leather short. As autumn approached, the leather short was stowed away and I had to wear long pairs of trousers, vests and thick pullovers.
In winter, we often saw ice flowers on the windowpanes. I still do not know if this phenomenon was due to the double windows or because the rooms were not always heated all day long by our standard individual coal ovens and therefore sometimes rather cold. What I also remember well is gathering coal from the basement and building up a fire in the oven. It always felt nice when the fire caught and the warmth slowly spread through the room.
Winter had many good moments.
We had Lego and an endless amount of phantasy. Looking forward to Christmas and many more small moments of happiness, along with an endless number of children's delights such as counting cars (colours and brands) or playing football with pieces of ice until they split and me counting how many kicks it took.
Or the hours and hours of playing with two Märklin trains. They could be made to rotate on their tracks for hours. Along with my trains, I had my Wiking cars. I loved both and spent eternities playing with them by myself in deep contemplation. Sometimes I studied the catalogues and dreamed of models that would remain out of reach for me.
I only owned very few of the small Wiking cars in HO norm. As time went by, my pocket money increased a little. Grandmother and grandfather, too, contributed frequently. The Wiking cars soon came with glass windows, and those without windows were no longer fashionable. "Buchbinder Mayer" sold them at half price, which gave quite a boost to the numbers of cars I owned. I preferred having some more without windows, to having fewer with windows. Initially, I actually found those with windows a little surreal. But over time that, too, was something I overcame.
Incidentally, "Buchbinder Mayer" was a stationer's with some toys for sale. The shop was on Gögginger Straße outbound. To the left was the "Prinz Eugen", where I was soon going to start my chess career. The "Prinz Eugen" pub was where the VASJ – "Verein Augsburger Schachjugend" had its clubhouse. Regardless of the strange name, it is an independent, rather successful chess club. Further outbound, on the opposite side of the street, was the "Buchbinder Mayer". My coverage included this much quite early on. After school, I enjoyed the detour for buying some cars – and was scolded for returning home late. But that meant I had another Wiking car – which made it worth the scolding.
Gögginger Straße is the extension of Hermannstraße after the "Gögginger Brücke" and after crossing the railway tracks, you also get to Munich on this road. At the time, it was a road with street car tracks and big front gardens and trees on both sides of the street. "Buchbinder Mayer", too, had a huge front garden. Today, the street is pinched between rows of houses, with four lanes and an extra street car track and parking.  And in front of the shop, which has ceased being a stationer's a long time ago; there is only a narrow footpath left. The big trees have disappeared. To make up for it, they built really huge traffic lights there.
Summer like winter, I enjoyed reading, reading, reading. We had the pastoral library with many, many books you could borrow. In those days, we read Enid Blyton, instead of Joanne Joanne K. Rowling. And above all: Karl May – along with anything that even remotely sounded adventurous or exciting. The best moments were when I read secretly at night, lying in my bed. It was not so good when I was caught.
In summertime, other pastimes were commonly enjoyed: kicking around a football almost every day in front of St. Antony's church or gathering mushrooms on a Sunday. There were many moments of great happiness.
Yet some memories are special: at one time, I wanted to show my small sister (she is five years my junior) something really special – the holes in the railroad embankment of our local railway. I had been told to keep a watchful eye on her and we went to play there. As poor luck had it, I was taken home by the police.
Or the great joy of my father when we were eating breakfast and he listened to his small Grundig transistor radio (with six transistors). Our Radio Philosophy logo is based on it.
Another special memory is that of the way to church starting at Rosenaustraße through the city park and heading towards the "Rosenaustadion". Being the offspring of a mixed marriage, I was baptized catholic. Apparently, the pressure from the catholic fraction won out. On Sundays, I had to attend church, which often was an unwelcome duty.
And then came the "First Holy Communion". At school, we had to buy passion images at not inconsiderable cost and glue them into small notebooks. Then we were supposed to write pious proverbs alongside them.
These pictures were rather sadistic and I was irritated by them. Simultaneously, we learned how to confess our sins. Initially, that was not too bad. After having confessed my sins, I always had a pure childish soul, including the spontaneous feeling of happiness about being spiritually clean again, too.
And then it happened. Situated next to St. Anthony's church is the "Wittelsbacher" city park. It is full of venerable, big trees and beautiful scenery. There came a day when I felt that God was nearer to me in the park than in the church. Whenever I was allowed to go to church by myself, my steps turned right into the park. Afterwards, I was home on time, exactly after the service. Everybody was happy, I think God himself included.
Part of the park was the Rudolph-Diesel copse. There was a story that grateful Japanese had donated the beautiful stones to the City of Augsburg. The gratitude of the Japanese sprang from Rudolph Diesel having invented the motor that bears his name, thereby reducing the physically hard labour for Japanese people, as well. And the City of Augsburg used these stones for designing the aforementioned copse.
The way to the "Rosenaustadion", too, was through the city park.
For me, the "Rosenaustadion" meant emotional liberty and a dream world of my own. This is where I went really early in life, perhaps from the age of six. I loved the BCA, and I had a love-hate relationship with the Swabians. The Sunday games at the "Rosenaustadion" were the highlights of the week. The worst punishment my parents could give me, for instance for not having done my homework, was not allowing me to watch the soccer game.
Then I entered Grammar School (the third part of the trilogy is coming up soon). Everything changed no later than in the third form (counting in terms of to the modern system, that would be the seventh form).
But the liberty I am talking about was intensely felt in the years between 1958 and 1962 on the kicking-ground near St. Anthony's church, as well as in the park and in the Rosenau Stadium!
RMD
(Translated by EG)
Here are a few songs reflecting my emotions as I reminiscence about the years between 8 and 12. To be sure, these songs all appeared a few years later, but maybe the boys who sang them felt a little like I did.