Here is yet another afterthought on my travels to the South Sea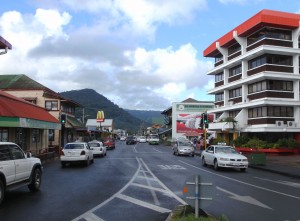 On the South Sea Islands I visited, the cars drove rather slowly. Like here on Samoa. In some way of other, cars play a different role in the lives of people from what we are used to.
Basically, it would not make sense there for cars to speed up, anyway. All you would achieve is frighten people and molest them even more.
Later, on our travels to Hawaii (USA) the cars also drove rather slowly.
The same is true for the USA, Asia, South America and (almost) all other European countries – in fact, almost everywhere on the entire world. Because the speed limit on the streets has been drastically lowered everywhere (except in one unteachable state in the middle of Europe).
Still, many cars are speed machines in the truest sense of the world. They can do a maximum near 200 km/h or more without the slightest problem.
I fail to understand it. Most of the people live in or near a mega city. You cannot speed up there, anyway. People spend a lot of their time permanently standing in the middle of a traffic jam. Neither do they drive their cars themselves, because, especially in Asia, many of the sales are to "chauffeur driving countries". Consequently, you cannot say it is all about "fun to drive".
Regardless, the fast cars are sold. That is something I admire our producers of cars for. I often wonder how they manage to sell their PS-strong high-speed vehicles for a real lot of money into countries where the speed limits are rather strict. Mind you, these cars will only show their real advantages at speeds over 150 km/h.
But perhaps change is dawning now. A short time ago, AUDI started offering a special extra treat for their top models. For some extra money, you can now get an electronic massage seat in the rear compartment. This extra equipment really seems to make sense to me. While the chauffeur is getting annoyed with the traffic jam, you can really enjoy life.
And now I also know the real meaning of the slogan: "advance through technology".
RMD
(Translated by EG)
P.S.
Yet, even here I think I would prefer a live masseuse. In some of the export countries, she might even be less expensive.