Three years ago (2013), one of my sons attended a "bootcamp" in the USA. Even in those days, he and his colleagues (perhaps all of them "techies") had discovered Snapchat. And they used it to play with. In a strange way. They sent each other questionable "selfies" – sometimes in the nude. Just because they found it great fun. And also because, on this "Instant-Messaging–Service" (Instant-Messaging–Dienst), messages can only be sent once (with one repetition) before being removed.
But there was certainly always one in the group who spoiled everything by making a screenshot (à propos IT data security).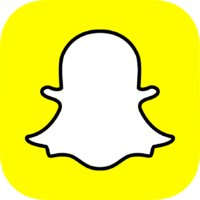 By now, Snapchat has also reached me. I find it very appealing and use it more and more often. Mostly I use it in a circle of persons I really like.
And I truly enjoy it.
Consequently, my verdict is:
Snapchat is another revolutionary piece in the big and colourful mosaic of evolution when it comes to social media.
Let me give you a few reasons on several dimensions of the product that make me reach that conclusion:
The Logo:
The very logo of Snapchat is extraordinary. It is very simple and sparklingly yellow. Pleasantly obtrusive, it suggests anonymity.
User Interface:
Snapchat is so stunningly easy to use that the user who has been educated in complex IT applications (like me) initially does not know what to do at all. Only after some time, you really start enjoying a game of Snapchat. And all of a sudden, you realize what a poor user interface most other apps have.
User Communication:
I have hardly ever experienced such pleasant first contact when starting a dialogue with an internet instance:
The very assurance that I will not receive additional emails from snapchat when they confirmed my identity email went down extremely well. And the assistance (which, due to the simplicity of the tool is only necessary for the oversophisticated user) is as situation-oriented as the introductory video is brilliant. You really want to watch it before you start. Of course, that is not what I did, because guessing complicated user paradigms is my true strength… Only the really easy things were a problem for me.
Orientation:

The message is very clear – the future belongs to video recordings. Consequently, the video recording is the central medium in snapchat. And snapchat is some sort of asynchronous image telephoning. Of course it includes moving images. To me, this seems to be important.
---
Note
Today, young persons (between 13 and 18 years old) who have smartphones and tablets will no longer use the telephone. They are into image telephoning. After all, this is much nicer, because you can see your partner's face and gestures. That is also why the kids have to be online at all times. The world changes.
Whenever I propose to my older partners (between 20 and 50) to use FaceTime, Hangout, Skype or, if necessary, the Citrix or Cisco tools, instead of the telephone for a meeting with me over a long distance (be it between Haidhausen and Neubiberg or between Tokyo and Munich), they are often surprised. And, more often than not, I get the reply: let us use the telephone, I am not really used to working with the other tools.
The german economic miracle managers never wrote a word. They always had at least one assistant to whom to dictate their correspondence. Thanks to stenography, these assistants were well able to follow the spoken word (managing a three-digit number of syllables per minute when taking down texts) and type away on the typewriter extremely quickly (three-digit number of keys per minute when processing the document on paper).
Above all, however, they knew their boss – and they experienced him "live" while he told them what to write. Consequently, they knew what he wanted and always "corrected" his letters appropriately. Our generation was the one that started the habit of writing everything yourself – which killed a lot of time. And, quite probably, many formulations were rather sub-standard, at least worse than what the typists used to produce. Then came the dictaphones and finally the computers, where the managers had to write their own letters.
I used to feel self-conscious when I had to talk into an image telephone. But as it turns out, this is all just a matter of practice. Using the telephone was something I practice rather well and early in life. But before cell-phones were invented, I also had a problem leaving a message on answering machines. Now I prefer talking into the image telephone to writing. Because there is no doubt that the latter is a lot harder. On top of being more time-consuming. And that is even true for me, who can type blindly and with ten fingers.
Consequently, it seems to me that, on the internet, writing will be more and more often replaced by video recordings. Just like doing calculations in your head was finished when pocket calculators were invented. It is totally irrelevant if that is something we want or not. We simply have to accept these evolutionary processes. Developments come and go – just like humans are born in order to live and then die.
---
The Transientness of Information:
Now that snapchat exists, it is high time for data protectors to fear that they will no longer be needed. To make up for it, the user no longer needs to fear so much that he might violate copyright regulations, for instance if a Beatles-song can be heard in the background. And if you give your own emotions a little leeway or a few foreigners are on a picture, you need not have sleepless nights.
There would also be an end to Facebook & Co earning such huge sums with data and algorithms. If this is true. Because sentences like "data are the raw material of the future" are just nonsense. Maybe you should replace the word "raw material" by "crude oil" or "food". Data are just as inedible as money, and nor will they be any good when it comes to filling up your Porsche fuel tank.
I also know several cracks (real experts) in the "big data business" who learned and told me that BigData is basically not a machine where you fill in the data on top and then the dollars will come popping out at the bottom. On the contrary – as a general rule, the usable results from BigData were always rather a disappointment in practice.
Change:
In the future, Geo-Filters will beat Hashtags! This, too, is a snapchat principle that might well be trend-setting. After all, the general development is more and more towards regionalization and away from central or even centralistic concepts. We all want a world of regions at eye-level, don't we? And we want to develop our own spaces. 
In social media, we always primarily thought in terms of Hashtags. Examples are #pmcamp, #AktMobCmp, #tatort and all those many abbreviations for all kinds of events, such as #FCBBVB or #32c3 … Except – I want to know who is currently in my ends of the world. And the #hashtag comes only afterwards.
Business Model:
I do not (yet?) understand the business model of snapchat. After all, adverts are not endless. And as soon as we get a generation that is immune to advertising, it will not look good. They say that snapchat earns its money through geo-filtering. I wonder if this is a solution.
I can also easily imagine that a service, as soon as it really offers high-quality material and has made its customers addicted, will introduce fees. Perhaps it is only a question of time before the "all for free" society comes to an end. And then you will have to pay real money for high quality material. Provided real money will still be around by then.
Social Consequences:
We all want to live here and now, don't we? We want to experience the moment and, if possible, enjoy it. That is also one of the five things you should know before you die. See also my article on a great book  by John Izzo.
Snapchat is still a little better than real life. I can take a second look at what my partners wrote – then it will be removed. It happened quite often in my life that I would have liked to again hear a sentence someone who was important to me had uttered …
But apart from that, snapchat media is a lot like real life. It is not an archive for eternity that probably soon nobody will be interested in any more.
Potential Use:
Without having though very much about it, a number of potential usages of snapchat come to mind.
* Close dialogue with much-loved friends.
Snapchat is an ideal way to exchange ideas with friends:
It cannot get any easier.
Empathy, feeling with them and contributing.
One video recording will say more than a thousand words.
* For subtle and powerful marketing 
Again, the USA and the modern sports millionaires are a good example:
Nasa
An example for an institution that does excellent marketing for its product and visions through snapchat.
After the cup finals, soccer starts will offer their emotions when still staying in the changing rooms through snapchat. 
If someone wants to make many millions of Euros each year, then he has to know a little more than just how to play soccer. He must have other competences, too, and, for instance, be a master of self-marketing. Those on the soccer field probably do a slightly better job than we do.
* As a supporting internet tool for Barcamps 
It is quite possible that snatchap will replace twitter in this area.
We used to take advantage of twitter.
Snatchap might well add extra incentive.
* In order to send important messages. 
Many good reasons are in favour of snapchat.
Snapchat might well become the platform for our project "PEACE"! Because:
We want to reach young persons and
We must transport both "rational arguments" and emotions!
That is it from my side on snapchat and social media.
But Snapchat will not be the end of the evolution of social media. Something new with new qualities and potential will arise here, too.
I already look forward to watching what comes next.
RMD
(Translated by EG)