This time around, we started our island hopping 2017 on May, 22nd in Serifos, coming from Piräus.We continued via Sifnos to Milos. Tomorrow, we will leave Sifnos and go to Paros and Antiparos. And on May, 29th, we will return to Piräus and spend our last Greek night before the return flight from Athens to Munich there.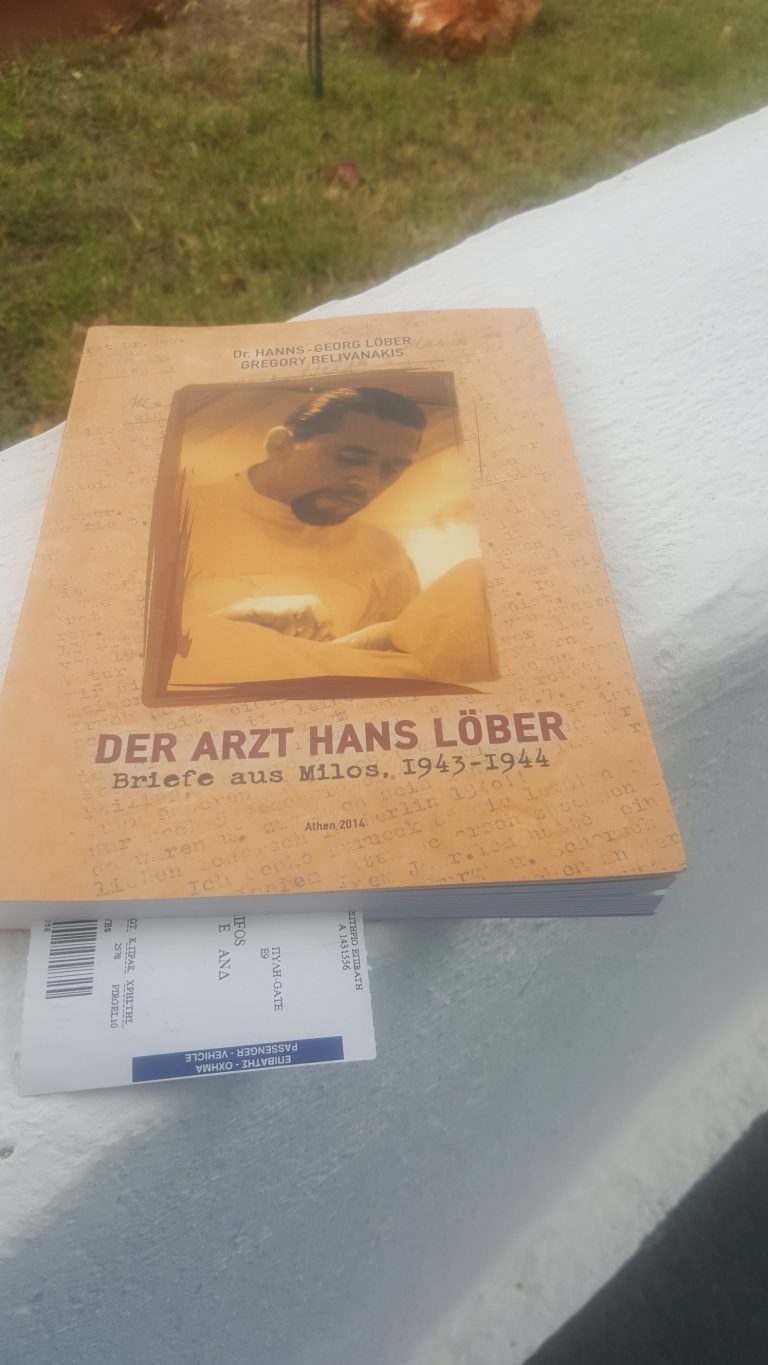 When we arrived in Milos, I found a book in the Adamas coal mining museum. I found it so exciting that I read it in one go. The title is
THE DOCTOR HANS LÖBER
Letters from Milos, 1943-1944
Edited and with a comment by Dr. Hanns-Georg Löber and Gregory Belivanakis.
This book made such a huge impression on me that I absolutely recommend it. So, dear Cyclades hiker: if you ever come to Milos and if you wish to know more about the island, you want to buy it.
Here are a few ideas: 
During WW2, many Greek islands were occupied by the Deutsche Wehrmacht and the army of the Italian allies. Consequently, they were military strongholds. Dr. Hans Löber was a marine medical officer who, after having been sent to various battlefields also had had the order to build up a medical "district" in Milos on the "North-Ocean" in 1943. This district was supposed to make sure the German soldiers injured during the intended military operations in the Mediterranean Sea had sufficient medical attention. Thanks to his special organizational talent, he was very successful, regardless of extremely difficult conditions.
Quasi as a side effect, he also built a military hospital for the locals of Milos who were not at all well cared for medically. Among the natives, this brought him a lot of respect, appreciation and gratitude.
It happened quite frequently that I found testimony of the German occupation of Greece during WW2 when visiting the Peloponnesus and the Cyclades. Especially in Kavralyta (see my  pre-view of the Peloponnesus hiking trip early in May 2017), I was deeply moved when I heard about the Deutsche Wehrmacht massacre, which had been a reaction to partisan skirmishes and where some villages were destroyed and around 100 people were murdered.
In this book, the letters Dr. Hans Löber sent home during his time on Milos are published, probably unabridged. They are supplemented by a few commentaries by the editors and a selection of historical photos.
What makes the book special is the high amount of humanity that the letters convey. These are the reports and confessions of a highly religious and "true and upright" German. And I mean true and upright in the best sense of the words.
However, they are also impressive contemporary documents. For instance, the writer of the letters constantly relates events of the war and political events he heard on the island. The letters convey both his unbroken joy of life and his big personal misery caused by the death in action of two of his brothers.
But the documents also show how perfect and perfidious the Wehrmacht was organized and how humans were used in the war as resources in order to reach a questionable goal. And also how WW2 was minutely planned and realized by the German Administration. That was also true for fringe topics such as field post or air field post or the German Military Radio Station in Athens, from where a program from Milos was broadcast on Christmas Day.
Above all, this book is – even if that is not said expressly anywhere – an impressive appeal for PEACE. That is why I recommend that every upright person should read it.
Milos, May, 29th, 2017
RMD
(Translated by EG)
P.S.
You can also order it online – the proceeds will support a hospital in Milos.