Yesterday, we had our Christmas party. The house was packed and the music was great. Since there was so much turmoil, I did not want to present the entire speech I had prepared. Instead, I only told the audience about how InterFace started in 1984. Here is the speech as I had prepared it: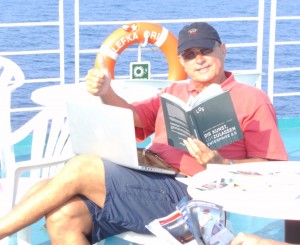 2014 is/was my last year as managing director of InterFace AG. Consequently, this here is the last time I am speaking to this audience.
I enjoy looking back over all the InterFace years – that includes the last year. Regardless of the fact that it was probably not the easiest year in our history.
It all started in the early 1980ies. Wolf Geldmacher and I had found each other and were planning to establish an enterprise in 1983. After a lengthy preparation phase, we finally started in April 1984.
It was the "InterFace connection company with limited liability for communication software and data processing".
We knew that the success of the enterprise depended on three factors:
"Creating Usefulness"

Our products and services should be something the market needs.

"Satisfying Needs"

The people in the enterprise should work with courage and joy.
"Meaning"


All parties concerned must be able to give meaning to their work.
More than thirty years ago, we started in the UNIX environment with the development of the text system HIT-CLOU! And it was really on the mark! Everybody in the enterprise followed our star. This was the only way for us to work a huge miracle with our small team. The way up was fast and steep. At this time, I would like to welcome especially the colleagues of the first hours.
After Wolf quit, we continued following our star. It was not easy. Stars sometimes disappear behind clouds or a mountain. Once in a while, you enter a forest and have to continue without seeing the sky. Or the straight path is blocked and you have to go a detour.
As the decades went by, the InterFace grew. People came and went. Tasks and business models changed. The environment also had a huge impact on the enterprise. The InterFace as a(n eco-)social system is shaped by humans. Wherever humans interact, you get "the human touch". Also, systems have a tendency towards developing their own lives. It was not always easy, but we always brought the "system InterFace" back on track.
Almost exactly 15 years after the InterFace was founded, we already had a similar situation. That was fifteen years ago. It seems like we get a crisis every fifteen years and have to overcome said crisis. Consequently, my wish would be that the next crisis will not come before another fifteen years have gone by . It seems that neither the lives of humans nor the lives of enterprises can function totally without crises.
A few years ago, the InterFace steered off-course. It was only a little bit and almost unnoticeable. Then a little more. Against the wishes of the managing directors. We were like the employee in his office working with concentration and not noticing that it gets dark outside. And who then, all of a sudden, notices that he has to switch on the light.
This is how our ship, slowly and bit by bit, drifted into an undesired direction. The reasons were not really easy to make out. In retrospective, you can find quite a few different explanations, none of which I now wish to expand on.
We were no longer capable of action, among the directors and in their immediate vicinity, discontent grew. Discordance made us unable to act, which might actually have ended quite dangerously for the enterprise. This is how, this summer, the board of directors was broken up. The board of supervisors had to step in and we all know the consequences.
Now, we are steering back on course. This is important for all the people working for the enterprise – and, of course, also for the enterprise itself. Personally, I love the InterFace if it is an enterprise more or less meeting the following requirements.
All the people working there can fill their place with courage and joy.
It offers a fear-free space and promotes the flourishing of life.
It remains simple with respect to its structures and avoids over-regulation.
There is a culture of togetherness at eye-level.
The teams cooperate in a mutual understanding of success.
Every employee can give meaning to his or her work.
Self-organization is a daily principle.
No hierarchical tree overshadows the organization as such.
It is primarily concerned with satisfying the needs of the customers and employees, rather than its own affairs.
It finds the right compromise between "bureaucracy" and "holy-cracy" (of the two, I would rather have too much "holy-cracy" than too much "bureaucracy").
Common sense is always paramount.
The leading persons see themselves in the role of providers of a service, rather than sun-Gods and knights.
Mental concepts and mind-sets are as they should be.
It works in the sense of welfare economy (as demanded by the Bavarian constitution).
The individual panels of the enterprise work for the enterprise (rather than being used for personal purposes).
It serves the people, rather than itself.
I know quite a few enterprises on the IT market and consequently, it seems to me that we are not doing too poorly, indeed – even if, at times, we show some weakness or other. This is only possible because we trust each other. Trust, however, will not come through seeking the counsel of an attorney or through writing contracts. It happens through "honest behaviour", "trust-based cooperation" and "open communication". Trust is the best weapon against concepts of the enemy and stupid allegations.
InterFace, too, will find its enemies where you will find "internal politics", "bureaucracy" and "dogmata". Matters will be particularly dreary when the shared interest is violated for individual interests. It does not matter if this happens voluntarily or just frivolously. All these escapades are something I clearly counter with the outcry: NO!
This is my good-bye to the InterFace board of directors. YOU remain and you are the enterprise! You can shape the future. Will you, please, see to it that we remain the successful "champions in connection"? If you do that, I will gladly remain close to the enterprise and support you from the distance of a supervisory board member with all my strength.
And, please, for those (few) among you who have not yet understood what this is all about: remember that you do not want to bite the hand that feeds you.
My interests in the board of supervisors will be:
To support a constructive mental concept.
To see to it that the "customer" remains the focus of attention.
To make it possible for all our colleagues to have a meaningful life and work.
To utilize my network for the future of the InterFace AG.
Being a share-holder, I will demand sustainable business practices.
In the future, the IF needs less "institution & constitution". Instead, we need more intuition, common sense and a clear commitment of all parties concerned to a modern, agile, slim and transparent entrepreneurial culture. On these factors, you get a clear outcry from me: GO!
The board of directors now consists of the following persons: Dr. Christof Stierlen, Maximilian Buchberger and Paul Schuster. I totally trust these three colleagues. My wishes for them is that they may have right touch as often as possible and for us all this certain amount of luck you always have good use for in life.
Above all, I now wish you all – dear colleagues, dear families, dear friends and dear guests – and the InterFace only the best. And now I wish us all a nice party, a Happy Christmas and a successful New Year 2015.

🙂 Well – such is life. I organized 31 Christmas parties for IF and gave 31 speeches – and now it is all over!
RMD
(Translated by EG)