At the Nuremberg 2013 DOAG Conference from November, 19th to 21st, I was permitted to be part of the Podium Discussion (Podiums-Diskussion) after the keynote by Dr. Peter Kreuz on "Instigation to Lateral Thinking". And I had lots of fun.
However the podium turned into something a little lateral. Regardless of the fact that the program committee had – for good reasons as I see it – decided against a "Twitterwall" in the big lecture hall, the tweets on the event were always provided directly to the podium by a friendly and helpful lady (you will find the tweets on the hashtag #DOAG2013).
And at least the "twitterers" in the lecture hall were not at all happy about the fact that, when the topic "thinking laterally" was discussed, there were six (mostly elderly) gentlemen on the stage – all of them wearing dark suits, four of them wearing a tie and five of them wearing shirts (which made them "tweedy"). Mind you, I had opted against wearing my "DOAG-Speaker"-T-shirt, because I considered it lacking respectability.  …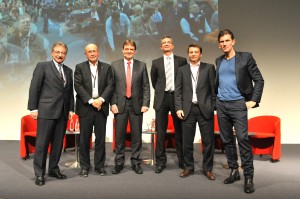 Apparently, some of the audience concluded from the dress code displayed on the stage that the people sitting there were all but "lateral thinkers". Consequently, I did not find it very hard to play my role on the stage. After all, I firmly believe that the first thing you should do is think.
And that these days thinking apparently is something that happens less and less often. And if you start thinking, I recommend you first think straight. Instead of first around far too many corners. If, however, thinking straight does not help, then, of course, you have to think laterally. Publicly and noisily. Not just secretly.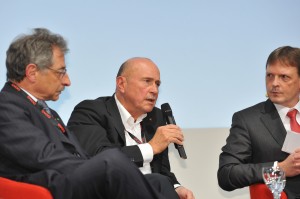 In order to be accepted as a lateral thinker, it was necessary for me to point out my "barefoot-shoes". On the first picture, you can see them quite well. I like wearing them on barcamps (as well as on anti- as well as proper conferences). After all, I want to enjoy days spent there, rather than suffer from uncomfortable shoes all day long (and often half the night, as well).
This is how I managed to make a few persons think less poorly about our discussion. Simply by demanding that things you get served should always be thoroughly questioned. Simply with the question that is typical for children and philosophers: "How do you know that?". And if then you hear whatever source, you can still ask: "How do you know that what this source says is true?"
And if you remain insistent, the most rigorous prejudices will easily become nothing but dust.
I myself learned a lot during this discussion. And I also understood very well how all my fellow discussants achieved a lot in their respective organisations through lateral thinking.
RMD
(Translated by EG)
P.S.
The pictures were taken by Bischof & Broel (http://www.bischof-und-broel.de/)