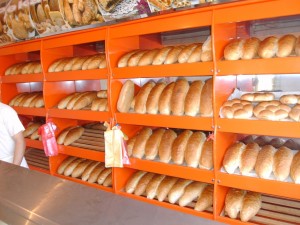 Last Friday (September, 11th,) I read an article in the business part of the "Süddeutsche" on page 20. The title was:
Germans throw away a lot of bread.
The sub-title read:
The Germans consume one third less than the statistics tell you.
It said that in many European countries, victuals are no longer considered worthy. Bread is only eaten fresh from the bakery, and the first crusty bit is often deleted out of habit.
One fifth of all victuals bought (not just bread, but also cheese, fish, meat and all the rest) goes into the rubbish unopened. In the trading phase, the rejection of material is also huge. There always have to be enough fresh products on the shelves, so a lot remains left over and then has to be destroyed.
Outside Germany, the enormous waste of food is also evident. It is unbelievable what delicacies I saw getting taken back just on my Greek vacation. The trays get carried to the tables full to the brim and when people are finished, the trays go back still rather full. To me, this seems to be a pan-European and American-European problem.
In homes for the elderly and restaurants, the portions are standardized and therefore they all have the same size (which is mostly too big). Yet the eaters are not standardized. Thus, a lot remains uneaten and goes into the rubbish.
I often wish we were still living in the days when soup, vegetables, meat and side-dishes were all carried to the table on huge plates and then everybody could take however much he wished to eat. But in our new world, this is too expensive. The standardized, often plastic-wrapped package from the central large-scale catering establishment costs less. And since cost is what governs the world, everything gets standardized and most of it gets thrown away.
Another problem is thoughtless shopping. I always tried to tell my children that the eyes are often bigger than the stomach and that it is better to take a little less. But what good will that do if the grown-ups do not adhere to this rule?
In our society of lust and seduction, everybody buys to their heart's content. It looks like a time of famine will soon break out. Except, in this hectic society, we do not even have the time to eat at leisure. Consequently, the package goes into the rubbish as described above when the expiration date has been exceeded.
Now if you also take into consideration that in the countries where everything is wasted the majority of people are massively overweight, then that makes me extra thoughtful.
And then I think we should start our process of re-orientation with developing a different attitude towards food. It starts with the eating and shopping habits. Yet you also have to talk about production and logistics, just remember all those extra-large wrappings. And this is where every one of us has to get active, even if it is an effort. The only way to change matters is by changing one's own shopping and eating habits, along with increased individual care.
Especially in election campaign times, when the word growth is heard everywhere, I miss this and some other issues that I believe to be of real importance and high value.
RMD
(translated by EG)
P.S.
On the picture, you see delicious, home-baked bread in a village bakery in Romania. I took it on my bike tour along the river Danube from Budapest to the Black Sea this summer.