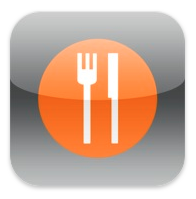 Isn't this a wonderful logo? It was created by Johannes, our chief designer.
It is the IFBistro logo. Since last Saturday, IFBistro is now available in the App Store! With IFBistro, you will always be up-to-date. You will know what meals are offered in the bistros at Garching TUM and Max-Planck-Institute.
Here is the story:
The "UnternehmerTUM" students had been active and extremely creative for us (the InterFace AG) in a great project. In the process, they came up with a lot of good ideas. One of them was:
Why don't you develop an App that tells all students what is currently offered for lunch in the "Mensa" and "Bistro"!
Starting now, the free download of the App to iPhone is activated. For more information, click  here.


It is not very hard to write an App. However, the bureaucracy involved might, indeed, be hard to overcome.  For example, we were never able to get a reasonable interface for transferring the "Mensa" menu. The "Studentenwerk" was not in favour of the idea.
Cooperation with the operator of the bistro, however, was excellent. It was a true pleasure to work with him. Consequently, it does not come as a surprise that the meals, too, taste delicious.
And we still do not give up on probably getting the "Studentenwerk" to cooperate with us, too. Let us assume that the hopefully future IF-Bistro 2.0 will also include the "Mensa" menu.
In the meantime, we work at realizing the next idea of our "UnternehmerTUM" team. It is top secret – but between you and me, I can tell you what it is about: special posters for recruiting new personnel at universities.
RMD
(Translated by EG)