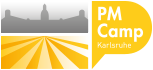 I am angry with myself. I almost forgot the Karlsruhe PM Camp. And it would not have been advertised. This is not tolerable!
Dear organizational team in Karlsruhe: please accept my apologies. I feel truly contrite. And I promise to do better in the future.
In Karlsruhe, the motto will be:
Projects with enthusiasm – where does the magic come from?
Unfortunately, I cannot attend next Friday and Saturday. Which I find a true pity. Because the Karlsruhe organizational team did a fabulous job. And they would certainly have deserved a few more participants.
So here is my appeal to you: if you live near Karlsruhe and are at leisure this Friday and Saturday – and if you are at all interested in project management, management in general, leadership, entrepreneurship and such, you should definitely attend the PM camp at the Karlsruhe Hochschule für Technik.
As always, the program is exciting. It will be well worth the trip and, as always, all PM Camp participants will return home content, wiser and happier.
And, in absentia, I will follow the timeline of the tag #PMCampKA and be happy about many, many twitters from the camp by the participants!
And here is a special request by me:
If, to give Karlsruhe extra advertisement, you twitter this article more often than usual, you would also make me very happy!
RMD
(Translated by EG)