I try not to buy too many new things. For instance, I only get a new shirt after having disposed of three old ones. This is how my wardrobe and shoe cabinet get emptier and emptier. It is really a sensational feeling to see how the cupboards lose weight all the time.
Also, I try to do without unnecessary electrical devices and all other kinds of gadgets. Because I certainly no longer want to buy all those stupid things …
Three weeks ago, during the f.re.e, however, I reverted to being a shopping king. It was all because, all of a sudden, a wonderful bike trailer stood before my nose. I had been looking for a really sturdy one for a long time. One that you can fill. One that has enough space for a crate of beer and a lunch packet that deserves its name.
I found a true multi-talent. The inventors, Hans-Jürgen and Huber, named it Mobi-Table.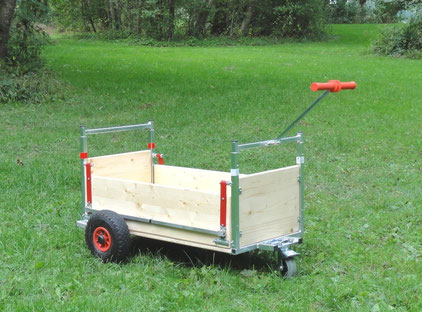 Mobi-Table immediately convinced me because of its manifold functions and possible applications. Using it as a transportation box, its length of 101 cm makes it quite suitable for taking with you in most medium-sized cars.
And – it is extremely easy to handle. None of the mobile and disposable parts have any bolts and thus everything can be re-arranged without tools.
A special pin bolt will enable a frame part height variation if you simply press a button and the tyres can be removed in the same way.
Weighing 20 kilograms, this transport genius can carry an additional weight of 150 kilograms! If you lift the back frame, you can also use it as a hand cart for pushing heavy objects. Long or huge-size objects can be stowed between the two lifted frame parts, thus enabling a safe transport.
The Mobi-Table is also a wonderful handcart, extremely suitable if you have grandchildren – or for the All-Fathers-Day trip on Ascension Day.
Unfortunately, our family cannot use it in this way before May – because that is when our trolley will be delivered to us. The delivery time is that long. But perhaps we can actually go on a trip on Ascension Day.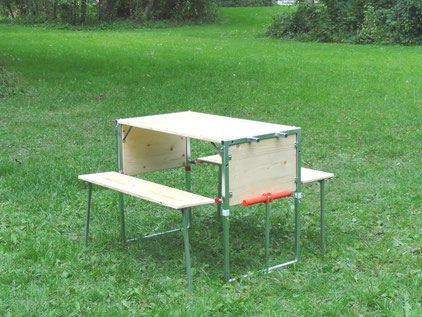 As soon as you reach your destination, the trolley will become a table/seat combination for four or five persons in no time. There is even a sunshade holder.
I was also delighted to notice that all frame parts are high-gloss galvanized and made of stainless steel or aluminium. The three-layer wood planks give me the reassuring feeling that they will easily cope with any wind and weather conditions.
The engineering marvel is produced as a small batch series in Dasing/Friedberg near Augsburg. And everything you can see on these pictures was minutely examined and tried out by me on the fair. I can assure you: it is all true. This is not an April Fool's trick, but a truly very impressive innovation for an alternative, mobile future.
The price is also moderate. You can get them for 379.00 € and the bike trailer with clutch is available for around 500.00 €. In my book that is very reasonable if you consider that it is good craftsmanship. Here is the link to the Website of thev Mobi-Table, where the product and its technology are described. There is also a PDF manual.
When I attend the #AktMobCmp on May, 20th and 21st in Augsburg, I will have my trailer with me for the exhibition!
RMD
(Translated by EG)
P.S.
I also found it impossible to resist buying a pair of Leguano barefoot shoes in bright canary yellow on the F.re.e..