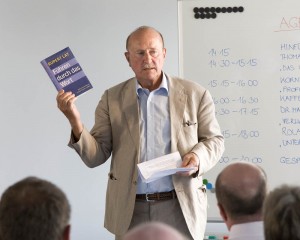 I always enjoy giving presentations. Most of them are for cherished friends or good causes. I try not to express truths, instead questioning those concepts I myself believe in.
Because I feel the "truth" inside myself that there is no such thing as an absolute truth.
It is a rather difficult topic. Just think of the sentence:
"Tolerance is the most precious commodity. Intolerance can only be tolerated against intolerance. But that is where it has to happen!"
A little pondering will quickly make you understand what the real problem is.
These days, I mostly speak about topics such as "leadership", "entrepreneurship" and "digitalization". I always learn most when I give a presentation. The same was true the day before yesterday in Kolbermoor, where I had been invited by Tech-Division, which is an enterprise that gave me a very positive feeling. The Tech-Division's offices in Kolbermoor are at the "Alte Spinnerei", which is a beautiful loft building.
This time, the title of my presentation on digital transformation was: 
What is often forgotten when people talk digitalization!
Since it is my desire to have something of interest for all the audience, I always bring something like a "critical potpourri". I mostly work with metaphors. I try not to force the presentation into a structure. Consequently, as a matter of principle, I do not use slides (if the lecture hall is huge, I use emotional background images).
I only use the important standards of communication (such as the rule of three and the rule of five, Syllogisms  and logic arguments) within my "potpourri". I used to give many "sales presentations". The intention was to manipulate or at least to convince the audience of something.
Here is how I did it:
In my presentations, I introduced a (plausible) theory X (which was easily understandable for the audience) and then developed a logical chain: from X follows A, from A follows B … and from Y follows Z. This is how I deduced a message Z from X, wanting to show that from a commonly accepted assumption X a conclusion Z can be justified. Z was my message. I wanted to make the audience believe in Z. Those days are over.
In general, I like working with analogies during my presentations. For instance, I describe a principle or a mechanism that basically has nothing to do with the actual topic, yet it contains a message that can be applied to other principles or scenarios. And, depending on how I see the current moment, I also relate the analogy – or let the audience find it.
Here is an example:
Whenever I talk digitalization, I also talk infra structure. Infra structure is an exciting topic. We live in the Anthropozene (Anthropozän), that is the era of humans. Humans have changed the world, either considerably or totally. They created new infra structure and technologies. In fact, it started with the "humanoids" who were our forefathers.
Initially, a very long time ago, came the upright posture, the (resulting?) development of tools, the ability to think and speak (10,000 years ago?), followed by "written language" (5,000 years ago?). These innovations probably triggered the "information society", or else they were at least what made it possible.
Building infra structure in mobility was probably started with the development of paths that facilitated "walking on foot". When the wheel was invented (3,000 years before Christ?), the first forms of "streets" had to be built. Water (the ocean, rivers, lakes,…) has always played an important role when it came to mobility. A network of channels was used. Then came the postal service coach, the railway and mechanized and motorized individual traffic. The traffic network was extended to an unbelievable dimension.
However, not only humans and products must be mobile. The stories of the people also needed mobility. This is why the job of the courier was invented. Letters were sent, transmission by cable or radio communication, networks such as the telefax, telegram or telephone circuits were invented. Today, it is the internet. The first requirement for all these things was electricity. Consequently, they made electricity networks for transporting energy.…
What I like talking about in my presentations on "digitalization" is the road network, which – as I see it – is the biggest infra structure of all times. You can probably get to almost any inhabited place on this planet by car. You will find parking places, streets, gas stations and repair shops for cars everywhere – even on small islands. There is probably nobody who does not get products that have not at some point been transported by a truck or car.
There is probably no other sector where rules and regulations tell us how individual mobility has to look and what we have to do and what characteristics such a vehicle must have. There is a minimum age and you need a driver's licence if you want to move inside this infra structure with a motorized vehicle.
For me, the question (naturally) is: what benefit did all this bring us if we look at the results. 1,400 million fatalities per year world-wide. Besides no end of health hazards through noise and air pollution. But also indirectly because we no longer exercise and consequently become obese. A landscape that is all concrete. And much more. Isn't it quite obvious that one might fear something must have gone wrong? And that perhaps you should learn from history?
In my presentations, I take this huge infra structure and the way there as a metaphor for technologic development (after all, digitalization is only a part of technology). Now, being the orator, I have to decide:
Should I explicitly say it? After all, I am talking about "digitalization". Consequently, everyone in the audience might start thinking about how the road network metaphor might be applied to the "digital network" and the internet.
I might choose to motivate people verbally towards thinking and I might give some impulses.
On the other hand, I might want to expand on facts that will motivate people to think by themselves. That the traffic network reaches almost every human. However, the internet currently only reaches 2 trillion out of 8 trillion persons. Facebook can allegedly reach 1 trillion persons. I say "allegedly" because some sources say the number is "only" 500 billion.
I could ask people what it means to be a "digital" person and internet user. Is it enough to use email and chat, have a Facebook account and occasionally use Wikipedia (which, basically, is just another thesaurus)? Or do I have to actively participate in order to be a digital person? Just think of the not-so-old buzzword Web2.0 that is now forgotten (humans becoming "part-givers", instead of being "participants")!?
This is how I intentionally try to give very "chaotic" and "confusing" presentations. I enjoy every single nice feedback. Especially if it is later modified by phrases such as "… but, unfortunately, it did not seem to be very clearly structured… " or "… even if occasionally I could not find a real thread… "
Because then I succeeded in doing what I wanted to do!
RMD
(Translated by EG)
P.S.
Here is another piece of advice: if you want to learn something about digitalization – meaning how it works – then I recommend you read Fefe's Blog, That is the "BILD-Zeitung for Nerds" (joke!) You can learn under many aspects.