Händel's  fascinating oratorio SAUL
The IF Blog is one of the few blogs in Munich, and even in Germany, which is mostly published both in German and English. This is thanks to our Evelyn (EG), who translates most of our articles into English at high speed.  She is doing this out of friendship and out of her love of the English language. And it sometimes happens that we like her English translations better than the original German text.
As to myself, I keep thanking Evelyn all the time for her service!
Her second and very special interest has already been mentioned .  A huge amount of passion and a high degree of professionalism characterize this part of her private life. Together with her son, she sings in the choir:
under Thomas Gropper.
Since the picture has been taken some time ago, Evelyn and her son Martin cannot be seen on it.
Now, the ARCIS-VOCALISTEN again realize a very special project. It is their third co-operation with stage director Dieter Reuscher and Gerrit Jurda (light effects) in the Himmelfahrtskirche at München-Sendling, Kidlerstr. 15. On Saturday, November, 9th, and Sunday, November, 10th, at 7 p.m., they will sing and perform
"A serpant in thy bosom warmed" – Händel's fascinating oratorio SAUL
In a fully played-out version. Extraordinary soloists will sing and the special orchestral ensemble  "L arpa festante"  – who play in the original baroque pitch – will play. The entire concert is conducted by Prof. Dr. Thomas Gropper.
About the oratorio: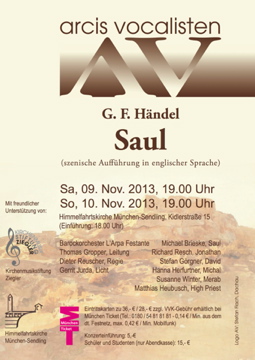 1739 – while his operatic career was still under way, George Frederic Händel turned his attention towards the famous material from the Samuel Books of the Old Testament. The Jewish king Saul invites the shepherd David who, by winning over Goliath, becomes a great hero and commander, to come to his court and then tries to link him to his family by marriage. With growing envy, he discovers how David is ever so charming and even more popular both with his people and family. He tries to kill the hated upstart boy, also wanting to induce his son Jonathan to do the deed. Jonathan's friendship with Saul, however, is stronger than that. We are witnessing how Saul's mind gets more and more confused and envy eats him up.
In emotional and magnificent pictures and quick musical succession, Händel draws this monarchical tragedy, the triumph of friendship and the fate of Israel – one of his greatest oratorios. It is rare for Händel to use such a huge amount of musical instruments – timbals, trumpets, trombones, carillion, flutes and oboes will complement  the strings.
So what you should do now is look at your calendar and see if you can make it – and then order tickets!
RMD