October, 22nd was a rather challenging yet nice day for us (Christian, Knud and yours truly). We met in Nuremburg in the morning because we wanted to try something in the evening. The idea was to "communicate in a really creative manner". We simply wanted to say a few things that would remain with us and be sustainable.
We, that is Christian Botta, Knud Johanssen and me. We met in a small apartment at the Nuremburg congress centre. Because on this Wednesday, we wanted to star in a small show in the evening. Consequently, we had to practice a little bit.
Before that day, we had met exactly three times. We had worked on the idea and then developed the content and the dramaturgy in a "shared document", because that seemed the best way to overcome the space-time-distribution.
Starting at 11:00 hours, we practiced "jamming". It took until 16:00 hours, then we relaxed. At 17:00 hours, the time had come: as the finishing number of the DOAG Yearly Conference #DOAG17 "soft tracks", we went onstage. With "creative communication".
On this photograph, you can see us after hard work: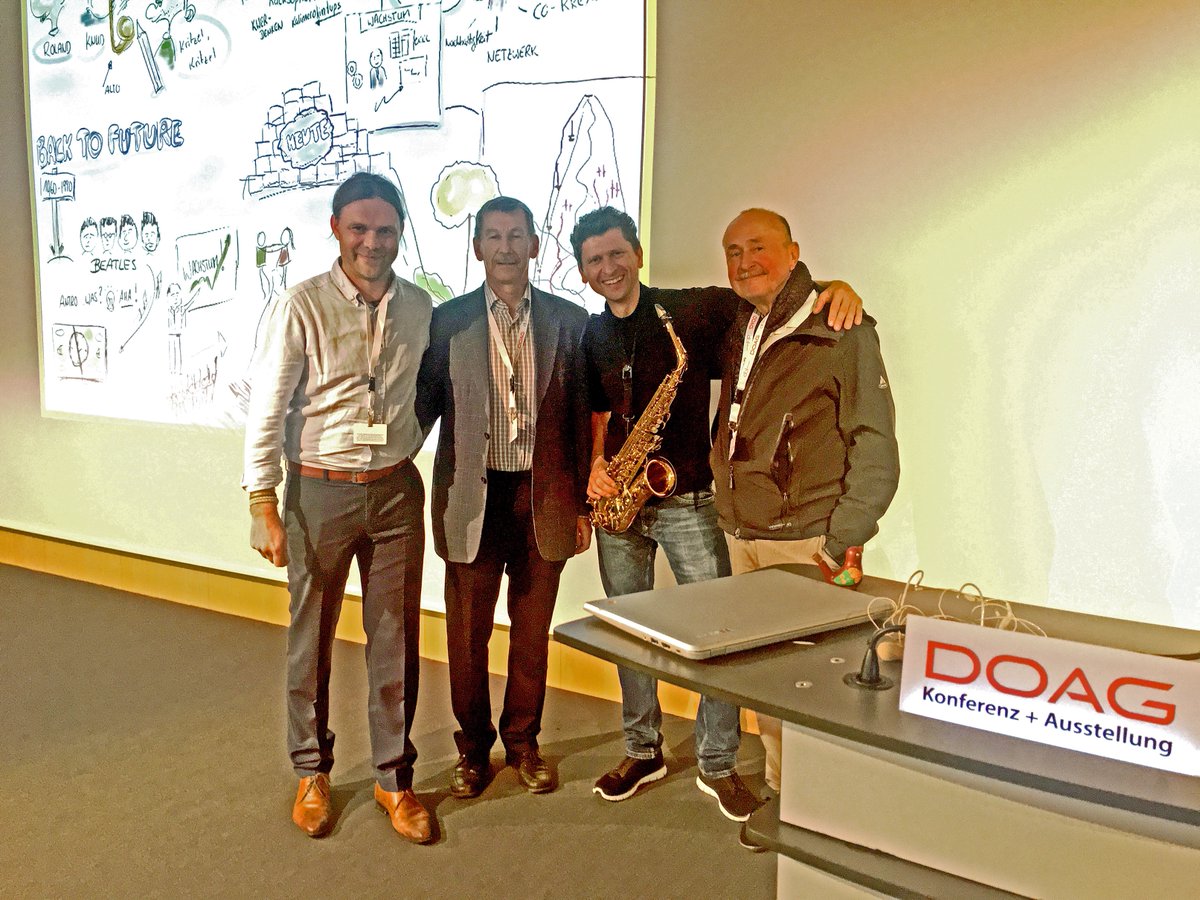 Christian,  our "host" Dietmar Neugebauer, Knud and yours truly
(from left to right).
But before that, the motto was:
"Yesterday, Today and Tomorrow" and above all 
"Do not lament, instead jam!"


Here is the premiere of November, 22nd, 2017.
With and by us: @pottasson (man with the pen), @KJohannsen (with ALTO, the alto saxophone, or rapper and ventriloquist). And I (@RolandDuerre – at the "speech") was also part of the team!
RMD
(Translated by EG)
P.S.
Here is the link to the video:
https://youtu.be/JZPp_OCiZPU
And for those who prefer reading about it I will publish my texts in my next post.