The Munich Arcis-Vocalisten are again at it: on Friday, April, 3rd, 2015, they will sing in the Herkulessaal der Residenz München at 6 p.m. Along with the Children's Choir of the Munich Pestalozzi Grammar School and the Baroque Orchestra »La Banda« and under Thomas Gropper, they will perform the: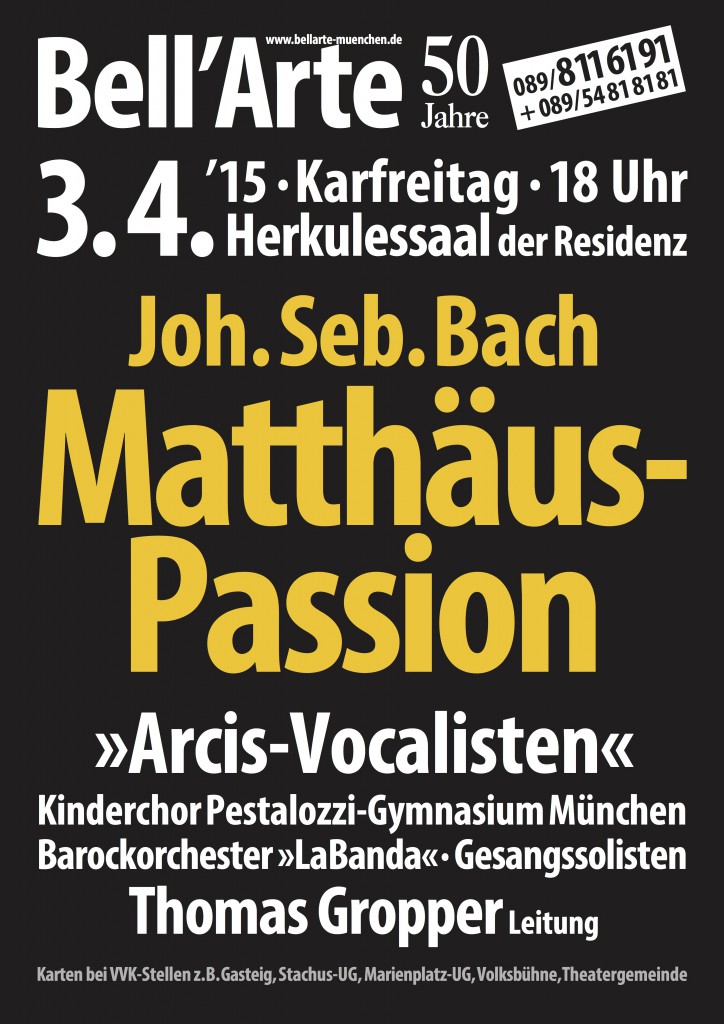 »Great Passion after St. Matthew by Johann Sebastian Bach«
When Johann Sebastian Bach first gave his "St. Matthew's Passion" in the Leipzig Thomaskirche in 1729, the congregation was overwhelmed. The huge ensemble with soloists, divided chorus and orchestra, the moving power of expressiveness surpassed all that had hitherto been imaginable.
Bach gives a striking narrative of the passion of Jesus Christ. It is one of the heights in our musical history which forms the drama of the passion story as a musical-theological entity.
»Between sentimentally sung arias and drooling turbae choirs: humanity versus injustice and death. With his "Arcis-Vocalisten", Thomas Gropper wins plastic expressiveness, yet he avoids martial and blaring confessions. The chorals are permitted to stream with beautiful sensuality – this is a way to declare the secret of believing far more effectively.«
("clear and lyrical "– SZ 4/13)
The soloists are:
Judith Spiesser – Soprano
Diana Schmid – Alto
Christian Zenker – Tenor
Virgil Mischok – Words of Christ
Peter Schöne – Basso
The piece:
Johann Sebastian Bach: St. Matthew's Passion – Oratorio for soloists, double-choir and orchestra BWV 244
Ticket prices 65 | 58 | 53 | 48 | 40 | 33 Euro
IF Blog can offer its readers a few tickets at a discount (20% for advance bookers in all categories). If you are interested, send an email to me!
Enjoy the concert!.
RMD
(Translated by EG)