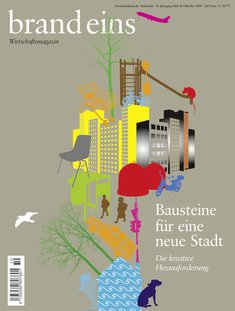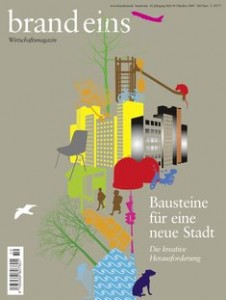 I was glad that the Brandeins magazine of October, again, arrived on a weekend. That gave me time to treat myself to it at leisure, regardless of Haching playing soccer and the Munich Oktoberfest.
This time, it is all about the city. All varieties of aspects of city life are discussed, among other things; you can also read about "the city in numbers". And some of these numbers are really amazing …
But the world of numbers, too, is once again really interesting, on top of making you thoughtful. Among the "small" articles, I as a cyclist was especially impressed by the story about the enterprise Ortlieb.
It is quite remarkable how a 20-year-old founded a company concerned with bicycles in 1982. By now, the firm produces the best cyclist's bags world-wide (I, too have Ortlieb bags on my bike), has a hundred employees and produces 300 different products, 95 % of them in Heilsbronn. Chapeau!
I also learned a lot about electronic mobility (the times of crackling were yesterday, page 34) and the soil deep down as a source of energy (page 20), along with the Azores (page 158).
However, the most sensational article is the one titled "focus on the city". Just imagine the budget of some communes! And Le Corbusier in India. That reminded me of my adventures in France.
On the whole, this is another very nice and absolutely recommendable Brandeins. There is still quite a bit left for me to read!
RMD
(Translated by EG)
P.S.
Right in the middle of the magazine, you will find a special edition of Siemens AG (8 pages). What a green façade the enterprise gave itself! Key word: green industrial growth!?