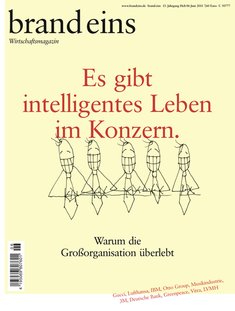 The latest "brand eins" edition has been sitting on the desk of this owner of a medium-sized enterprize from Wednesday through Friday. Not yet read, still packed in cellophane, it has been waiting all the time. And each morning, the title smiles (or laughs) at me:
There is intelligent life in a concern.
Well, it leaves me enough time to think and ponder. What is it "brand eins" means with this title? I would not object to the statement written in red ink. But there is an additional question:
Why does a  huge enterprise survive?
In my opinion, this is a very good question, indeed. As I see it, the answer should be:
Huge enterprises have enormous power. Consequently, they can influence, control and probably even change the market, probably even the entire world.
And since systems are notoriously inert and social change usually happens rather slowly, those who are not so fast have enough time to adapt. The only thing that might get dangerous for the huge companies is if change comes too fast.
To be sure, occasionally I also witnessed subversive intelligence, that is intelligence with a positive influence. Mostly, it happened when people used common sense and direct collaboration with other authorities, ignoring rules and regulations, to solve problems that otherwise would have spun out of control.
Now was this a long and complicated sentence, or what?
I take the magazine home with me on Friday and finally open the cellophane wrapping on Saturday. So here we go – in the hope and certain belief that the sentences in there will be shorter than mine!
This time, I am again full of praise for the short articles you find in each edition. I am glad to read about The Life of a Female Baker in Bolivia. The articles of this series, always to be found right on the first pages of the magazine, are important to me. After all, it keeps reminding me of what a privileged life I and my family enjoy.
But also the other one-page series The World in Numbers is always a source of delight for me – and for thoughtfulness, as well. It is light fare for in-between if you are in a hurry.
And, of course, there is The Good Question! This time it is: "What is the price the world has to pay?" It is not about: "How long will the insurance salespersons and their reinsurers be able to withstand the pressure caused by the increased number of catastrophes – at least as I perceive it (and as I keep asking it)?". Instead, it is about who will have to pay the price for all the permanent damage that will eventually have been done. Mind you, we are talking damage for which no insurance is going to pay. There is one sentence which electrifies me:
"Externalizing is a kind of macroeconomic bad bank concept"
That is truly exciting news! In my own presentations, I also often talk about the "externity balance" of an enterprise. It is something you should take into consideration when evaluating an enterprise, along with its culture, the people working there and many other factors (instead of just the shareholder value). And now what do I find in front of me? – Ideas pointing towards a macroeconomic "externity balance". Absolutely great!
I will wait with reading about the main issue Huge Organisation until Sunday, which is today. And, due to the holiday in Southern Germany next week, there should be a little time for reading all the rest of the magazine.
So now let me come to an interim conclusion using my own ideas:
Some will always be huge and some will always be small. The huge ones get bigger and bigger, because they swallow the small ones. It will function until the huge ones will either break or cut themselves into pieces.
There will always be new small companies founded. They will either die or grow. Most of the small ones will later be swallowed, others will get bigger and start eating other small ones.
It is the eternal circle of life – perhaps also of business life.
Basically, there is always potential for bettering yourself – both for the small ones and the huge ones!
RMD
(Translated by EG)