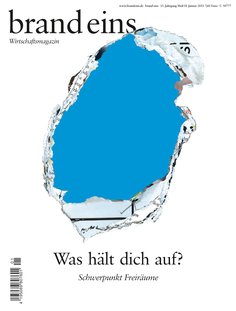 Last Thursday, it arrived: my "brand eins"! I took it with me to the office on Friday, because I wanted to read as I went by underground train (unfortunately, you cannot read "brand eins" while riding your bike).
And yesterday, I forgot it in my office. Consequently, I cannot immediately write a review. Well, I am going to start now and then finish it on Monday evening. For the time being, let me do some associating:
What keeps you from doing it?  Focal point: Free Space
If I were a Facebook member, I would say: I like it!
But it is true: who (or what) keeps us from doing whatever we always wanted to do? No longer drive a car? Get active and start adventures? Start living our lives? Have children? Take responsibility? Escape from restraints? Remain true to our biological nature? Destroy what destroys us?
But no, now I went too far. After all, "brand eins" is a business magazine. Or maybe yes?
So I am full of hope and my expectations for the first "brand eins" of 2011 are great. And on Monday, I will use exactly this same place for reporting whether or not they were met.
…..
RMD
(Translated by EG)