This month, the "brand eins – August" was sitting in my letter box at home as early as Friday, July, 22nd. But – due to all my many leisure activities – there was not even time to take a look over the weekend. Consequently, yesterday was the first time I managed to take a closer look at the magazine. At least, there are still a few more days to go until August.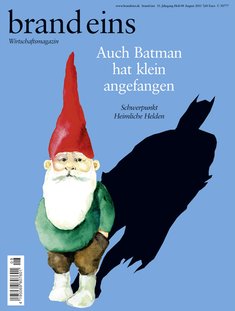 Immediately, I notice one sentence:
Even batman  started out small!
What a comforting title. This edition's main issue is secret heroes. Yes, I also think: better a secret hero than no hero at all.
The editorial by Frau Fischer gives you courage: she chose Have Courage as her headline – and that goes down pretty well. Especially on a Monday morning in August that is still full of clouds, during a month that is supposed to be all sunshine.
In this magazine, Frau Fischer wants to show us that "a lot is possible if you do not let yourself be deterred". I rather like this. After all, it is the same as what I preach. Far too often, we see ourselves in a situation with "no alternatives" (see: our Federal Chancellor). Or else we end up paralysed because of the "multi-opionality" in front of us. And that is not good.
Luckily, though, the magazine does not look for Superman. The secret heroes are also just humans. They "run around, are scared and go bancrupt". And they are not "just good men, faultless and heroic". Instead, all they do is "point a little beyond". (cited Frau Fischer)
I believe there is huge value in "pointing a little beyond". Consequently, I see the August edition of "brand eins" as something "very human". In fact, I see a lot more humanity in it than in our striving after profit and success, as, unfortunately, I witness it (too) often these days.
So:
This "brand eins" edition must definitely be part of the vacation luggage!
RMD
(Translated by EG)