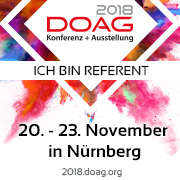 For many years (that felt more like decades), my friend Dietmar (Neugebauer) was president of the DOAG. DOAG is an acronym for Deutsche Oracle Anwender Gruppe. Every year in November, the DOAG has its big and legendary yearly conference and exhibition in Nuremberg.
Thanks to Dietmar, I was there many times and gave presentations. Last year, I wanted to create something different and, together with Christian and Knud, showed everybody how modern communication could work (there is also a video recording: Video).
With the 2017 success, I was going to terminate my DOAG career (after all, you should end when you feel at the top). But then, Dietmar kept pestering me. Consequently, we did something together in 2018 (on November, 21st) – this time it was about "functional communication". And we invited people to join "our fishbowl". And, again, it was really nice.
A fishbowl is organized as follows:
Choice of Topic
If you communicate "functionally", it might help if you have a topic. But how to find a topic? Our first idea was to establish a topic finding commission for coming up with something. But that is nonsense.
The rules and the intention of our fishbowl were described shortly before the event in my  communication article. We simply checked the newspapers and listened to the radio in the morning to see and hear what were the most important events of the day. After all, the paywall – sorry, the media – are assigned the task of providing the news that concern us every day. Which means they should be a good source. Then Dietmar and yours truly, along with Dr. Marius Poersch and Wolfgang Taschner, took a close look at those topics and selected four of them.
Selection of Topics
Here are the four topics we found in the radio and press of November 21st:
How does #newwork fit into our lives
(work-life-balance, motivation, experiences, how does it actually work)
#diesel ban control
(protection of the environment, data protection, total control, human dignity)
The youth is #scared of the internet
(mobbing, addiction, data and the ownership of your own data getting out of control)
Copyright
(upload filter due to new EU legislation, access to youtube as commonly experienced reality, reaction of the youtube management because they feel threatened.)
Selection of a Topic by Vote
We had prepared four flipcharts and added an important idea to the four topics before announcing the vote. Dietmar gave a short explanation on what the topics were about – and then everybody voted.
Everyone in the room had a round red sticker that he/she could attach to one of the posters. Since my topic was "copyright protection", that is where I put my red sticker. In the end, unfortunately, (for me), there were only a few red stickers on my topic, while the #newwork poster was overflowing with round red stickers.
Consequently, now we had a topic – a topic which the absolute majority of the people gathered at this place was in favour of on this day. That is a good start for a fishbowl. It was done in no time and totally self-organized.
The Fishbowl
To begin with, the four "experts" (Dietmar, Marius – who actually was the only real expert – Roland und Wolfgang) took their seats on one of the six chairs (we had spontaneously decided to add a chair because so many people had come). Everybody made his/her statement and then we left things to flow.
And there was a nice flow. In 45 minutes, including preparation time, many wise things were said. We had great results, the participants stuck to the rules (be concise, let everyone else also finish with what they want to say and take up the idea of the person who spoke before you).
The exchange went very well in both directions and the coordination was excellent. My personal conclusion as a "normal participant" was that I rarely had been at the receiving end of so many ideas, impulses and food for thought as during this fishbowl.
Feedback Round
The feedback round confirmed that most of the other participants felt like I felt. Dietmar wrote to me saying that he had received plenty of praise throughout the entire evening (when I had already left).
At an Aside
Directly after us, there is always the central keynote. Yesterday, Lars Vollmer was scheduled as the next DOAG conference speaker. I had never met Lars before and only knew him from his publications. In his presentation, he described the business theatre that you often get today. And I mentally filtered quite a few ideas of his that actually blended quite well with the ideas we had generated during our fishbowl.
And that made me wonder: Why don't enterprises more frequently organize a fishbowl with their employees in order to get an awareness of what stupid nonsense they sometimes talk?
RMD
Translated by EG